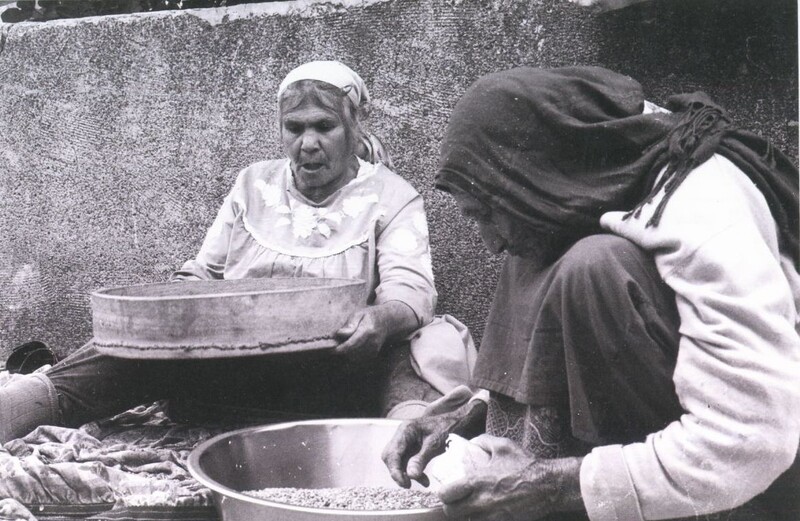 London's P21 Gallery, dedicated to promoting contemporary Middle Eastern and Arab art and culture, launches a new series of exhibitions, entitled reACT, on 30 May 30. Intended to "promote emerging artists," according to a P21 press release, each show in the series invites a new artist to create artwork designed specifically for a section of the gallery. By creating a site-specific piece, artists are asked to interact with their society and to "promote dialog between West and East by a younger generation."
The first artist to be asked to create a reACT piece is Palestinian photographer Rawan Serhan, whose work is entitled Peplitecture. Her images depict families – and particularly women – in the Palestinian village of Biteen. While they show life in contemporary rural Palestine, their black-and-white coloring give the images a aged feel that emphasises the longevity — and perhaps fragility — of the traditional ways of life depicted.
Quoted in a P21 press release, Serhan says of her experience of photographing in Biteen that:
"When I met those people for the first time, I wanted to become each one of them, to capture their senses and body expressions and transfer them into my ears, my lungs, my hands and my heart. I followed their movement, their tempo and the rhythm of their activities. I listened to their stories so didn't speak. First they treated me as an object, slowly, started to perceive me as an invisible subject until I have become a reflective matter through which they could see themselves."
As P21 put it, the "strength of women and the vital role they play in this society come across to the public through the figures of an elderly lady and her daughter-in-law."
The exhibition also shows new Palestinian women photographic artists following in the footsteps of the likes of Tanya Habjouqa, Emily Jacir and Larissa Sansour in seeing Arab women explore ways of representing themselves and other women, negotiating new modes of exploring their positions beyond Western stereotypes and imposed gender discourses.
Peplitecture runs at P21 Gallery in London until 12 July.
Tags