Among the horrors wreaked upon Gaza in recent days has been the destruction of hundreds of homes by Israeli aerial bombardment.
On the night of the 15 July, one of those houses was that of artist Raed Issa and his family. Claudia Saba, a member of Gaza Action Ireland who managed to speak to Issa the following day, gave this account of her conversation with him in a GAI press release:
He said he was back in the rubble trying to salvage whatever useful things he could find and that he wanted to do it now because at night "it's a little more scary." As I was speaking to him I heard a large explosion. He said that was an airstrike approximately a kilometer away.

No one in his family was hurt — they all evacuated beforehand. I asked him if they had received a "warning." He said they'd received no phone call — but that the Israelis had called their neighbors and told them to evacuate "because the house next to theirs was about to be bombed." So the neighbors informed Raed's family and they quickly evacuated too. A few minutes later there was a "knock on the roof" rocket. Meanwhile a relative called them and said he'd been told (through another phone call I think) that Raed's family should evacuate the women and children but not tell the men and let them die in the blast.

Shortly after the "knock on the roof" a major airstrike came and the building was destroyed.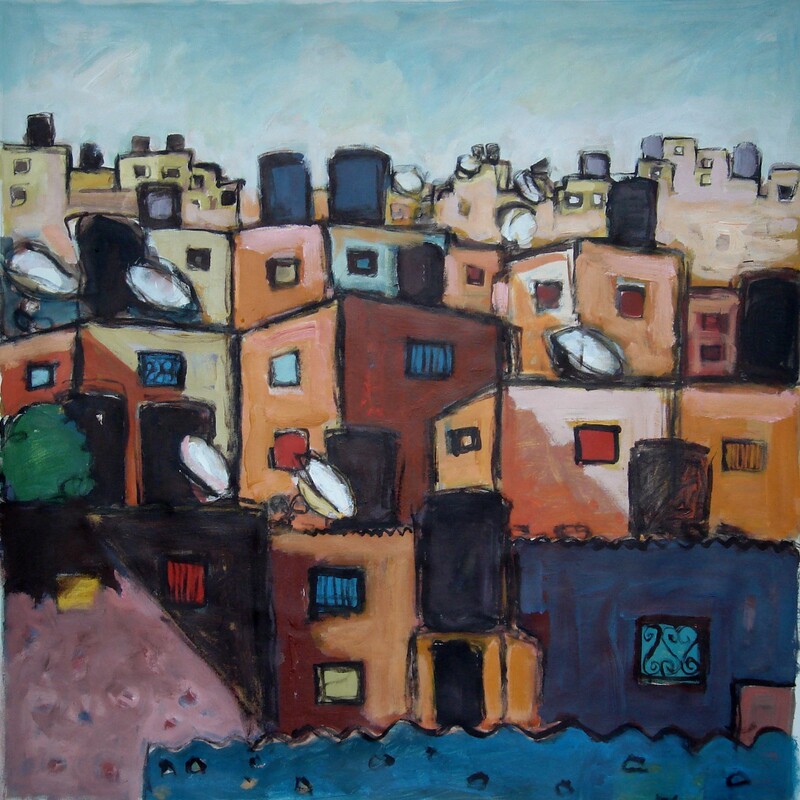 Raed Issa's work has been shown around the world, including as part of Despite, an exhibition of Gazan art in London in 2012, and in Australia, France, Switzerland and around the Middle East.
His vibrant paintings are on show at the moment with the Windows Into Gaza exhibition, currently part of Galway Arts Festival in Ireland. The exhibition, curated by Irish artist Felim Egan, will tour to Limerick and Cork between now and the end of the year and has previously been shown in Belfast and Derry.
Tags