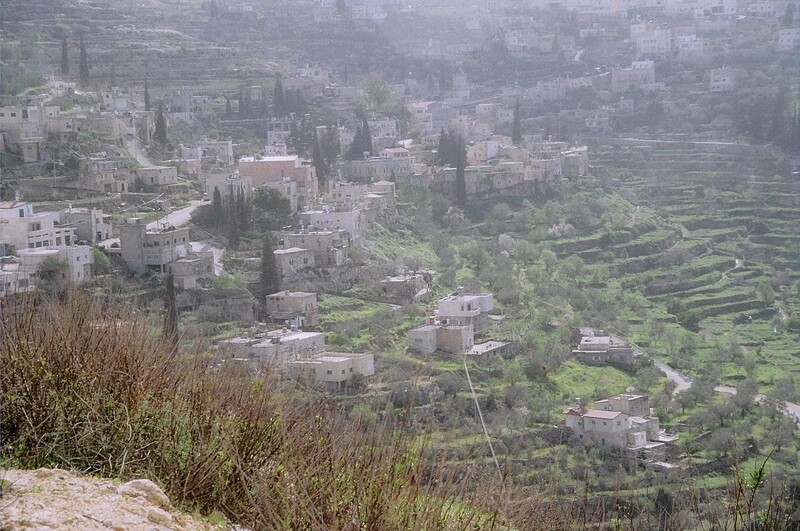 The struggle to save the historic landscapes of one Palestinian village located west of Bethlehem gained international recognition last month.
Battir, in the occupied West Bank, had its ancient irrigation systems and agricultural terraces included in the World Monument Fund's 2014 "Watch List."
The village is under threat of destruction from the building of Israel's apartheid wall. 
The World Monument Fund is an international organization which focuses on preserving cultural heritage sites around the world, especially those deemed to be at risk.
According to the WMF's statement:
The 4,000-year-old irrigated terraces of Battir, located 7 kilometers southwest of Jerusalem, reflect an ancient route that ran from the coastal plains to the Judean Hills. The rural, agricultural setting is of great ecological and cultural significance and includes olive trees, Roman grave sites, a prehistoric hilltop setting, a diversity of field types, and an ancient irrigation system formed by the continual layering of stones to form terraces.
The WMF adds that it hopes the inclusion of Battir in the 2014 list would:
offer a vehicle to draw attention to plans to build over the terraces in the hope that this will be halted in favor of enhanced dialogue, and that a management plan can be initiated to help equip local institutions with the scientific, analytical, and practical tools necessary to conserve and safeguard their heritage.
Ancient heritage
As reported earlier this year, even Israeli government body the Nature and Parks Authority – which in other contexts has been responsible for excluding Palestinians from their land – has opposed the military's proposed extension of the wall into Battir's unique landscape.
The Israeli high court is due to hear the next stage in the legal fight over the wall on 10 December.
According to a press release from Friends of the Earth – Middle East, the Mayor of Battir Akram Bader welcomed news of the WMF listing, saying:
these ancient irrigated terraces date back 4,000 years and represent a remarkable environmental heritage of tremendous ecological and cultural significance to all the people of the region and the world. This is a landscape produced by centuries of work, comprised of a billion stones being collected and piled one on top of another, generation after generation to enable traditional farming to take place, using spring water stored in small pools, channeled to the terraced fields by open canals.
Battir had previously been recognized by UNESCO as a threatened site of outstanding cultural value, with the award of the Melina Mercouri Prize in 2011 which involved the area being assessed by an international jury for its "outstanding cultural landscape, the threats menacing it and the protective measures exerted by its inhabitants with the support of local and international actors."
Tags