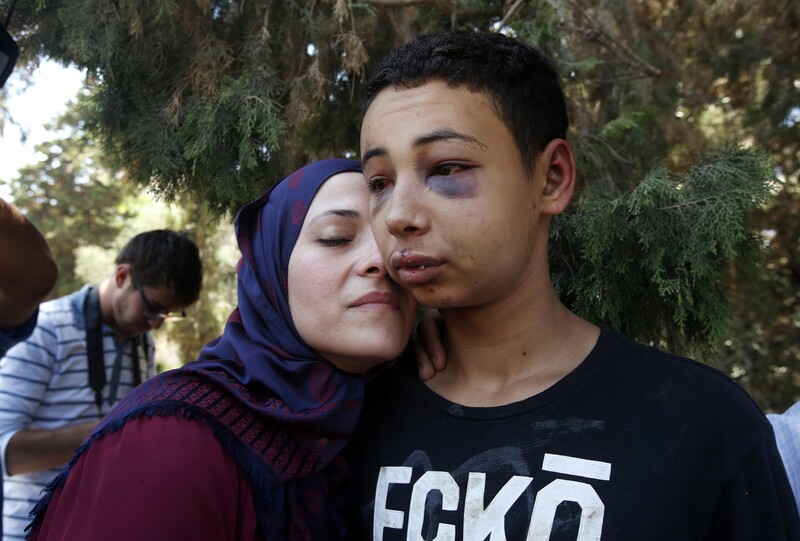 An Israeli court this week sentenced an Israeli Border Police officer to 45 days of community service for the savage beating of Palestinian American teen Tariq Abukhdeir last year. 
The paltry sentence is "a shameful slap on the wrist" that "sends the wrong message that Israel tolerates the violent, extrajudicial beating of children," the Abukhdeir family said in a statement released through the Institute for Middle East Understanding (IMEU).
The assault took place on 3 July, a day after Tariq's cousin, 16-year-old Muhammad Abu Khudair, was kidnapped from the occupied East Jerusalem neighborhood of Shuafat and burned alive by Israelis who have yet to be convicted for the slaying more than a year later. 
Tariq was on a summer visit to Palestine with his family. The gruesome beating was caught on film and went viral, along with photos of Tariq's swollen and unrecognizable face, sparking outrage around the world, especially in the US. 
The footage shows Israeli police punching, kicking and dragging the handcuffed and unconscious teenager. Tariq was then arrested without charge and thrown in jail for several days before being released on house arrest. The Israelis accused him of throwing rocks at police, which Tariq vehemently denied.
Cleared of any wrongdoing in January, Tariq said at the time, "I was happy to learn that Israel has closed my make-believe case." 
Despite video showing at least two Israelis methodically delivering blows to Tariq's limp body, only one was prosecuted. But even that is a rare exception in Israel, where police and soldiers systematically beat, torture and kill Palestinian children with total impunity.
If not for Tariq's American passport and the video footage, there is no telling how long he might have been imprisoned.
"Disappointed"
"We were disappointed to learn that the Israeli police officer who severely beat American teenager Tariq Abukhdeir in July of 2014 was spared prison time by an Israeli court," US State Department spokesperson John Kirby said during Thursday's daily press briefing. 
In a rare rebuke to Israel, Kirby added, "Given the clear evidence captured on videotape of the excessive use of force, it is difficult to see how this sentence would promote full accountability for the actions of the police officer in this case."
When pressed on whether the light sentence represented a pattern of impunity, Kirby responded, "I don't think we're at a stage now to make a leap here in terms of trend analysis."
But as Brad Parker, an attorney for Defense for Children International-Palestine, noted in comments released through IMEU, "This conviction must be understood within an Israeli judicial system where impunity reigns. Israel claims to open investigations into incidents involving injury and violence against Palestinian children, but indictments are incredibly rare and impunity is the norm for Israeli forces." 
Parker called it "troubling" that Tariq "possibly spent more time in detention than the unnamed officer convicted of brutally assaulting him."
Obama's inaction
As for the US government, Kirby insisted that "the safety, security and protection of American citizens overseas is of paramount importance for this administration." 
But it remains unclear what, exactly, the Obama administration has done to demonstrate its concern for Tariq and other Palestinian Americans victimized by Israel.
The Obama administration did host Tariq and his mother, Suha Abukhdeir, at the White House earlier this year. 
Weeks after their visit to Washington, Tariq and Suha told me that they met with several US senators as well as Maher Bitar, Obama's director for Israeli and Palestinian affairs.
They said they discussed putting pressure on Israel to secure justice for Tariq and to end the systemic brutality against Palestinian detainees, particularly children. According to Suha, the administration was very receptive.
But there have been no concrete actions to back up this rhetoric. Instead, the Obama administration continues to shower Israel with weapons and diplomatic cover while feigning powerlessness in the face of Israeli intransigence.
It is precisely because of Obama's refusal to stand up for his own citizens that a heavily armed Israeli officer can pummel an American child nearly to death on camera and walk away with just six weeks of community service.
Tags