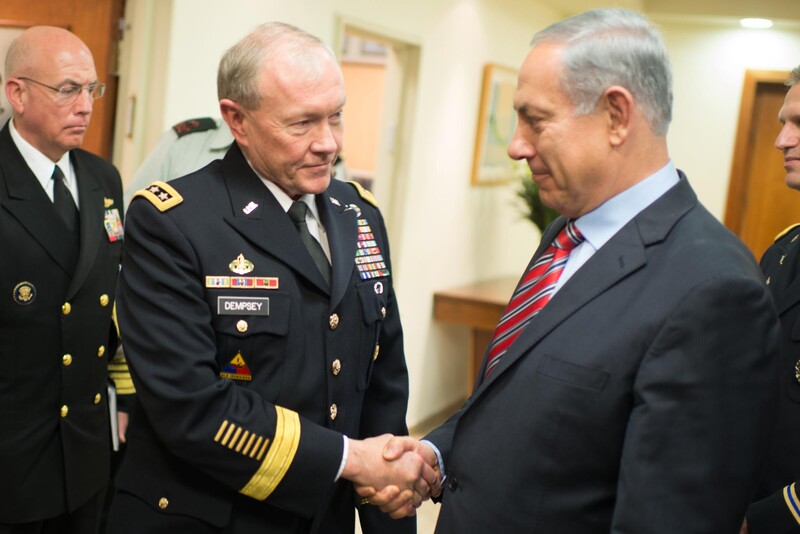 The Pentagon has distanced itself from claims made by a top-ranking military official that the US has received advice from Israel on limiting civilian deaths. 
Speaking at the Carnegie Council for Ethics in International Affairs in New York on 6 November, Martin Dempsey, chairperson of the Joint Chiefs of Staff, praised the Israeli army for going to "extraordinary lengths to limit collateral damage and civilian casualties" during its summertime operation against Gaza.
"In this kind of conflict, where you are held to a standard that your enemy is not held to, you're going to be criticized for civilian casualties," said Dempsey in response to a question about the ethics of Israel's assault on the besieged Gaza Strip, which killed 2,194 Palestinians. 
At least 70 percent of those killed were identified as civilians by the United Nations, including at least 519 children. In stark contrast, Palestinian resistance fighters killed 66 Israeli soldiers and seven civilians, making it unclear what unique "standard" Dempsey is holding Israel to. 
Dempsey absolved Israel of responsibility for these deaths by accusing Hamas of transforming Gaza into "a subterranean society," referring to the elaborate network of tunnels that Gaza uses as a lifeline to bypass Israel's starvation blockade, which amounts to collective punishment — forbidden by the Fourth Geneva Convention. 
Dempsey added that the Pentagon was so impressed with the Israeli army's conduct in Gaza that it sent a "lessons-learned team" to Israel three months ago to study and emulate "the measures they took to prevent civilian casualties."
"We asked [Israeli army Chief of Staff] Benny [Gantz] if we could send a lessons learned team," said Dempsey, telling the audience, "We sent a team of senior officers and non-commissioned officers over to work with the [Israeli army] to get the lessons from that particular operation in Gaza." 
But in a statement emailed to the The Electronic Intifada, Commander Elissa Smith, a Department of Defense spokesperson, denied that the US believed Israel did everything it could to spare civilians.
"Deeply troubled"
"Following the conflict, as the chairman [Dempsey] noted, we engaged in a routine military exchange with the Israeli Defense Forces. Representatives from the Joint Staff and services traveled to Israel to receive a briefing from military counterparts on the conflict," Smith writes. "It is important to note that this exchange was not a commentary or affirmation of Israeli actions in Gaza."
Asked whether Dempsey's praise of Israel's conduct in Gaza reflects the position of the Pentagon, Smith predictably reaffirms Israel's right to defend itself but clarifies that the Pentagon remains "deeply" troubled by the high civilian death toll. 
"As we made clear throughout this summer's conflict, we supported Israel's right to self-defense and strongly condemned Hamas' rocket attacks, deliberate targeting of civilians, and use of tunnels for attacks into Israel," Smith adds.
"However, we also expressed deep concern and heartbreak for the high civilian death toll in Gaza, which tragically included hundreds of children who died during the conflict," she adds.
"Throughout the conflict we expressed concern about the safety and security of civilians on both sides. That included urging Israel to take even greater steps to meet its standards for protecting civilians from being killed."
"Our position remained consistent throughout — we strongly supported Israel's right to self-defense and called on it to take all feasible precautions to prevent civilian casualties, comply with international humanitarian law, and respect UN facilities in Gaza."
Dempsey's comments caused quite a stir among right-wing and pro-Israel commentators, who framed his remarks as proof that the Obama administration and allies of the US were wrong to condemn Israel's conduct in Gaza. 
In late July, the White House slammed Israel's bombing of a school run by UNRWA, the UN agency for Palestine refugees, sheltering hundreds of displaced civilians as "totally unacceptable and totally indefensible," adding that Israel "can and should do more to protect the lives of innocent civilians."
The attack, which killed 21 people and injured over a hundred more, marked the sixth time Israel had bombed a UN-designated shelter during the 51-day assault.
State Department spokesperson Jen Psaki reasserted the Obama administration's position when questioned by reporters about Dempsey's contradictory remarks.
"It remains the broad view of the entire administration that [Israel] could have done more and they should have taken more … precautions to prevent civilian casualties," declared Psaki at the State Department's daily press briefing on 7 November.  
"Extraordinary" war crimes
Dempsey lionized as "extraordinary" Israel's use of leaflets and "roof-knocking" to "[make] it known that they were going to destroy a particular structure." 
But as Gaza residents noted, the leaflets were meaningless given that no structure was safe from Israel's merciless bombing campaign, which targeted everything from hospitals and water wells to UN designated shelters overflowing with civilians who followed Israel's instructions to leave their homes. 
Moreover, Israeli "roof-knocks" — which entail hitting the roof of a home or building with a small mortar shell prior to bombing it — were followed by airstrikes within seconds, giving residents little time to flee, especially small children, the elderly and disabled. 
In some cases these so-called warning missiles were fatal. 
Three children from the Shuheiber family were feeding pigeons on the roof of their apartment when their tiny bodies were shredded by an Israeli "roof-knock." The oldest child was ten. 
As Amnesty International's Philip Luther proclaimed, "There is no way that firing a missile at a civilian home can constitute an effective 'warning.' Amnesty International has documented cases of civilians killed or injured by such missiles in previous Israeli military operations on the Gaza Strip." 
Sarah Leah Whitson, the Middle East and North Africa director of Human Rights Watch, similarly declared: "Warning families to flee fighting doesn't make them fair targets just because they're unable to do so, and deliberately attacking them is a war crime."
Amnesty went even further in a lengthy report released the night before Dempsey's remarks, in which the human rights group accused Israel of knowingly bombing homes and buildings full of civilians without warning, wiping out entire families in the process.
Even US military officials, no strangers to war crimes, were appalled by Israel's behavior in Gaza. 
"Removing the topsoil"
According to a report by Mark Perry at Al Jazeera America, senior US military officers were "stunned" by the scale of Israeli firepower unloaded on Gaza's Shujaiya neighborhood on 19 and 20 July.
Israel pounded Shujaiya with thousands upon thousands of high-explosive artillery shells and F-16 bombs, among other munitions, massacring more than one hundred people. 
"The only possible reason for doing that is to kill a lot of people in as short a period of time as possible," a senior US military officer told Perry. "It's not mowing the lawn," he said, using Israel's crude euphemism for its routine assaults on the Gaza Strip. "It's removing the topsoil."
In spite of Israel's propensity for reaching new heights of criminality in its conquest of Palestine, or perhaps because of it, the US has made a habit of adopting Israeli policies as its own. 
For example, Israel's "targeted killing" policy, which was denounced by the Bush administration in 2001, has since been embraced as the centerpiece of Obama's counterterrorism strategy. What began as a highly controversial Israeli method to suppress Palestinian resistance is now being used by the US to kill thousands of people in Yemen, Pakistan, Afghanistan and Somalia. 
With this in mind, it should raise alarm bells that the highest-ranking military official in the country has publicly endorsed Israel's latest crime spree, regardless of the Pentagon's "clarification." 
Tags