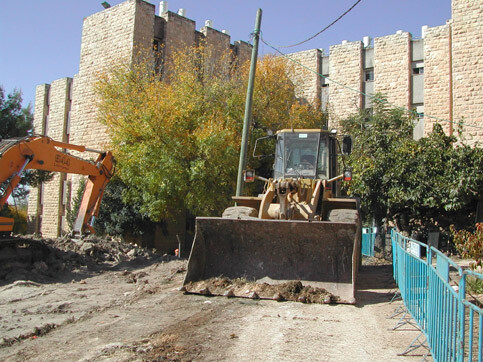 The Palestinian Campaign for the Academic and Cultural Boycott of Israel has called for a boycott of this year's conference of the International Network of Genocide Scholars (INoGS) in Jerusalem.
PACBI says that INoGS should not be holding its meeting on stolen Palestinian land in partnership with Israeli academic institutions that are complicit in Israel's military occupation.
The title of this year's conference is, ironically, "Intersections: Holocaust Scholarship, Genocide Research and Histories of Mass Violence."
In a letter published last month, PACBI urges "scholars, UN officials and people of conscience to boycott this conference and refrain from lending their names to covering up Israel's serious violations of international law."
One of the scheduled speakers is Adama Dieng, special adviser on the prevention of genocide to UN Secretary-General Ban Ki-moon.
The letter asks "academic associations to discourage their members from participating in this conference, and to take a public stance against it."
Stolen land
The conference is scheduled to take place from 26 to 29 July at Hebrew University's Mount Scopus campus, some of which was constructed on land that Israel illegally expropriated from Palestinians in East Jerusalem after Israel militarily occupied the West Bank in 1967.
"Mount Scopus campus buildings and facilities were expanded as a result of Israel's 1968 illegal confiscation of 3,345 dunums [825 acres] of Palestinian land, which is deemed occupied territory under international law," the PACBI letter states.
To make matters worse, the conference website lists the event location as "Jerusalem, Israel" even though no country in the world, including the United States, recognizes Israel's sovereignty over the city.
Nevertheless, Israel continues to ethnically cleanse and colonize East Jerusalem with impunity.
The western half of the city was ethnically cleansed of its Palestinian inhabitants in a series of massacres and forced expulsions by Zionist forces during the Nakba in 1948.
Complicit institutions
"The conference is sponsored by five deeply complicit Israeli academic institutions," PACBI states.
It adds: "Israeli universities are profoundly complicit in developing weapon systems and military doctrines deployed in Israel's recent war crimes in Lebanon and Gaza; justifying the ongoing colonization of Palestinian land, rationalizing the gradual ethnic cleansing of the indigenous Palestinians; providing moral justification for extrajudicial killings and indiscriminate attacks against civilians; systematically discriminating against 'non-Jewish' students in admissions, dormitory room eligibility, financial aid, etc.; and many other implicit and explicit violations of human rights and international law."
Indeed, Israeli universities are enthusiastic participants in Israel's war machine at every level, from the development of military policy to shouldering the costs of bombing campaigns.
Hebrew University, where the INoGS conference will be located, was one of many to reward "warrior students" who took part in Israel's 2014 military assault on Gaza which killed 2,251 Palestinians, including 551 children.
"Death to the Arabs"
The letter also notes that the genocide conference "has been called for at a time when Israel's state terrorism is being exposed to the world," as "Israeli police, military and fundamentalist settler lynch mobs have been savagely attacking Palestinian protesters and committing crimes with impunity." The letter adds that that they have been "encouraged to do so by the racial incitement of Israeli leaders."
Israeli forces have killed some 200 Palestinians since 1 October, dozens in what human rights groups have labeled a "clear pattern" of summary executions incited by such inflammatory rhetoric.
Some 30 Israelis have been killed by Palestinians during the same period, it has been reported.
As video footage and eyewitness testimony has demonstrated time after time, many Palestinians were killed while posing no threat. This includes Abd al-Fattah al-Sharif, a Palestinian youth in Hebron who was summarily executed on video last month by an Israeli soldier as he lay wounded.
Following an international outcry, the Israeli public rallied around the soldier, prompting thousands to march in a Tel Aviv "Death to the Arabs" rally last week.
These disturbing street executions are the consequence of "a dominant culture of racism and intolerance that has been instilled over decades in Israeli society by the state," the PACBI letter adds.
Aiding genocide?
One of the most deplorable aspects of this year's INoGS conference is that it claims to address genocide while allying with institutions complicit in an occupation that some scholars, including Ilan Pappe and Michael Ratner, argue amounts to genocide.
Moreover, Israel is currently led by the most openly racist government in its history, filled with leaders who regularly make genocidal statements and incite violence – from culture minister Miri Regev labeling African refugees "a cancer" to justice minister Ayelet Shaked identifying Palestinian babies as "little snakes" whose births should be prevented by slaughtering their mothers.
At the very least, says PACBI, "Whether Israel's decades-old crimes against the Palestine people meet the UN definition of genocide or not, they should make any honest scholar think twice before participating in a conference on genocide organized by Israeli universities on occupied Palestinian land."
Tags