Warning: This article contains graphic video and strong language.
Online incitement by Israelis against Palestinians has skyrocketed in recent weeks, according to a report in Israel's Haaretz newspaper.
Much of the incitement has been in response to videos posted on social media showing Palestinians wounded or killed following alleged stabbing attacks against Israelis. 
On 9 October, 19-year-old Muhammad Faris Abdullah al-Jabari was shot dead in the Israeli settlement of Kiryat Arba, near Hebron in the occupied West Bank, after allegedly attacking an Israeli Border Police officer with a knife. 
The following day, a video surfaced showing an Israeli throwing pork at al-Jabari's body as he lay on a stretcher. 
As the man dangles the meat before the camera and then drops it on al-Jabari's face, he shouts, "Here, see this? This is pig meat. Friends, just in case you don't know it, they really love pig meat. … He should enjoy with his virgins, with the pig meat." 
Proposals to deter "terrorists" by desecrating their bodies with pork are common among right-wing extremists in Israel and the US. But in Israel, these extremists are provided with serious platforms and are now making the tactic a reality.
On 13 October, The Jerusalem Post published a letter demanding that Israel "scatter small pieces of pork everywhere Muslim rock throwers gather." The letter writer, Ariella Finder, also suggested that Israel spray Palestinian demonstrators with pork fat and bury those it kills "in unmarked graves — with a piece of pork fat."
"It is time to stop being politically correct and worried about what the world thinks of us," Finder proclaimed.
Advocates of such bizarre and macabre tactics seem to believe that the prohibition on eating pork that Muslims, just like Jews, observe, means contact with pork is a particularly powerful insult, or deterrent, to Muslims. 
Anti-Semites, ironically, have used the same logic to attack Jewish symbols and insult Jews. Last May, for instance, pork was left at a Holocaust memorial in Massachusetts. 
"They should be tossed into the sea"
Israel Bramson, the mayor of Kiryat Arba — whose population is notorious for its anti-Palestinian militancy — praised the pork throwing as "a most basic response, and a legitimate one."
"I do not denounce what happened," Bramson told the Israel's Walla! News website. "They should not get their cadavers back, they should be tossed into the sea in the best case. The terrorist came to slaughter Jews and the treatment he got is what he deserved."
Kiryat Arba was the home of Baruch Goldstein, the Brooklyn-born settler who murdered 29 Palestinian men and boys in Hebron's Ibrahimi mosque in 1994. A shrine honoring Goldstein was erected in the settlement. Israelis have even brought their children to graveside parties in Kiryat Arba to celebrate the mass murder by Goldstein.
"The Arabs are afraid that their 72 virgins will be taken away from them if they're interred in a pig sack," Bramson asserted, echoing beliefs commonly shared on Islamophobic websites. "The mother of every terrorist and of every potential terrorist should know that this would happen, in the best case." 
Bramson cited as inspiration Avigdor Lieberman, Israel's long-time foreign minister and chair of the anti-Arab Yisrael Beitenu party who is notorious for his violent incitement against Palestinians.
"In my opinion we should not return bodies to them at all but rather throw them into the sea, like [Avigdor] Lieberman said, and destroy whole neighborhoods, as a lesson for all to see. The Arabs should be kicked out of here," Bramson added.
Itamar Ben Gvir, a spokesperson for the Jewish National Front party, echoed Bramson's praise for the meat-throwing settler, telling Walla, "The guy deserves a medal."
"Leave them to the dogs"
Bramson's sadistic rhetoric was also echoed on social media.
After the Israeli website Buzznet posted video of the incident to Facebook, the comments section quickly erupted in jubilation.
"What a pleasure, may the Creator be blessed… this should be done to every Muhammad and Fatima," wrote Amit Amsen Maoz. 
"How can a so-called paramedic save the life of a terrorist, how can they give him care and treatment. Leave them to the dogs," added David Hai Mimoun.
"His whole family should burn in hell"
Days later, Buzznet's Facebook page once again exploded in sadistic cruelty in response to a video showing an Israeli settler barking "Die, you son of a whore!" at a bleeding Palestinian child. Israel had alleged, though without producing any evidence, that the boy and a 15-year-old cousin who was shot dead were involved in stabbing two people in the Israeli settlement of Pisgat Zeev.
"What's hard to watch about that? Tell me next time, I'll bring beer and pistachios," wrote Nir Jirad in response to the footage. 
"I hope all the mothers who are sitting in the villages now and thinking of sending their children today see this!!! His whole family should burn in hell," added Maya Bachar, who wished "full healing and recovery for our child, he should soon have the opportunity of celebrating his bar mitzvah."
Miri Knorr insisted the child "deserves to suffer."
"We are getting the pigs ready," remarked Ariel J. Berger, who drove home his point with a photo.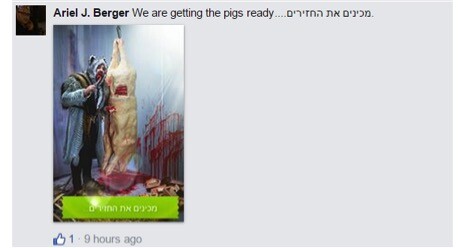 "What irritates me most is that he is evacuated to a hospital… those murderers should be slaughtered! Death penalty for terrorists!" said Harel Yedidi. 

Depraved mockery
Israeli Internet incitement may be on the rise, but it is hardly a new phenomenon. 
On 22 September, Israeli occupation forces at a checkpoint in Hebron carried out the extrajudicial execution, as Amnesty International termed it, of 18-year-old Hadil Salah Hashlamoun.
Two days after the young woman was killed, an Israeli Facebook page called "Medina ahat le am ehad," which means "one state for one people," posted a photo likely taken by a settler or soldier of Hashlamoun lying on a gurney half naked.
​The Electronic Intifada has seen the image but chosen not to publish it.
Commenters proceeded to mock the young woman's physical appearance in vulgar and sexually demeaning ways.
Tael Darba, for instance, remarked that the victim is "awfully hairy."
"Now I understand why the Arabs prefer screwing sheep/donkeys," added Maya Dayev.
The post attracted dozens more similarly disgusting comments.
Shira Porat pushed back, but only out of concern for the negative effect such misogynistic comments might have on the "body image" of Israeli girls.
In another rare rebuke, Chen Marks wrote, "Disgusting, you should be ashamed of yourself. I wish the person who published the photo will also be photographed like that. It's a disgrace to the Jewish nation that we're dealing with this sort of thing."
But sadly — as Haaretz acknowledges — such dehumanizing material is pervasive on Israeli websites.
After two days of depraved mockery, the photo was removed.
"Two days ago we put up a picture of the terrorist, may her name be obliterated, who was destroyed by our soldiers when she tried to do a terrorist act," the administrators of the Facebook page explained, adding, "Due to the photo we received a lot of threats and curses from terrorists, and also requests to remove the photo … the only reason we removed the photo is due to the nudity in it, which could become exposed to minors."
"We will continue publishing and expressing opinions as the page has been doing for more than a year, and our enemies can threaten as much as they like…. there is no such thing as Palestine and there will never be any such thing! This is one state for one nation," they insisted.
According to independent reporter Richard Silverstein, the photo was likely removed at the behest of Israel's military censor, whose office is tasked with keeping an eye on social media to prevent "embarrassment" to Israel. 
What is clear is that the genocidal hatred many Israelis express online does not stay there. It has already spilled into the streets. 
With translation from Hebrew by Dena Shunra.
Tags