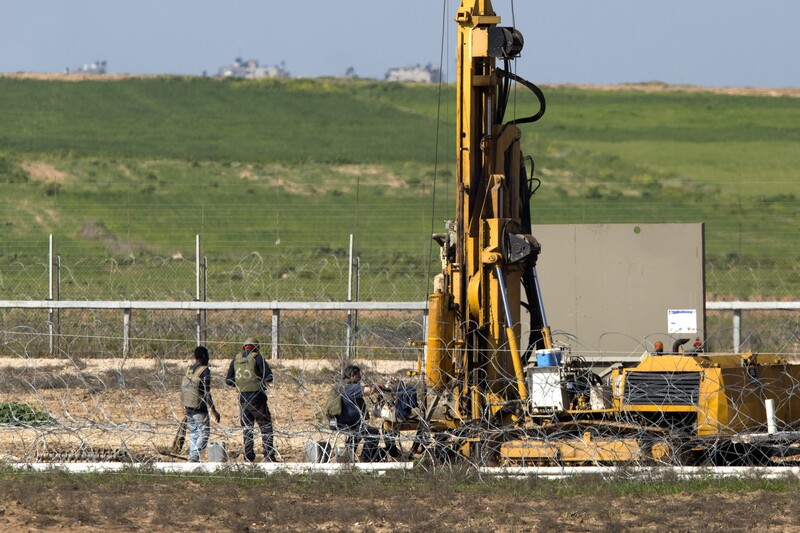 No longer content with suffocating Gaza by air, land and sea, Israel is expanding its blockade below ground with a new tunnel warfare system.
The US government is bankrolling the project to the tune of $120 million, with hopes of installing the technology at the US border with Mexico.
The anti-tunnel system is part of Prime Minister Benjamin Netanyahu's efforts to transform Israel into a giant fortress.
Last week, while touring the wall Israel is building at its boundary with Jordan, Netanyahu announced his plan to wall Israel off entirely to keep out Palestinians and Arabs from neighboring countries, whom he likened to animals.
"In our neighborhood, we need to protect ourselves from wild beasts" by surrounding "the entire state of Israel with a fence, a barrier," he said.
And the US is using it as an opportunity to outsource its own border militarization objectives.
Terror tunnel hysteria
A series of deadly tunnel collapses in Gaza during recent weeks has led to speculation of Israeli sabotage, with Israeli army chief of staff Gadi Eizenkot implying that the tunnel detection technology is already being tested on Gaza.
Israelis are characterizing the new technology as an underground Iron Dome, after the US-subsidized missile defense system designed to intercept rockets fired from Gaza before they hit the ground.
Despite serious doubts about Iron Dome's effectiveness, Israelis believe it works. So in effect, it shields them, at least psychologically, from the consequences of ghettoizing and imprisoning 1.8 million Palestinians in Gaza.
The anti-tunnel system has a similar objective.
For years Israeli officials have whipped up fears about Palestinian predators popping out of so-called "terror tunnels" burrowed underneath Israeli bedrooms, backyards and schools with the intention of killing innocent families.
No basis in reality
Despite having no basis in reality, such claims were used to legitimize Israel's 2014 war on Gaza, which killed more than 2,200 Palestinians, including 551 children.
The independent UN Human Rights Council inquiry into the war confirmed that "during the period under examination, the tunnels were only used to conduct attacks directed at IDF [Israeli army] positions in Israel in the vicinity of the Green Line, which are legitimate military targets."
One such operation targeted a fortified Israeli army post in Nahal Oz, inside present-day Israel.
Palestinian commandos from the Qassam Brigades, the military wing of Hamas, killed five Israeli soldiers before returning to Gaza through a tunnel. Perhaps no tunnel operation has had a greater psychological impact on Israelis.
Cut off from the world in 2007 by a siege enforced by both Israel and Egypt, Palestinians dug tunnels to survive, giving rise to a sophisticated network of underground passageways that provided an isolated population with access to basic everyday items denied to them by the blockade.
Israel's blockade transformed Gaza into a giant ghetto surrounded by electrified fences, surveillance drones, remote-controlled machine guns and navy gunboats.
A portion of the tunnels took on a military purpose crucial to armed resistance against a merciless enemy that possesses the most technologically sophisticated surveillance equipment in the world.
Under the cover of "terror tunnels," Israel is eliminating one of the only means of self-defense and survival for Palestinians while priming the Israeli public for the next war.
Trump-style borders
Todd Miller, author of Border Patrol Nation, told The Electronic Intifada he isn't the least bit surprised that the US government intends to use Israel's tunnel detection system at the US-Mexico border, describing the cross-border tunnels as "an obvious manifestation of evading the massive border enforcement-militarization apparatus."
"If you block off one way, people are going to try to find another way to get across, whether you're talking in terms of undocumented people or criminal smuggling rings," he said, adding that the same logic applies to Gaza. "It's actually a testimony to the kind of resilience and creativity of people trying to figure out how to get around this huge apparatus."
"You're seeing the 'special relationship' between the United States and Israel manifest itself more and more in the US-Mexico border context," Miller added.
The most obvious example is Elbit Systems, Israel's largest military technology firm.
"Elbit Systems is using technology they've developed in Palestine and used on Palestinians, and they're using that as a selling pitch for the US-Mexico border," Miller said. "So essentially Palestine is being used as a laboratory to develop these technologies."
Development of the tunnel detection system was contracted to dozens of Israeli military firms. Elbit is a key beneficiary and its products have already been used along the US-Mexico border.
In 2014, Elbit was granted a $145 million contract by the US Department of Homeland Security to construct a virtual wall of surveillance towers and motion detectors, called Integrated Fixed Towers, at the Arizona-Mexico border.
The towers are furnished with similar Elbit technology to that used in constructing and maintaining Israeli walls and fences in the occupied West Bank and the boundaries with Gaza and Egypt. The company uses its experience in facilitating repressive policies as a marketing ploy.
An Elbit video emphasizes that its towers are "field-proven" with "10+ years securing the world's most challenging borders."
Last year, Miller reported on Global Advantage, a University of Arizona-led business venture that identified Israel as having the highest concentration of homeland security companies in the world.
Global Advantage is actively seeking out Israeli companies to set up shop at the US-Mexico border, which Miller characterizes as the ultimate shopping mall for homeland security technology.
"What's even more remarkable is the US-Mexico border is a laboratory as well, where they showcase and try to sell the same technology to other countries," said Miller.
But Gaza, he added, is "the main laboratory" because "it's almost completely sealed, whereas the US-Mexico border is almost 2,000 miles long" and still porous.
The tiny Palestinian territory, home to 1.8 million people most of whom are refugees, represents what Miller calls "the Donald Trump version of border militarization."
Trump, the demagogic Republican presidential contender, has already lauded Israel's apartheid wall in the West Bank as a model for the United States.
Tags