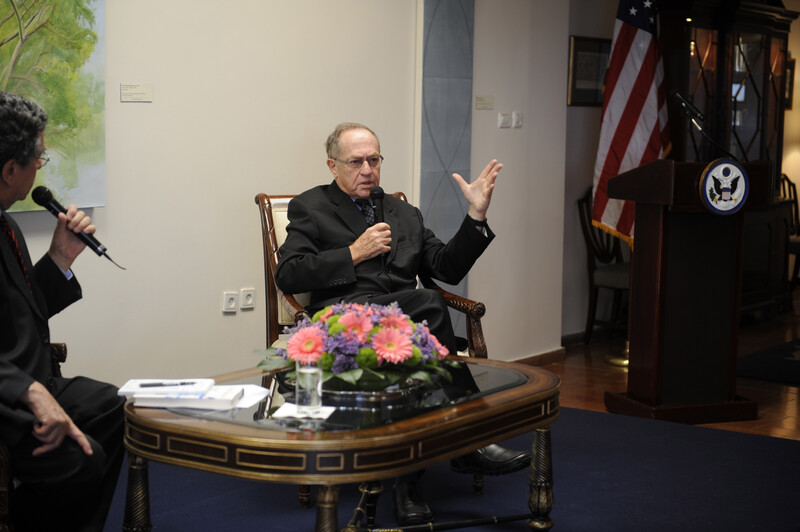 In his recent column at the New York Observer, anti-Palestinian activist and famed American rabbi Shmuley Boteach implores Jews everywhere to speak out in defense of Harvard law professor Alan Dershowitz against allegations that he raped a minor. Why? Because "for decades, Israel has found its most eloquent defender in Alan Dershowitz," according to Boteach. "He is just so good at being Israel's advocate."
The rape accusation against Dershowitz was made in a 30 December court filing that is part of an ongoing lawsuit on behalf of four women against the US government for violating their rights as victims when it made a secret 2008 plea deal with their rapist, super-rich hedge fund manager Jeffrey Epstein, without informing them. Dershowitz was a close friend to Epstein and eventually served as one of his lead attorneys, helping secure a plea deal that ensured Epstein spent just thirteen months in prison. 
An FBI investigation determined that Epstein had sexually abused no less than forty underage girls hundreds of times as part of a child sex trafficking ring, which involved loaning his victims out to powerful friends, who, according to the court filing, included "numerous prominent American politicians, powerful business executives, foreign presidents, a well-known prime minister and other world leaders" with the purpose of "ingratiating himself with them for business, personal, political and financial gain, as well as to obtain potential blackmail information."
One of the victims named in the suit (under the pseudonym "Jane Doe #3" to protect her identity), was "converted" into Epstein's "sex slave" at the age of fifteen and forced to have sex with his powerful associates. Jane Doe #3 named two of those associates as Alan Dershowitz and Britain's Prince Andrew.
"Epstein required Jane Doe #3 to have sexual relations with Dershowitz on numerous occasions while she was a minor, not only in Florida but also on private planes, in New York, New Mexico, and the US Virgin Islands," alleges the court filing. "In addition to being a participant in the abuse of Jane Doe #3 and other minors, Dershowitz was an eye-witness to the sexual abuse of many other minors by Epstein and several of Epstein's co-conspirators." 
The lawsuit notes that Dershowitz played a central role in negotiating the secret plea deal provision that immunized "any and all potential co-conspirators of Epstein" from federal prosecution. This means, if Jane Doe #3's allegations are true, "Dershowitz helped negotiate an agreement with a provision that provided protection for himself against criminal prosecution in Florida for sexually abusing Jane Doe #3."
"Sterling character"
In his New York Observer column, Boteach dismissed the allegations as "bizarre attacks" against Dershowitz that are as preposterous as suggestions that the 11 September 2001 atrocities were an inside job. Boteach also suggested that the allegations against Dershowitz amount to an anti-Semitic blood libel.
"Here is a man of sterling character who has been a champion of the Jewish people and Israel his entire life. He is America's best-known defender of Israel."
Boteach continued, "You simply can't have a situation where an individual spends his life defending his people and then when he himself comes under attack he is abandoned." 
"What Alan Dershowitz deserves is the gratitude of his community," Boteach added.
Just in case the message of his column didn't get accross, Boteach's publicist at Rubenstein Public Relations promoted the article in an email sent to journalists and media outlets, including The Electronic Intifada, using the subject line, "Rabbi Shmuley calls all Jews to defend Alan Dershowitz."
Demanding that Jews collectively and unquestioningly support Dershowitz against child molestation allegations as a form of tribal "gratitude" for Dershowitz's lifelong commitment to defending Israeli atrocities is both absurd and appalling. By conflating the state of Israel with "all Jews," Boteach is dangerously and wrongly implicating Jews everywhere in Israel's crimes, effectively promoting anti-Semitism among the uninformed and providing real anti-Semites with cover. 
Attacking the victim
There has been no trial to determine whether Dershowitz is guilty of the allegations against him, which he "categorically" denies. Therefore, he should be presumed innocent until proven otherwise. 
However, it is remarkable that his increasingly bellicose responses bear a striking resemblance to the tactics he typically deploys against Palestinians and their supporters when defending Israeli criminality, most notably blaming and attacking the victim. 
Jane Doe #3 was the victim of a sexual predator (Jeffrey Epstein) who molested her repeatedly when she was a minor. Yet Dershowitz has been on a media blitz threatening to sue her and her lawyers for defamation. Meanwhile, he has referred to her as a "serial prostitute" whose testimony cannot be trusted "against somebody with an unscathed reputation like me."
Jane Doe #3's attorneys have since filed a defamation lawsuit against Dershowitz.
Griping to The Jerusalem Post that anti-Semites and "anti-Israel zealots" are capitalizing on the rape accusations, Dershowitz seemed to equate defending himself from charges of child rape to defending Israel from anti-Semitism. 
"The anti-Semites are crawling out from under their rocks, they are loving this. And the anti-Israel zealots are loving this," complained Dershowitz, adding, "I'm not only defending myself here but I am defending other values as well. I am defending the values that I have represented and stood for, for so many years."
Perhaps this line of thinking shouldn't come as a surprise. Unwavering support for Israel and its colonial enterprise has always required defending the indefensible. That is, after all, what Dershowitz does best. 
Tags