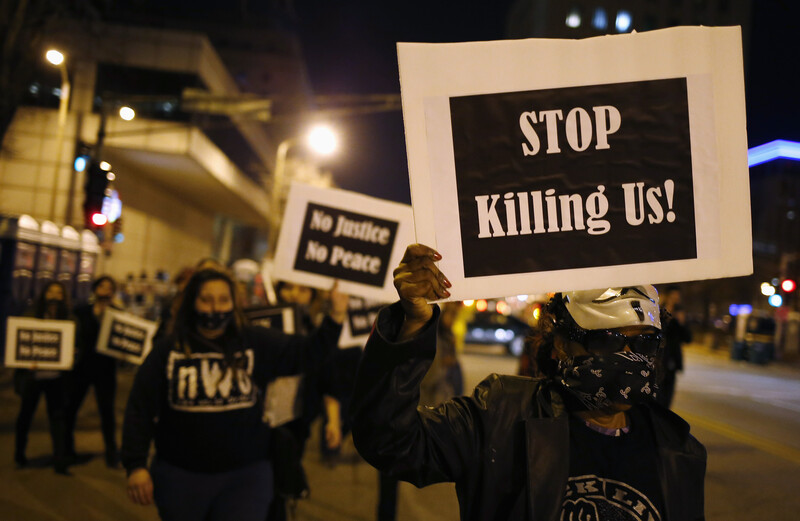 The Anti-Defamation League (ADL) is honoring the St. Louis Metropolitan Police Department (SLMPD) on 31 July, just days ahead of the first anniversary of the police killing of unarmed Black teenager Michael Brown in the St. Louis-area municipality of Ferguson, Missouri.
The purpose of the event, according to an announcement on the ADL's website, is to celebrate 10 years since the launch of the organization's Holocaust education program, called "Law Enforcement and Society: Lessons of the Holocaust" (LEAS).
Designed by the ADL and the Holocaust Museum, LEAS is described as "an innovative training that increases law enforcement's understanding of their role as protectors of the American people and the Constitution."
"By examining the Holocaust, police learn about the dangers that anti-Semitism, bigotry and bias pose to all," according to the ADL, which boasts of having trained more than 90,000 police officers in LEAS.
The program has also been introduced to US military personnel with plans to expand its reach.
SLMPD is slated to receive special recognition for being the first law enforcement agency to participate in LEAS when it was piloted in 2004.
The program was created at the behest of former DC Metropolitan police chief and current Philadelphia top cop Charles Ramsey, whose career has been punctuated by violent crackdowns on protests and the expansion of racially discriminatory practices.
Learning about law enforcement's role in perpetuating the Nazi Holocaust appears to have had little impact on the SLMPD, which participated in the heavily militarized crackdown against Ferguson protesters after Michael Brown's death and continued to violently crush demonstrations across St. Louis in the months that followed.
Cut ties with white supremacy
The ADL's mission at its founding a century ago was to defend Jews against then rampant discrimination. In recent decades, the group's main preoccupation has been to ferociously pursue critics of Israel and defenders of Palestinian rights.
Notoriously, the ADL spied on both Palestine solidarity and anti-apartheid activists in the 1980s.
In response to the ADL's event honoring the St. Louis Metropolitan Police Department, the St. Louis chapter of Jewish Voice for Peace (STL-JVP) issued a statement beseeching "all who oppose white supremacy to cut ties with the Anti-Defamation League."
STL-JVP said it was particularly egregious to honor "a police force whose racist shooting spree targeting Black youth continues, most recently in the shooting of 16-year-old Brandon Claxton in the face last weekend even as witnesses say he posed no threat."
"We are disgusted by the ADL's grotesque invocation of the Nazi Holocaust – in which countless members of our families perished – both as a tool to give the ADL and St. Louis police cover as protectors of civil rights, and to frame racism in the US solely within the context of anti-Semitism," the statement continued.
"We have cringed as the ADL positions itself locally as a champion of racial profiling legislation while sending US police – including former St. Louis County Police Chief Tim Fitch – to train on population control in Israel, an apartheid police state with more than 60 years of sophisticated expertise in racial profiling, mass incarceration, settler colonialism, and ethnic cleansing targeting the non-Jewish indigenous Palestinian people," STL-JVP added.
The group takes to task mainstream Jewish organizations in St. Louis including the ADL, the Jewish Community Relations Council and the Jewish Federation whose leaders "speak the language of justice" but "are overtly racist toward Palestinians."
"Zionism – itself a form of white supremacy that oppresses Palestinians, Jews of color, and other marginalized groups – has no place in any antiracist movement," STL-JVP states.
The statement concludes by imploring "St. Louis Jewish leaders and organizations, especially those who have been active in Ferguson, to stop playing both sides – chanting 'Black Lives Matter' in the streets while working closely with racist Jewish organizations."
Meanwhile, STL-JVP is organizing a protest outside the ADL's police celebration and has invited broad participation.
ADL stands by police
Despite the criticism, Karen Aroesty, ADL regional director in St. Louis, is refusing to cancel the event.
"We are validating a 10-year partnership that is not simply about the St. Louis Metropolitan Police Department, but about more than 50 other departments in the region who have participated in this program in the last decade," Aroesty told this reporter by telephone. 
While she acknowledged bias exists in policing, Aroesty said she believes the ADL's event is warranted and that activists who are upset by police violence need to engage more.
"Those folks who are impacted by policing, they also need to understand that they have value in that learning process and simply being angry is not going to get the job done," Aroesty said. "And I do think there are police departments that are kind of frustrated because they feel as if it's all being put on them to change drastically but there's certain things that they cannot change."
When it was suggested that police are not being held accountable for killing citizens across the country, Aroesty said it is police who are being shot in the streets.
"I wonder what happens to our trust in democracy when people feel that they can just indiscriminately shoot police officers," she said. "What does it do to the community's sense of stability?" Aroesty asked, referencing the ambush shooting of an officer in St. Louis on 14 July, for which she implied the community bore responsibility.
There's no doubt that police face threats on the job, but the statistics do not compare to the often racially charged police violence against citizens they are supposedly tasked with protecting.
Of the 67 US police officers that have died "in the line of duty" so far this year, 22 were killed by gunfire or assault, according to the Officer Down Memorial Page. The rest died from previous illnesses, car crashes, heart attacks or various accidents.
In the same time period, police have killed more than 630 people – nearly ten times as many – with more than 80 deaths in July alone.
And while those who harm police officers are likely to be arrested, charged and convicted, police officers who kill are almost never held accountable.
Nonetheless, Aroesty denied that police impunity is widespread.
"I feel confidant that police officers who are in fact acting beyond the scope and abusing their discretion, that they are in fact being held accountable," she said. "It is very very complex."
Anti-Palestinian
Back in March, after the Jewish Community Relations Council pressured the Missouri History Museum to cancel a panel discussion on Ferguson, Palestine and the kidnapping and killing of students from Ayotzinapa College in Mexico, Aroesty applauded the censorship and encouraged the museum to contact SLMPD for assistance in quelling protests the cancellation provoked.
The ADL has repeatedly condemned solidarity between Black Americans and Palestinians, characterizing it as offensive and rooted in hostility toward Israel. It became so incensed, it compiled a blacklist of people and organizations that dared to compare state violence against Black Americans to Israeli violence against Palestinians, accusing Palestine solidarity activists of "trying to rouse support for an anti-Israel agenda by attracting like-minded activists."
The main connection activists recognize from St. Louis to Palestine is the training relationship between US law enforcement agencies and Israel.
"That's hogwash!" Aroesty interjected before this reporter could finish asking a question about the fact that senior commanders from numerous US police departments routinely travel to Israel to "learn" from state security and occupation forces. Many of these junkets are organized by the ADL.
"Sure, the Israelis have, because of their security issues, a unique capacity for training police chiefs from around the country who have been going [to Israel]," Aroesty conceded. "And a number of different agencies, not just ADL, sponsor training programs."
Under the cover of "counterterrorism training" senior commanders from nearly every major US law enforcement agency have traveled to Israel, including the St. Louis County and St. Louis Metropolitan police departments.
In 2011, then St. Louis County Police Department chief Timothy Fitch attended the ADL's National Counter-Terrorism Seminar, an annual week-long Israeli training camp where US law enforcement executives "study first hand Israel's tactics and strategies" directly from "senior commanders in the Israel National Police, experts from Israel's intelligence and security services and the Israel Defense Forces," according to the ADL's own website.
While Aroesty acknowledged Fitch's participation, she rejected as "factually incorrect" any suggestion that the training had any impact on the behavior of St. Louis police in the weeks following Michael Brown's death.
But on its website, the ADL boasts of sending more than 175 senior US law enforcement officials from 100 different agencies to the seminar since 2004, proudly stating that they are "taking the lessons they learned in Israel back to the United States."
Still, Areosty insisted that the training junkets "had nothing to do with any of the police tactics or the optics that were experienced in the couple of weeks after Michael Brown was shot."
She insisted that any criticism of the training programs and ADL's role in them "was about the ideological goals of the anti-Israel movement" which was intent on using "whatever they could to make their point … whether they were factual or not."
The protests the ADL's event is sparking suggest that it getting harder for the pro-Israel group to pose as both a champion of civil rights in the US while defending the police forces that routinely trample those rights with impunity.
Tags