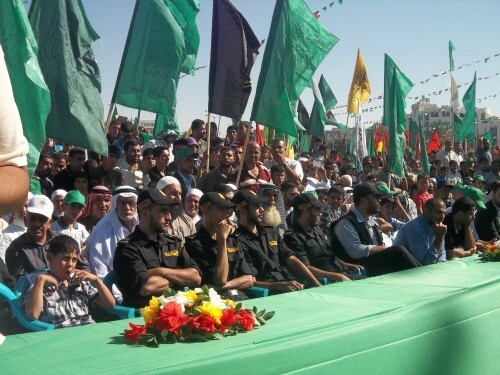 As soon as released Israeli captive Gilad Shalit arrived in his parents' bosom, Israel seems to have embarked on yet another propaganda campaign aiming at shifting international criticism from the illegal Israeli practices enforced upon the Palestinians, to the Palestinian prisoners released earlier today.
Israeli Prime Minister Benjamin Netanyahu in his speech today called the freed Palestinian prisoners as "released terrorists."
Obviously, Netanyahu and those who are concerned about the re-involvement of Palestinian prisoners in future "terrorist activities" seem to have forgotten about the $3 billion Israel receives every year from the US in support of Israeli warfare.
On another route, the risks Israel will have to deal with are much less than those of the Palestinians. When Palestinians take part in a military attack against Israelis, they serve years, or decades, in Israeli jails and suffer from torture, solitary confinement, as well as having to pay for the meals they eat. Israeli soldiers who murdered a mostly civilian population in late 2008 and early 2009, however, still enjoy impunity and breathe fresh air.
To say it in short: the world must still be concerned about the security of the Palestinians who are constantly dehumanized, terrorized and discriminated against; unlike Israel who possesses nuclear weapons and enjoys the support of largest world powers.
The Israeli boy, Gilad Shalit is said to be suffering from "minor injuries" or at least this is what his father says. Surprisingly, when interviewed on Al Masry Al Youm, a neutral Egyptian television, before being handed over to Israel, he appeared to be healthy both mentally and physically. His father, however, did not speak of "malnutrition" as some Israelis tend to publicize.
Palestinians, on the other hand, welcomed the released prisoners in a celebratory spirit that has not been seen here for quite a long time. Since the early hours of the morning, Palestinians took to the streets and to major squares in preparation of a huge celebration that had been organized by Hamas. Even families who still have sons, daughters or relatives in prisons have joined the others to share them the delight.
Ululations could be heard from surrounding houses and national music was aired in the streets all the time. Up to this moment, while I'm writing this, I can still hear people singing loud along the road. Even cars were adorned by flowers and posters of the released fighters can be seen everywhere.  Parades of hooded men, ordinary people, including prisoners' families lead every free prisoner back home. Handshakes, friendly hugs, tears and sweets are also part of the overall picture of today's celebrations.
The same pictures are reoccurring in the West Bank. We, the young people, have turned twitter into a party. People from all over the world are joining us and congratulating the move.
Zionists, unfortunately, but expectedly, tried to distort ecstasy and lower morale. One Israeli "leftist" for instance accused me of demonizing Israel when I exposed the harsh conditions under which Palestinian prisoners languish. Pardon me, "leftist," but Israel has been demonizing itself as early as 1948. The systemized Apartheid for example, cannot be angelic.
Now considering Mahmoud Abbas, who also welcomed the released prisoners in the West Bank, a lot can be said in regard to his speech.
A worth mentioning point in his speech is this: "After God, your freedom [prisoners] is thanks to the martyrs whom we pray for."
Of course it's right to thank both God and the Palestinian martyrs who sacrificed their lives for the freedom of Palestine. But without the efforts of Hamas who captured the Israeli soldier, the prisoner swap deal couldn't have existed. Mahmoud Abbas did not address Hamas in his speech at all; not even once. A Hamas representative, however, took the stage directly after Abbas concluded and addressed his "efforts" in securing the deal. In a few words: Abbas who has nothing to do with the deal was addressed by Hamas, while Hamas who has everything to do with it was not addressed at all.
Mahmoud Abbas also said the following: "Future negotiations will be based on the 1967 lines, settlements must stop, and prisoners are priority."
It is really pathetic that Abbas still believes in negotiating with Israel.  First, he knows very well that negotiations have always failed to achieve settlement moratorium and will continue to do so; second, a state based on the 1967 lines does not secure basic Palestinian rights; third, he is outdated and doesn't represent the majority of Palestinians who are refugees scattered across the world.
Criticism of the deal in the Palestinian society is far less than that in Israel. Although Palestinian leaders like Marwan Barghouthi were not included in the deal, and although most of the Palestinian prisoners are still condemned to harsh conditions, 1027 released prisoners  is a significant number that deserves to be celebrated especially when considering the fact that many of them were convicted to life sentences.
For us, the Palestinians, both in Gaza and the West Bank, our struggle does not end here. The prisoner swap deal is just another beginning to our struggle for peace, justice and freedom.  And we shall never rest unless all of our prisoners are freed again.
We are determined to live and spend our lives working hard to deserve the honor of being Palestinians. We will continue to learn, teach, and to boycott Israel.
Tags