Carlos Santana and his charitable foundation have ignored repeated calls to cancel an upcoming performance in Tel Aviv.

The legendary guitarist canceled a performance in Tel Aviv in 2010, heeding the call from boycott, divestment and sanctions (BDS) activists around the world.

Supporters of Palestinian human rights are outraged that Santana is now preparing to cross the international picket line.

On Tuesday, a group of Bay Area-based Palestine solidarity organizers, some with children, attempted to deliver a petition, signed by 25,000 people demanding the musician cancel his 30 July gig, to the San Rafael offices of Santana's management and his Milagro Foundation.

However workers at the foundation, which supports community organizations serving marginalized children and youth, "refused to open the door … and closed the blinds," according to the Middle East Children's Alliance (MECA).

Jewish Voice for Peace live-streamed the attempted petition delivery.

"We're here as parents, as activists, as individuals who care about Palestinian children and their rights. And we're calling on Santana to do the same," says an activist in the video.

"He has a foundation set up to serve children who are marginalized, and Palestinian children need his support too."

One child, 4-year-old Marcel, "was stooping down, trying to see through the door's glass. He couldn't understand why there would be someone waving to him on the other side but not letting him in. It was very confusing for him," Barbara Lubin, MECA's director, told The Electronic Intifada.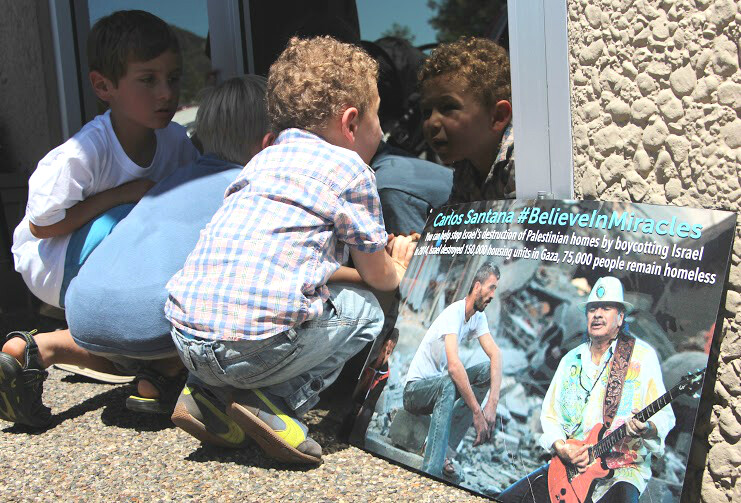 The group left the petition outside the offices, "in the hopes that Milagro Foundation staff and Carlos Santana will read it and respond," MECA stated.
"Problematic"
"The Santana Band is coming to play in Tel Aviv this summer. We are coming to share our hearts music for anyone who wishes to attend. All are welcome," Santana stated on Facebook on 30 March.
But Santana ought to know that if his Palestinian fans living in the occupied West Bank or Gaza Strip, or in the diaspora, want to attend his concert, Israel would not allow them.
The Palestinian Campaign for the Academic and Cultural Boycott of Israel (PACBI) sent an open letter in April to Santana asking him "to respect our picket line and join hundreds of artists from around the world" who have refused to perform in Israel and honored the BDS call.
PACBI said that the musician's efforts to offset crossing the international picket line are "problematic."
On his Facebook page, Santana has promoted a video for the nonprofit educational institution Hand in Hand, which established Arabic-Hebrew bilingual schools in Jerusalem and the Galilee, noting that his foundation has "funded Hand in Hand since 2003."
Santana has also pledged to donate proceeds from his concert to medical charity Doctors Without Borders.
But such gestures apparently aimed at defusing protest have been sharply criticized by Palestinian campaigners.
"It is equivalent to performing in apartheid South Africa in the 1980s, against the will of the overwhelming majority of the oppressed there, and donating the proceeds to some charity," PACBI said in response.
"While we support donations to this commendable organization [Doctors Without Borders], it cannot be at the expense of contributing to the cover-up of Israel's blatant violations of Palestinian rights," PACBI added.
Earlier this month, "the original Facebook post on [Santana's] page announcing the concert and donation to Doctors Without Borders was edited to remove their name," according to MECA.
"It's not like him"
Activists are sharing a video released by the US Campaign to End the Israeli Occupation in order to amplify the boycott call to Santana. It can be viewed at the top of this article.
MECA's Barbara Lubin said she was surprised that Santana and his child-centered foundation have ignored the demands from Palestinian civil society and solidarity activists to cancel his performance.
"Carlos has stood up for justice so many times in different parts of the world," Lubin said. "And like little Marcel, I'm also so confused. Why he would take this stand? It's not like him."
Tags