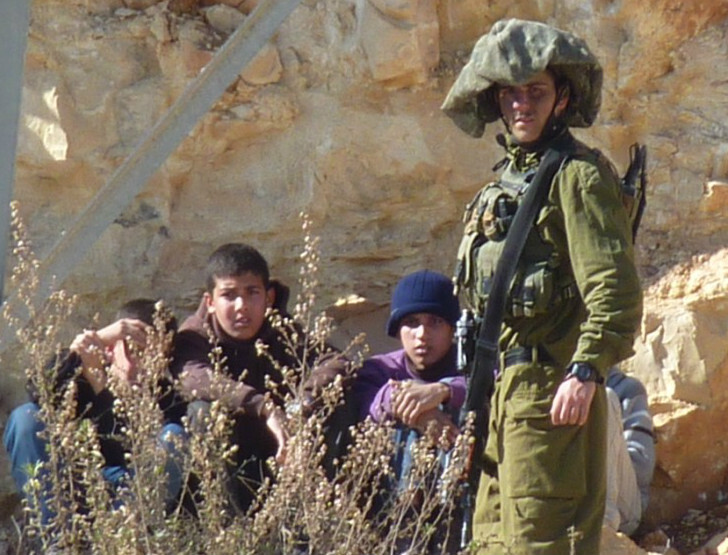 Since 1967, Palestinians from the West Bank have been living under Israeli military law and prosecuted in military courts. The United Nations (UN) estimates that during the last 44 years, around 726,000 Palestinian men, women and children have been prosecuted and detained under these emergency laws. In the past 11 years alone, around 7,500 children, some as young as 12 years, are estimated to have been detained, interrogated, and imprisoned within this system. This averages out at between 500-700 children per year, or nearly two children, each and every day.
A new, important yet disturbing report published on Tuesday by Defence for Children International - Palestine section has found that Israel's routine arrests, detentions, interrogations, abuses and torture of Palestinian children are in breach of various UN and international laws, including the Convention on the Rights of the Child, the Convention against Torture, and the International Covenant on Civil and Political Rights, all of which have been ratified by Israel. 
Based on the testimonies of more than 300 children interviewed between 2008 and 2012, DCI-Palestine's report states in the summary that "there is a systematic pattern of ill-treatment, and in some cases torture, of children held in the military detention system, with the majority of the abuse occurring during the first 48 hours." 3 of the 311 children who provided testimonies were arrested while they under 11 years old, but the majority of the children interviewed were detained while they were 16 and 17 years old. 
According to the report, 95 percent of the children interviewed stated that their hands had been tied during interrogation, 90 percent had been blindfolded, 75 percent reported physical violence used against them, 33 percent had been strip-searched, and 29 stated they had been shown and/or forced to sign documents — including confessions — written in Hebrew, with no translation or translators available. 
12 percent of the children had been put into solitary confinement. 
DCI-Palestine also reported that majority (60 percent) of Palestinian children testified that they had been arrested by heavily-armed Israeli forces who snatched them from their homes between midnight and 5am, and then taken to an "unknown location for interrogation."
The arrest and transfer process is often accompanied by verbal abuse and humiliation, threats as well as physical violence. Hours later the children find themselves in an interrogation room, alone, sleep deprived, bruised and scared. Unlike Israeli children living in settlements in the West Bank, Palestinian children are not accompanied by a parent and are generally interrogated without the benefit of legal advice, or being informed of their right to silence.
… Within eight days of their arrest, the children are brought in chains to a military court where, in most cases, they will see a lawyer and their parents for the first time. Although many children maintain their innocence, in the end at least 90 percent will plead guilty, as this is the quickest way out of a system that denies children bail in 87 percent of cases. Within days of their arrest, nearly two-thirds of the children are transferred to prisons inside Israel in violation of Article 76 of the Fourth Geneva Convention, which prohibits such transfers. The practical consequences of this is that many children receive either limited, or no family visits, due to freedom of movement restrictions and the time it takes to issue a permit to visit the prisons. 
… Out of 311 testimonies, no child was accompanied by a lawyer during their interrogation, and only two children (0.6 percent) were accompanied by a parent. This is significant because third-party scrutiny of the methods of interrogation can be an effective measure to limit the use of torture, illtreatment and other coercive techniques during questioning.
DCI-Palestine's report also includes in-depth testimonies from some of the Palestinian children, interviews with medical and psychological experts, and testimonies from former Israeli soldiers — now with the group Breaking the Silence — who participated in the arrest and interrogation of children.
Tags