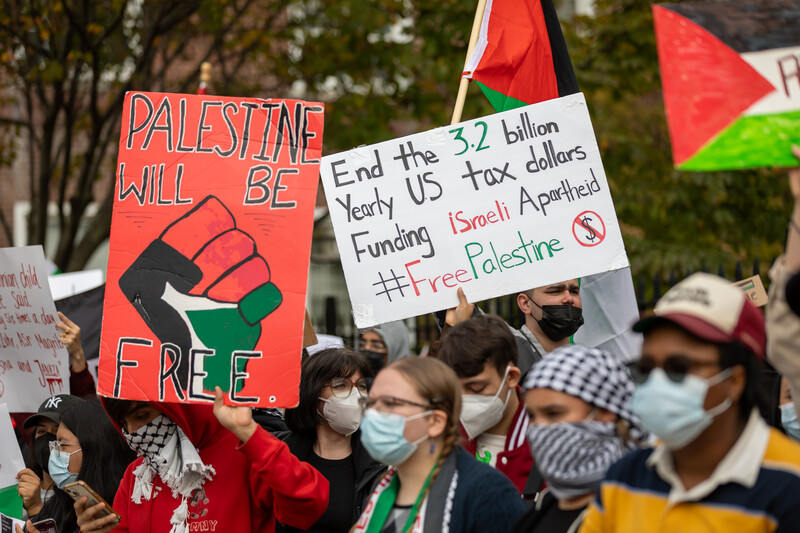 Fueled by demands from Israel lobby groups, US students who are organizing against Israel's genocidal attacks are facing accelerated repression by their own university administrations.

These McCarthyite efforts are being encouraged by the Biden administration.

But students and civil rights groups are fighting back.

Two weeks ago, the Anti-Defamation League and the Louis D. Brandeis Center for Human Rights Under Law – two right-wing Israel lobby groups masquerading as civil rights organizations – sent notices to hundreds of US universities, urging them to punish students who are protesting Israel's slaughter in Gaza and designate them as "terror supporters." The two lobby groups demanded that administrations "immediately investigate" campus chapters of Students for Justice in Palestine (SJP) for "potential violations of the prohibition against materially supporting a foreign terrorist organization."

This defamatory and incendiary language was bolstered by the Biden administration's spokesperson, Karine Jean-Pierre, who on 30 October equated anti-racist activists who protest Israel's genocide in Gaza with violent white supremacists.

The Biden administration released plans to appease the ADL's claims of "upticks" in anti-Jewish bigotry by partnering with law enforcement, the Department of Justice and the Department of Homeland Security "to track hate-related threats and provide federal resources to schools," according to NBC News.

An unnamed White House official told NBC that "dozens of cybersecurity and protective security experts at DHS have been detailed to engage with schools as they navigate incredibly tense environments."

An associate professor at the City University of New York tweeted on Wednesday that faculty were "just informed that Muslim students' social media posts about the war are being surveilled by the college and have been reported to the NYPD."
Circumventing the constitution
Way ahead of the Biden administration, Florida's government had already begun employing such tactics of surveillance and punishment of students in the state.

On 24 October, the chancellor of the State University System of Florida released a memorandum "directing public universities in Florida to 'deactivate' chapters of National Students for Justice in Palestine on their campuses," stated the civil rights group Palestine Legal.

"The memo is filled with erroneous factual and legal claims that seek to distract from, distort and silence the message of student activists across the United States the same way Israeli propaganda has sought to distract public attention from ongoing Israeli war crimes," the group added.

Palestine Legal warned Florida legislators that the call to ban SJP chapters is a flagrant violation of the First Amendment and that "it will be challenged in court."

The lawyers noted that Florida is attempting to circumvent constitutional rights by claiming that "language referring to 'resistance' and the statement that 'Palestinian students in exile are PART of this movement, not in solidarity with this movement' somehow makes National Students for Justice in Palestine or the independent student groups that share its name guilty of 'support for terrorism' under the law."

This claim, on which the ADL and the Brandeis Center are also relying, has been used across the US as Islamophobia and anti-Arab bigotry remains unchallenged.

"Independent protests and organizing in support of Palestinian rights do not constitute 'material support for terrorism,'" Palestine Legal stated.

A coalition of civil rights organizations have urged more than 650 US universities "to protect your students from the ongoing campaign to harass, defame, and silence supporters of Palestinian human rights."

Palestine Legal and the Center for Constitutional Rights also demanded that the Department of Education's Office for Civil Rights address rising Islamophobic and anti-Palestinian attacks.

The US Secretary of Education, Miguel Cardona, offered a both-sides approach, saying that he will ask Congress for more funding "so that we can make sure we're expediting investigations against antisemitism or Islamophobia."

The Biden Administration is scrambling to hold onto support from Arab and Muslim voters, which has slipped dramatically over Biden's support for Israel's war crimes.
Brandeis University bans SJP
However, universities seem to be heeding the Israel lobby's call to crack down on student activism in defense of Palestinians.

On Tuesday, the Grayzone reported that David Friedman, the former ambassador to Israel under President Donald Trump, signed a letter to top New York University officials demanding that the university crack down on – and even prosecute – students who protest Israel's attacks.

Brandeis University, meanwhile, revoked its recognition of its Students for Justice in Palestine chapter this week after students planned to hold a candlelight vigil for the ten thousand Palestinians killed in Israel's month-long attacks.

Using a racist trope that equates support for Palestinians rights to a call for the death of Jews, the university falsely and libelously claimed that National SJP "has called on its chapters to engage in conduct that supports Hamas in its call for the violent elimination of Israel and the Jewish people."

National SJP, for its part, has amplified voices of student activists and called out the mass "campaign of lies … fueled by Islamophobic and anti-Arab tropes, used to generate manufactured consent for the obliteration of an entire people by the Zionist project and the US empire."
Tags