Israeli warplanes fired a series of "warning rockets" at the al-Wafa Geriatric Hospital in Gaza City on Friday, sending patients and nurses into a panic.
According to the executive director of the hospital, who spoke with The Electronic Intifada on Saturday morning, there is no safe place to move the patients if Israel strikes it again with the kind of weaponry it is using wantonly across the Gaza Strip.
"If we want to move them [anywhere], assuming that we find a place, it will take six to seven hours to move them, and on the road from place to place is extremely dangerous," Basman Alashi said. He added that he and the hospital staff are doing as best they can to protect the patients and their caregivers.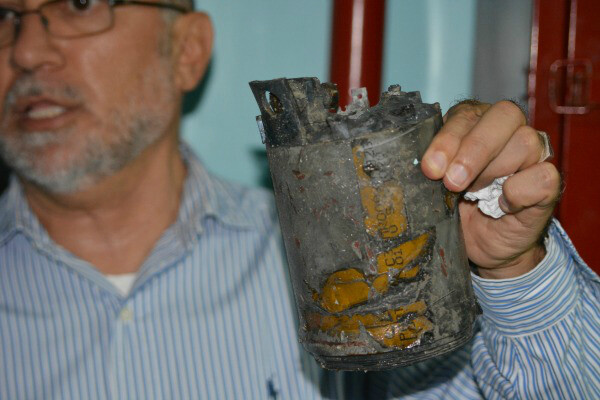 International activists in the Gaza Strip stayed in the hospital overnight and into this morning in solidarity, acting as human shields to protect the hospital, its patients, caregivers and staff.
In a press release issued by the International Solidarity Movement (ISM), Swedish activist Fred Ekblad said: "The civilian population of Gaza is being bombed. We will stay with them in solidarity until the international community and our governments take action to stop Israel's crimes against humanity."
ISM adds in their press release:
The first barrage of missiles hit the fourth floor of the hospital at 2am [Friday].

At approximately [5pm] a fifth missile hit the hospital. "Windows and doors were blown out, broken glass everywhere, damage to the stairs, there's a big hole at the impact area and the wall is burnt," reports Joe Catron, ISM activist, from the US.

At around [8pm], Basman Alashi, executive director of the hospital, received an unidentified call from a person with a "heavy Israeli accent," asking if there were any injuries, whether there was any one in the top floor, and whether they were planning to evacuate the hospital.
As The Electronic Intifada reported today, the Israeli military bombed a home for people with disabilities in northern Gaza on Friday night, killing two women, Suha Abu Saada, 47, and Ola Wishaa, 30.
International aid agency Oxfam reported Friday that "An Oxfam-supported mobile health clinic that provides primary healthcare to several thousand families in northern Gaza yesterday had to suspend all its services because routes there had become too dangerous to travel. A health center run by an Oxfam partner in Beit Hanoun that specializes in pre and post natal care was badly damaged and is now unable to operate."
And the United Nations Office for the Coordination of Humanitarian Affairs stated that "Fears of an imminent Israeli ground operation in Gaza have been on the rise; some 300,000 people in areas close to the border have been warned to leave their homes."
Basman Alashi, executive director of al-Wafa Geriatric Hospital in Gaza City, described the rocket strikes by the Israeli army on the hospital Friday.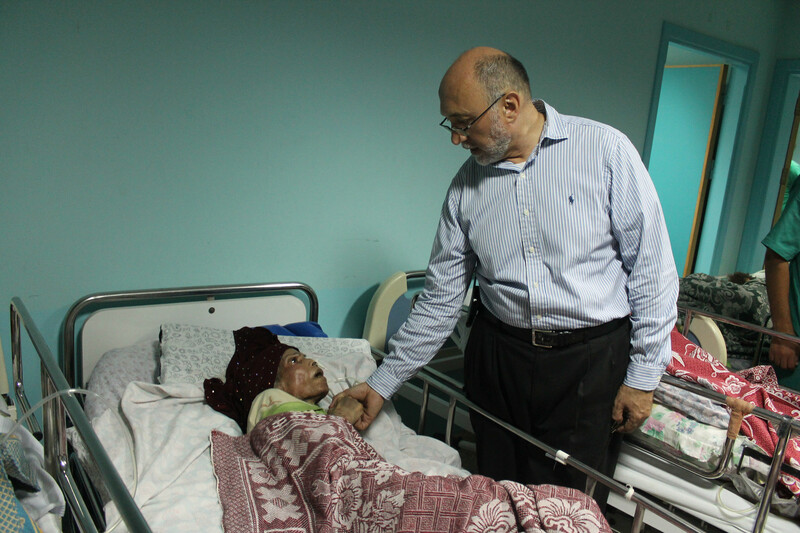 Basman Alashi: My name is Basman Alashi. I am the executive director of the al-Wafa rehab hospital in Gaza City. Yesterday, we were hit by a rocket on the eastern side of the hospital. Two of our nurses went to check out the noise that came from the eastern side. One of them decided not to investigate the issue anymore, so he started walking back. A second rocket hit the same area, so they were saved by the grace of God. Then, they went back. Then, a third rocket came in at the same area; then, fifteen minutes later, a fourth rocket hit on the roof.
Many of our patients were panicking, the nurses were panicking, because they had not been in this situation before. They did not know what to do, so they started calling the management asking what to do. They were instructed to move down to the first floor. None were hurt, thank God, and they were all safe. They were moved to be hosted on the first floor, men and women in the same section. In the morning, I went to them and I saw the panicking of the nurses — and one of the patients, her name is Hiba, she's 85 years old, she was acting normally. The minute she heard the bomb, it was if a back memory just woke up in her and she remembered things, so she started screaming, acting abnormally, and shrunk into her hands and around her, trying to hug herself, as if she was trying to hide from something.
I tried to comfort her because she knows me by voice and by face. She was comforted a little bit, but the minute I leave her or get away from her sight, she started screaming. These are the kinds of patients we are taking care of at the hospital, and many of them are in chronic situations, unable to move, unable to take care of themselves, so we have to [keep] the hospital open, and the nurses have to stay in the hospital 24 hours to take care of these patients.
By saying this, eight of the foreigners in Gaza, they heard that we are protecting these patients, so they decided to deal with us as human shields. So yesterday until this morning, they stayed with us in the hospital as human shields, they spread the word around in local media and international media that they are here in al-Wafa hospital as human shields, to tell the Israelis that al-Wafa cannot be used as a target, al-Wafa is in our hearts and do not target al-Wafa with any more bombs.
Nora Barrows-Friedman Basman Alashi is the executive director of al-Wafa Geriatric Hospital in Gaza City. Basman, can you update us on the situation of the patients, after this incredibly traumatic series of missile strikes against the hospital yesterday?
BA: We decided to move sixteen out of the thirty patients back to their homes, because they are in a condition that their families can take care of them for their safety. The other fourteen, we have to leave them at the hospital because they are in a helpless situation that they have to be maintained by nurses in terms of feeding, they have bed ulcers on their body, so we have to change these wounds and clean them every time.
The situation right now is calm but yesterday at five o'clock in the afternoon, the Israelis hit the hospital again with a larger missile, as if they're giving us a warning. So we have to continue protecting our patients — and these foreigners are from the United Kingdom, United States, Venezuela, Spain, France, Switzerland, Belgium, they are right now at the hospital, showing the world that we will be joining hand by hand with our friends in the Wafa hospital to protect them and to protect the patients.
NBF: Basman, where can these patients be moved to if, in fact, the Israeli army intends to hit and strike and destroy this hospital again?
BA: We have no places in Gaza. All the hospitals are full of wounded people, people that need immediate care. So we have no choice to move the patients anywhere else. We have to keep them there, stay there, and moving them — the hospital is located at the far north-east side of Gaza, which is about less than a kilometer away from the border. So if we want to move them to anyplace, assuming that we find a place, it will take six to seven hours to move them, and on the road from place to place is extremely dangerous. Transportation is rare, so the choice of moving them out, if not there, we are not having this on the table at all.
We will stay there, we will protect our patients, we will protect our nurses, and the human shield that was built by volunteers in the hospital, its purpose is to protect these patients and the nurses and the hospital itself.
Tags