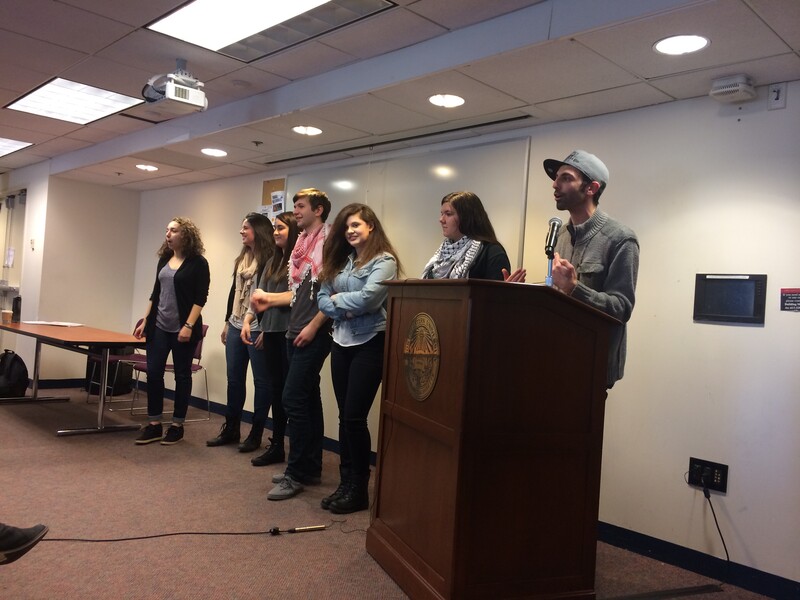 Students for Justice in Palestine members at Northeastern University in Boston are being singled out for discriminatory treatment by the administration for the second time in as many years.
In addition, the student government suppressed a recent referendum — initiated by Northeastern SJP — on divestment from companies that profit from Israeli violations of Palestinian rights.
In a 20 February letter seen by The Electronic Intifada, Northeastern's Student Government Association (SGA) cited "adherence to university policy" on "bullying," "harassment" and creating a "a hostile, threatening, intimidating, humiliating, or abusive environment" ostensibly toward Jewish students as reasons to reject the referendum. These claims echo talking points given to anti-divestment campaigners by Israel-aligned political organizations off campus.
Such talking points aim to discredit the Palestinian-led boycott, divestment and sanctions movement by attempting to equate criticism of Israel's occupation with anti-Semitism.
SGA's letter also lists eight separate incidents on other US campuses in which, the SGA claims, "the campus community was reportedly transformed into a 'hostile, threatening, intimidating' environment on the basis of national origin and religious creed" following discussions on divestment. The examples include Israel-aligned students experiencing emotional distress when issues of Palestinian rights were discussed in divestment hearings.
"There's no way they did that much research," Northeastern SJP's chapter president Sean Hansen told The Electronic Intifada on Wednesday. "There's definitely an outside source. That's something we've been facing here — outside Zionist groups seeking to create ad hominem attacks."
Obstacles
In March 2014, the university administration — under pressure from outside right-wing Zionist organizations in the Boston area and around the country — suspended and sanctioned SJP after students distributed mock eviction leaflets on campus, a popular direct action many Palestine solidarity groups undertake during the annual Israeli Apartheid Week to raise awareness about Israel's destruction of Palestinian homes.
The administration also launched a police investigation against and threatened two of the students involved in the mock eviction action with charges that could have led to suspension or expulsion. The threat of expulsion was rescinded after an outpouring of condemnation by Northeastern SJP activists and supporters across the US.
On 22 April 2014, following seven weeks of negative media attention and sustained direct action organized by students, the administration lifted the suspension. Northeastern SJP was told that it could expect increased funding for events and a closer line of communication with the administration.
However, students say that the administration has instituted a number of bureaucratic obstacles and — since the suspension was lifted — tight rules that have never been applied to Northeastern SJP before.
"We noticed that there were ten times as many rules when applying for funding than there were before our suspension," said Hansen. "We've been made to jump through so many hoops just to get one event funded all semester … [these rules] are not applied to other groups equally, at all."
Hansen said that he is a member of another student organization on campus which has not been forced to adhere to similar rules. "The difference in the way that [that group] is treated and the way SJP is treated is worlds away," he explained.
"Having a say"
Students have started collecting signatures demanding the ability to run a referendum campaign unimpeded. SJP is encouraging people to sign their petition "to show you believe that Palestinian students should have a say over whether or not their tuition money funds their own oppression."
"Citing concerns about students' 'comfort,' Northeastern's SGA placed the cheerfulness of a small segment [of] students over the lives and experiences of Palestinians," SJP says in their petition.
Because of the treatment and repression that Northeastern SJP has faced, many Palestinian students feel afraid to speak out or have their name attached to organizing. "It's instilling this fear," Hansen said.
"Why can't we have a referendum where Palestinian students could talk about how they don't want their tuition dollars funding their own repression and occupation? And why can't we hear these voices?"
Hansen said that even though the administration and the SGA have placed obstacles in front of their organizing, Northeastern SJP's membership has increased. The group is planning creative direct actions to bring attention to the referendum and to the singling out of Palestine solidarity activism on campus. "We're going to fight until a referendum is called," he said.
Tags