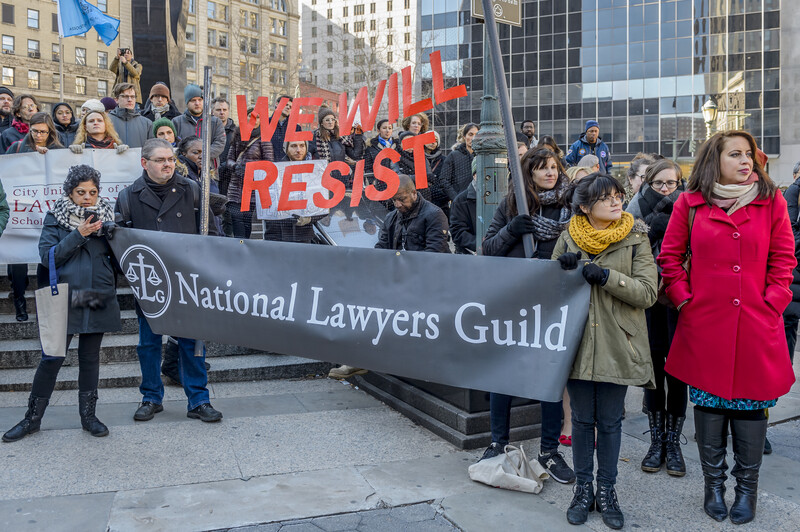 A lawsuit intended to harass the National Lawyers Guild over its support of the boycott, divestment and sanctions (BDS) movement for Palestinian rights has been voluntarily dismissed by the anti-Palestinian litigant who filed it.
The lawsuit was "part of a global effort, led by Israel, seeking to paint support for Palestinian human rights as discrimination," according to NLG.
David Abrams, the director of the Zionist Advocacy Center, filed his lawsuit after the civil rights group refused, in 2016, to publish an advertisement in its annual journal for his shadowy company located inside an Israeli settlement in the occupied West Bank.
Abrams' company, Bibliotechnical Athenaeum, wanted to publish the ad claiming that Gush Etzion is part of Israel.
It was an effort to deliberately "antagonize NLG for its positions in support of international human rights law," the civil rights group said.
NLG believes that the company was explicitly created just to be able to submit the advertisement.
Abrams sought legal representation from the Lawfare Project, a pro-Israel group that works to silence activists by filing lawsuits against them and smearing supporters of Palestinian rights as anti-Semites.
Lawfare's director, Brooke Goldstein, has claimed that there is "no such thing as a Palestinian person."
Abrams and Lawfare alleged that NLG discriminated against the company when it rejected the advertisement.
The National Lawyers Guild's commitment to BDS includes boycotting institutions complicit in Israel's crimes, not Israeli individuals or organizations.
As part of the settlement, NLG has agreed to publish an advertisement for Abrams' company in its next journal, but it will not include the name of any settlement "nor make any claims that such settlements are part of Israel."
NLG will also "clarify and reaffirm its policy opposing all forms of discrimination and circulate it to members."
The nation's oldest progressive legal network was represented pro bono by First Amendment attorney Jonathan Wallace.
"We're pleased to end this time-consuming lawsuit for a payment of zero dollars and get back to our urgent work ensuring that vulnerable populations across the globe have access to housing, healthcare, income and other basic human rights," said Pooja Gehi, executive director of NLG.
Gehi added that the organization maintains its commitment to Palestinian liberation, including the BDS movement.
Suing human rights groups
Abrams has a lengthy history of filing legal complaints against groups that support BDS, boasting that his lawsuits intend to "serve notice" to non-governmental organizations that their activities are being "watched carefully."
His Zionist Advocacy Center is a registered foreign agent for the International Legal Forum, which is funded by and works for the Israeli government to target the BDS campaign.
In 2015, Abrams worked with the head of the Mossad-linked Israeli lawfare group Shurat HaDin to file a complaint against a US trade union that voted to back BDS.
In the past, Abrams has sued Norwegian People's Aid and the Carter Center, and recently boasted of his work attempting to sue Students for Justice in Palestine at UCLA over an event on Palestinian rights.
In 2018, he filed a lawsuit on behalf of his company against Airbnb when the home rental corporation announced it was suspending rentals inside Israeli settlements.
Like many other settlers, Israeli government officials and US politicians, Abrams claimed Airbnb was discriminating against Israeli landlords. Airbnb quickly capitulated to the pressure and reversed its decision in April 2019.
However, as much as Abrams and his colleagues in the Israel lobby try to harass civil rights and human rights organizations into silence, "the movement for Palestinian rights, including BDS campaigns, continues to thrive in unique community-driven ways," said Radhika Sainath, senior attorney at Palestine Legal.
"With this settlement, NLG affirms that BDS is predicated on non-discrimination, and that the organization remains undeterred in working for justice in Palestine," she told The Electronic Intifada.
Tags