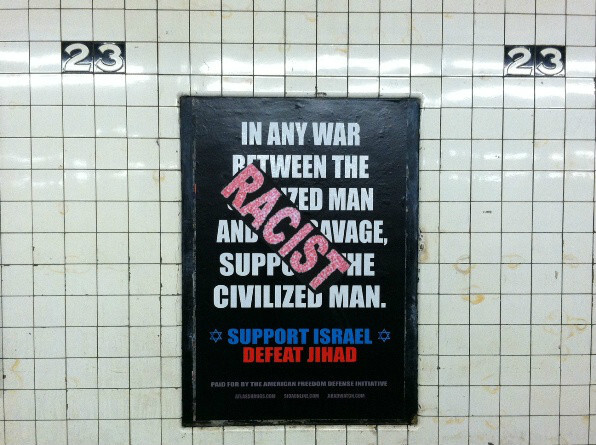 Immediately after a series of racist, Islamophobic ads popped up in New York City subway stations this week, anonymous activists plastered over more than half of them with stickers labeling the ads as "racist" and "hate speech." They are the same ads to which San Franciscans were subjected in August — and on which activists plastered similar labels. 
Anti-Muslim inciter Pamela Geller and her Islamophobic, anti-Palestinian hate group the American Freedom Defense Initiative is behind the ads, which state: "In any war between the civilized man and the savage, support the civilized man. Support Israel. Defeat Jihad."
 
In an article on the online publication Metro, Geller "told Metro she wasn't surprised the posters were defaced, and that they will be replaced as part of her organization's contract with the MTA."
One year ago, New York City's Metropolitan Transit Authority (NYC-MTA) rejected Geller's ad campaign on the basis that it violates their policy against advertisements that "demean an individual or group of individuals" — but Geller came back with a lawsuit, and a federal judge ruled in July that the NYC-MTA violated Geller's first amendment rights.

Subsequently, in August, Geller brought her racist ads to San Francisco, and the city's transit agency agreed to run the ads most likely in fear of a similar lawsuit, according to Zahra Billoo, the region's executive director for the Council on American Islamic Relations.
San Francisco's transit agency (SFMTA), for their part, stated that they would direct all of the ad revenue to the city's human rights commission. Additionally, the agency posted full-sized disclaimers of their own on city buses that displayed Geller's ads, which said that "SFMTA policy prohibits discrimination based on national origin, religion, and other characteristics, and condemns any statements that describe any group as 'savages.'"
Tags