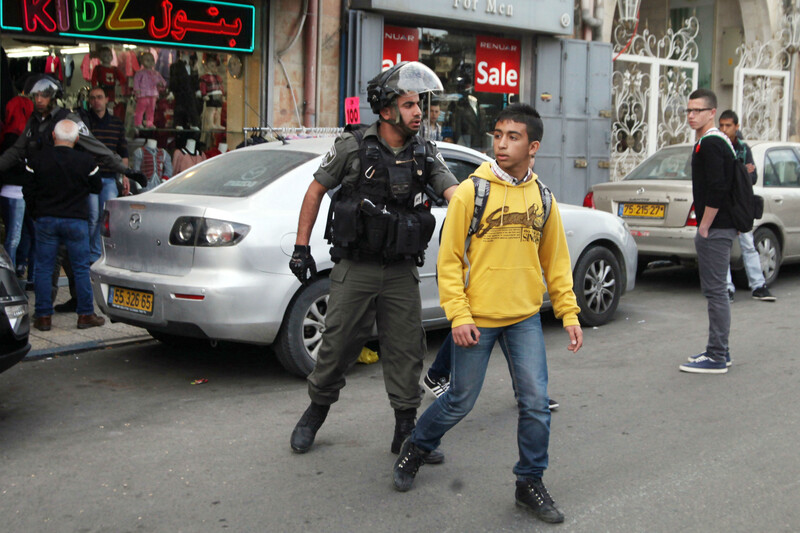 A new report indicates that as of the end of January, 183 Palestinian children were arrested and detained by Israeli occupation soldiers and occupation police, and imprisoned and prosecuted in the Israeli military court system. Of the 183 children, 20 are between the ages of 14 and 15 years old.

Defence for Children International - Palestine section (DCI-PS) added in its detention bulletin that 75 percent of Palestinian children detained during 2013 "endured physical violence during arrest and interrogation."

DCI-PS documents specific case studies of Palestinian children being detained, arrested and violently abused by Israeli forces. In their bulletin, the rights group highlights the case of 16-year-old Salah S. from Qalqilya in the occupied West Bank:
In January, Israeli soldiers detained Salah S, 16, from Azzun, Qalqilya around 4:30 pm while he was with friends near a road used by Israeli soldiers and settlers. Israeli soldiers held him overnight and transferred him to multiple locations over a 12-hour period, while subjecting him to physical violence and ill-treatment.

Salah was previously arrested in January 2013, then 15 years old, and spent 10 months at Megiddo prison inside Israel.

On January 1, Israeli forces arrested 16 residents from at-Tabaqa village, west of Hebron, in the West Bank, including nine Palestinian children, some as young as 13, on suspicion of stone throwing.

DCI-Palestine research shows that children arrive to Israeli interrogation centers blindfolded, bound and sleep deprived. Unlike their Israeli counterparts, Palestinian children have no right to be accompanied by a parent during an interrogation. In 96 percent of cases documented by DCI-Palestine in 2013, children were questioned alone and rarely informed of their rights, particularly their right against self-incrimination.
Each year approximately 500-700 Palestinian children, some as young as 12 years [old], are detained and prosecuted in the Israeli military court system.
The most common charge is for throwing stones. Currently, 41.5 percent of Palestinian child prisoners are detained inside Israel in violation of Article 76 of the Fourth Geneva Convention.
Tags