The Palestine Society at London School of Economics inaugurated Israeli Apartheid Week with an incredibly massive and successful stunt held at the LSE campus on Houghton Street, outside St. Clements House, which displayed a huge banner bearing a quotation by Nelson Mandela: "Our Freedom is incomplete without the freedom of the Palestinians."
I  decided to cast schoolwork aside for a couple of hours and get involved in this stunt, the main theme of which was based on the idea of a "mock checkpoint". The LSE Palestine Society erected a mock wall on which was scribbled in English, Hebrew and Arabic quotes and phrases sending a message for the justice and freedom for the Palestinians.
By reenacting a checkpoint on campus, we believed we could educate people about what's going on in the West Bank. We could let people know what it means to live under military occupation, to live subjected to a policy based on ethno-religious discrimination, to raise awareness of the dire conditions Palestinians in the occupied West Bank are forced to live under, and to simply highlight the difficulty of moving from one place to another in the West Bank, having to wait for hours and hours on end, and oftentimes turned back for the simple reason that you are not Jewish.
Beat, kick, swear and humiliate
During the meeting that preceded this event, quite understandably everyone seemed to recoil from the idea of playing the role of an Israeli soldier. Honestly, and without a second thought, I jumped at the opportunity and expressed my genuine willingness to wear the Israeli defence forces uniform – which later turned out to be not even close to it – and to hold the gun, which, due to its huge size, obviously not even close to the size of an Apache or F16, remarkably stole everyone's attention. In all cases, and I must confess, I had an amazing time holding it.
Finally I got the chance to be an Israeli soldier. I put on my uniform; I held my gun, and positioned myself in front of the wall. A Palestinian friend of mine from the West Bank gave me some advice, "All you need to do is be rude. Just be as rude as you can. Beat, kick, swear, humiliate; that's what will make you an Israeli soldier."
Now that the wall was erected, the checkpoint established, and everyone dressed in their uniforms, the checkpoint was in effect. We started to randomly stop students who were rushing to their classes and prevent them from passing through without showing their "Israeli ID's"— in this case, their LSE student cards—  and just as haphazardly deciding when that ID was valid or not, usually depending on the student's mood to cooperate.
We prevented many from passing through, allowed very few and shot many more. To our delight, the mock checkpoint started to cause a buzz around the LSE campus, and students could not help stopping by, taking pictures, reading the quotes, donating, eating Palestinian-flag-decorated cakes, and discussing the stunt with the Palestine Society members. We reenacted multiple scenes that to some extent summarised the immensity of suffering of every Palestinian, be they students, women, or elderly people.
Getting "water-bombed" for Palestine
An hour later, the LSE security approached some of the Palestine Society members claiming that they have received complaints against us. This didn't come at a surprise to any of us, especially that we were aware of the fact the Israeli and Jewish societies would be neither impressed nor happy with our work. We were told by the security personnel that we were behaving in a discriminatory manner, calling people Israeli or non Israeli which caused offense to many students.
I am not sure if this makes any sense, even to me. But as one person sarcastically commented on it, "thanks for pointing out that we've been successful in our job! That's all what the chekpoint is about: Apartheid"
Not too long after that, a bunch of people suddenly started running toward us and showered us with water bombs which hit many of our members, some in the face, and knocked down the wall on those who were carrying it from behind. A small altercation ensued between some of our members and the attackers who didn't have the fortunre of instantly running away like fellows.
This is the LSE Palestine Society's account of the incident,
An hour and forty minutes into the stall, four students threw numerous water bombs at the wall which was being held up by several students who were members of the LSESU Palestine Society members. The balloons hit our members, with several of these missiles hitting these students directly in the face, who were as a result incredibly upset by the incident. The missiles  which were thrown knocked down one of the walls being held up by members of the society falling on these students. This could have potentially seriously injured society members and passers by, as they were heavy wooden panels which required holding up by students.
This was meant to disrupt the whole event which obviously struck a chord. We knew for sure we have been able to deliver a truthful message which instigated these people to behave in this foolish manner. Our event, however, went on, even more successfully and drawing much more attention.
The LSE Students' Union has issued the following statement on violence against Palestine Society students:
This week the LSESU Palestine Society is organising the annual event Israeli Apartheid Week which seeks to "educate people about the nature of Israel as an apartheid system". Whilst peacefully re-enacting an Israeli checkpoint and talking to students about the issue, a small group of organised individuals ran towards members of the LSESU Palestine Society and threw water bombs which hit several students and knocked over property of the Palestine Society. As a result a physical altercation broke out between individuals at the scene. LSE Security were at the scene instantly.
The Students' Union believes in the right to peaceful protest but condemns the violence. The safety and welfare of students is of the utmost importance and the Union will be investigating the matter immediately in conjunction with the School.
You're Palestinians; You're to blame
I was happy thus far with what we achieved. That incident failed to distract attention from real issue and the tremendous success of the whole event. However, the Israeli society, just like the Israeli policy in general, never fails to disappoint you. It didn't take them long to issue a statement that presented their "own version" of what happened: absolute hasbara, full of twisted facts, utter lies and deliberate misrepresentation, all to the effect that we were blamed for the violence on campus, having offended the feelings of many "Jewish" people by our "disgusting simplification of a complex situation for both sides…hold[ing] oversized guns, call[ing] Jewish students 'Israelis' as they walked through and the protests, [acts which] further angered students who have been directly affected by the conflict."
This shouldn't also come as a surprise to a Palestinian from Gaza, who is used to Israeli warplanes permanently flying over the Gaza Strip and bombing it every now and then, only to blame the Palestinains for whatever violece might take place. But I still felt extremely outraged by this sickening propaganda.
Finally, if having a mock checkpoint, on a university campus, for only a couple of hours, and staged only once in a year has offended these people's feelings, what do they feel about this being a reality: the fact that there is an illegal military occupation that subjects people to a policy characterized by all forms of systematic discrimination, institutionalised racism, direct and structural violence, a policy embodied in Israel's ever-growing settler colonies, its Apartheid wall, its numerous checkpoints, its illegal administrative detentions, its house demolitions, expulsions and on and on.
Many students expressed their disgust at this policy, but that's sadly the hard reality in Palestine, and we have to fight it.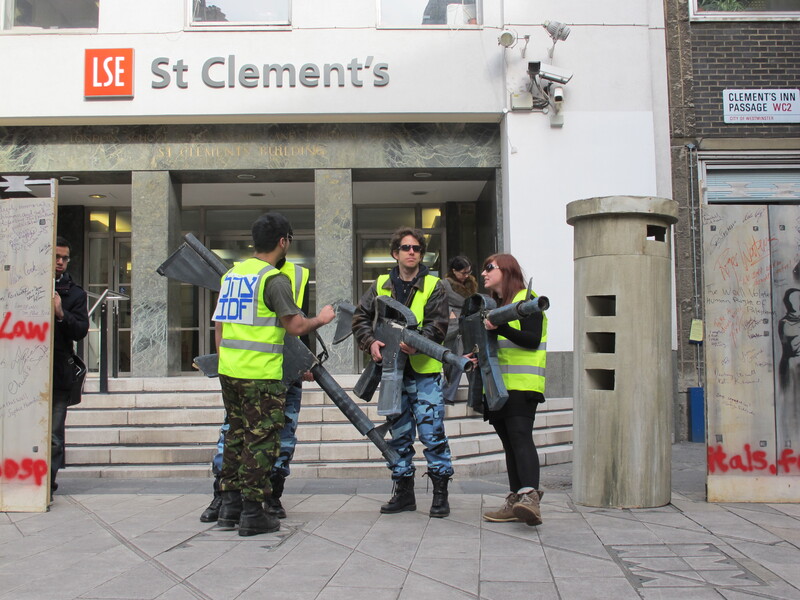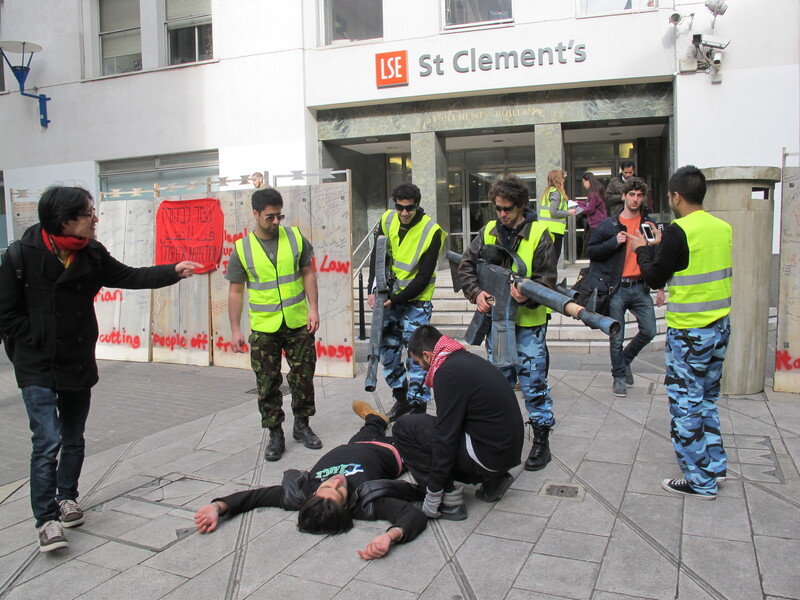 Tags