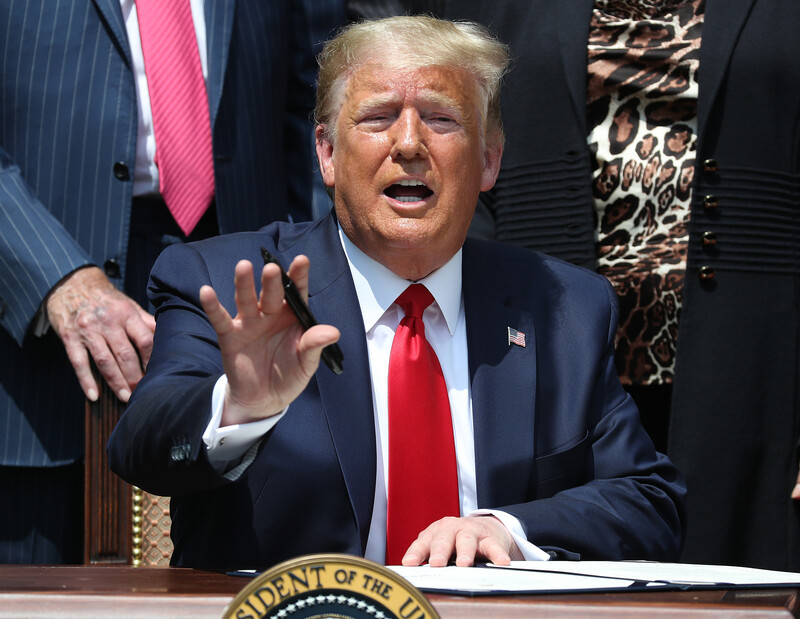 President Donald Trump tweeted an attack Tuesday against Martin Gugino, the 75-year-old peace and Palestine rights activist violently hurled to the ground by two Buffalo police officers during a 4 June protest against the racist police brutality that led to the death of George Floyd.

Those officers have been suspended without pay and face felony assault charges.

Citing the far-right outlet One America News Network (OANN) – earlier published online by The Conservative Treehouse website – Trump said Gugino might be "an ANTIFA provocateur" and claimed that the peace activist was aiming a scanner at the officers. Trump asserted that Gugino "fell harder than was pushed." The president seems bizarrely to be insinuating that Gugino intentionally injured himself.

Graphic video shows Gugino being shoved, staggering backwards and then falling and hitting the ground. Blood quickly pools under his head. He was clearly holding only a mobile phone in his right hand and a helmet in his left.

The officers did not immediately stop to render aid.

The human rights activist was hospitalized, where he remains in "serious but stable condition" according to his lawyer Kelly Zarcone.

On Tuesday, Gugino himself texted USA Today, "No comment other than Black lives matter. Just out of the ICU. Should recover eventually."

Had there not been video evidence, police may have gotten away with their initial lie that Gugino "tripped and fell."

Though Trump's assertions about a scanner are widely seen as nonsense, several experts have debunked them anyway.

Trump, in voicing what The Hill termed an "unfounded conspiracy theory," mused whether Gugino's actions could be a "set up."
Demonizing activists
Trump said last month that the US government would be "designating ANTIFA as a Terrorist Organization" – an apparent attempt to find a scapegoat for the widespread protests in the wake of the Minneapolis police killing of George Floyd.

ANTIFA is not a single organization however, but a loose collection of anti-fascist activists who draw inspiration from the similarly named group that resisted the rise of the Nazis in Germany in the 1930s. There is no evidence that ANTIFA activists are significantly responsible for the massive protests that have continued for more than a week.

Yet Trump's effort to demonize opposition to fascism and Nazism is in keeping with the tacit support and praise he has long given to white supremacists.

The president almost certainly lacks the legal authority to outlaw ANTIFA, any more than he could designate golfers or bird watchers to be an "organization," let alone terrorists.

Republican National Committee spokesperson Elizabeth Harrington briefly helped tout a similar conspiracy that claimed Gugino had used "prop blood attached to an elaborate device." She later deleted the tweet. The next five months prior to the 3 November presidential election are likely to see similar ugliness intended to incite outrage and solidify Trump's base.
Pushback
Gugino's lawyer rejected the president's lies about her client, as did many public figures.

Gugino has long been active with the Western New York Peace Center, where he has worked on issues including nuclear disarmament, climate change and the US-run Guantánamo Bay prison.

The most recent post on his Facebook page – prior to the police attack – directed readers to a news article about Israeli limitations on water for Palestinians in the West Bank.

As of Tuesday, Gugino's Facebook page is no longer accessible. It was accessible over the weekend.

By pursuing this campaign against a peace activist, and directly naming him in his tweet, Trump may well be further endangering his life.

Trump has at the very least signaled his position in the implicit war against rights activists being waged by the Buffalo police department, and police across the country.

More than 50 officers resigned from Buffalo's "emergency response team" to show support for their colleagues Aaron Torgalski and Robert McCabe, the men charged with assaulting Gugino.

A large crowd of the officers' colleagues applauded the two men over the weekend as they left the courthouse after pleading not guilty.

Their applause sent a strong signal of their disrespect for human rights and the well-being of Gugino.

They are cheering physical abuse against the public they are sworn to protect.

Between the racist killing of so many Black people, most recently George Floyd, and the police applause for Gugino's assailants, it is little wonder that demands to "Defund the police" and dramatically rethink approaches to public safety are sweeping the country.

Police officers have long used brutal measures against African Americans.

Now Trump is signaling an expansion of this racist war. He is additionally targeting the left, including a septuagenarian peace activist.

Update:

Gugino's lawyer informed CNN on 15 June that her client suffered a fractured skull in the attack by Buffalo police officers and is currently unable to walk. He reportedly also has a brain injury.
Tags