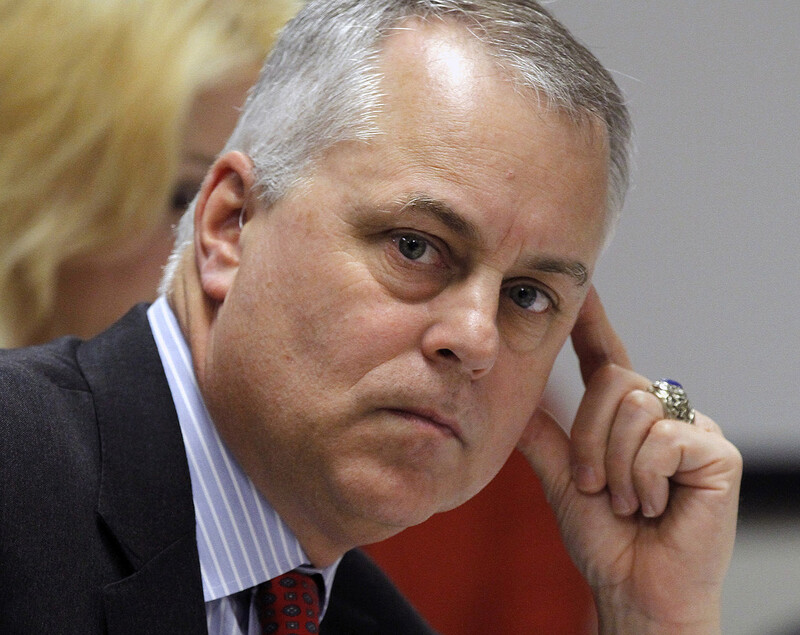 US President Donald Trump picked retired General Anthony J. Tata on Sunday to perform the duties of the deputy undersecretary of defense for policy.
Earlier in the day, Tata had backed out of consideration for the role of undersecretary of defense for policy, the third highest in the Pentagon, because that position requires Senate confirmation.
It had become clear last week he would not receive it from the Senate Armed Services Committee after numerous bigoted comments from Tata surfaced.
If Tata stays in the position for 90 days, he can then take the original job in an acting capacity without Senate confirmation.
House Armed Services Chair Adam Smith, a Democrat from Washington state, voiced his dismay at Trump's sidestepping of Senate approval.
"If an appointee cannot gain the support of the Senate, as is clearly the case with Tata, then the President should not put that person into an identical temporary role," Smith stated.
"This evasion of scrutiny makes our government less accountable and prioritizes loyalty over competence."
Once caught for his numerous explosive remarks, and with his nomination in jeopardy, Tata expressed "regret" for his comments.
His previous opinions included the claim that former CIA director John Brennan had sent a coded tweet to have Trump assassinated. He urged that Brennan be arrested immediately.
Bigoted views
Much of the negative attention Tata garnered last week was connected to his view that "Islam is the most oppressive violent religion I know of" and a tweet calling President Barack Obama a "terrorist leader" due to the Fox News commentator's angst over Obama's nuclear deal with Iran.

On another occasion Tata called Obama a "Muslim" – intending it as an insult – and "terrorist" who "did more harm to US vital interests and [to] help Islamic countries than any president in history."

Tata also claimed Obama is an "anti-Semite," dangerously and falsely weaponizing a very serious charge.

As reported by CNN's Kfile, the network's investigative unit, he insisted during a 2018 radio appearance that Obama wanted "Iran to be flushed with cash so that they could support Hizballah and Hamas and their fight against Israel because Obama is an anti-Semite."

In a separate Kfile report, CNN noted Tata's claim that Obama tried to "help Hamas and Muslim Brotherhood."

Mainstream media did not explicitly note Tata's anti-Palestinian racism, an enormous problem within both the Republican and the Democratic Party.

Yet in a May 2019 op-ed for Fox News, Tata argued, "Politicians in the United States such as Reps. Ilhan Omar and Rashida Tlaib who support Hamas and Hizballah need to either visit Israel to witness the precarious geopolitical position of our chief ally in the region, or they should leave Congress to support our enemies and those of our allies."

This is McCarthyism 101. Love the country Tata's way or leave it. Two months later, Trump made almost the same racist argument.
Tata's Gaza claim
Tata also made an unusual claim in the same op-ed.
He maintained that he had "recently spent a week with the Israeli [sic] Defense Forces in Gaza, Galilee, and the Golan Heights."
He makes light of being in the Golan Heights with an occupying military guarding settler-colonial outposts, but it's the comment about being in Gaza with Israeli military forces that doesn't ring true.
If true, however, in what capacity was a former one-star general maneuvering in Gaza with Israeli forces?
Did he enter a few yards into a boundary tunnel discovered by Israel or was he merely in the vicinity of Gaza?
The claim that he was in Gaza with Israeli military forces is a lie, a misrepresentation or an alarming new indication of just how deep into Gaza Israeli mistaravim – undercover Israeli agents dressed as Palestinians to abduct, attack and infiltrate groups of civilians, often during protests against Israel's military occupation – are.
Yet it's practically inconceivable that a retired American general would be invited for a ride along. A flyover also seems unlikely, though they are known to occur for US officials with helicopters over the occupied West Bank.
The claim is one that should be investigated by the US Congress. Otherwise, Tata should quickly retract it or explain what transpired.
This is almost certainly a display of bravado about an unreal or exaggerated event, but if true, the claim has enormous implications for US foreign and military policy. It would be astonishingly reckless of Israel and of Tata – and perhaps the US military – if he entered Gaza with Israeli military forces.
If true, the US is more complicit in the Israeli siege and occupation of Gaza than previously known.
Propaganda
Interacting with another Twitter user last year regarding the Great March of Return protests along Gaza's boundary with Israel, Tata claimed that "These 'rock throwers' are brutal Hamas terrorists who would gladly slit your throat because you're an American (I presume)."

This is propaganda. He can cite no such example of American civilian visitors to Gaza having their throats slit by Hamas members. It simply hasn't happened.

Additionally, his tweet downplays the very real civilian casualties, including among children, press and medical workers, suffered by Palestinians along the boundary during these protests for the right of return and against the Israeli siege.

Tata is now in a position to further pursue his anti-Muslim and anti-Palestinian hatred as deputy undersecretary of defense for policy.

Sadly, given the endless wars the US has been waging on Muslim-majority countries in recent decades, that may make him a perfect fit.
Tags