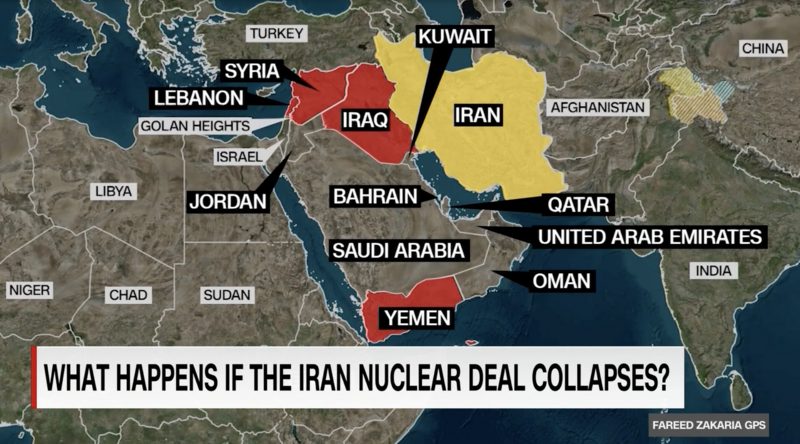 CNN show GPS, hosted by Fareed Zakaria, displayed a map on 5 December which omitted any delineation of the occupied West Bank and Gaza Strip.

Israel and the Golan Heights were specifically labeled, though the occupied status of the Golan Heights wasn't indicated.

The segment was an interview with Vali Nasr about Iran's moves to accelerate its enrichment of uranium. Iran began taking these steps in response to Washington's pullout from the 2015 nuclear deal and imposition of new sanctions on Tehran.

It concluded with Nasr, a former State Department adviser, declaring that President Donald Trump's decision to pull out of the deal in 2018 was "one of the biggest strategic mistakes the United States has made."

He added, "Every assumption that the Trump administration, the Netanyahu government in Israel and the Arab Gulf States - Persian Gulf States" made when the US pulled out of the deal "has proven to be catastrophically wrong."

But the insights were undercut by a map that eviscerated a key part of the region.

I immediately wrote GPS and Zakaria regarding the error and asked for a correction to be issued the following Sunday.

I noted that "this is an egregious error and one that provides comfort to those seeking a Greater Israel – with the further dispossession of Palestinians – and raises concerns that if Israel ever illegally annexes the West Bank (beyond occupied East Jerusalem) that all CNN maps will quickly adopt this."

My letter expressed the hope that this is "simply a one-off error that can quickly be corrected."

Other than automated responses to my initial inquiry and follow-ups, I received no reply.

That generic email read in part: "Your comment will become part of our daily feedback report, which is shared internally with our show's teams and senior management. Your opinion matters, and we sincerely appreciate that you took the time to share it with us."

The New York Times made a similar mistake in February 2018 when its map omitted the West Bank, but corrected the error following an inquiry and article from The Electronic Intifada.

No such correction has been forthcoming from CNN or GPS, which raises the prospect that CNN's cartographers do not recognize the reality of Israel's occupation of Palestinian territory.

Until corrected, the map seemingly portrays just one uninterrupted Israeli apartheid state. This is, of course, the political reality – one that makes more likely the struggle for equal rights in one state rather than Palestinian statehood in disconnected West Bank and Gaza bantustans.
Tags