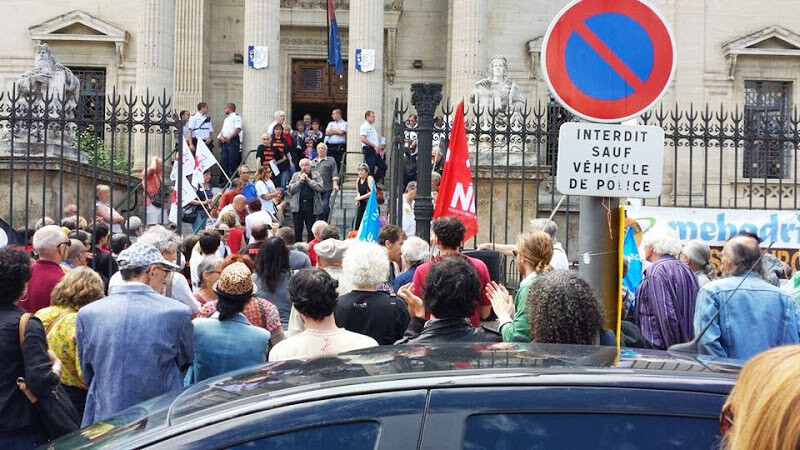 The French Palestine solidarity movement has shown that it remains undeterred by the repression it is facing at the hands of the state by organizing large demonstrations outside courts where activists are on trial for "discrimination" by taking part in protests calling for a boycott of Israel.
More than 200 people took part in a demonstration outside the high court in Alençon in Normandy on Thursday as the trial of seven activists got underway. The prosecutor asked the court to fine the activists €1,000 (US$1,300) for their involvement in a demonstration at a supermarket calling for a boycott of Israeli goods.
An almost equally large demonstration took place the previous week outside the court in Perpignan where three activists were on trial facing similar charges.
French campaigners have faced criminal charges for participating in boycott actions since 2009. The charges have been brought with the support of successive French governments and and at the behest of French pro-Israel organizations. French law is uniquely favorable to prosecutions against boycott, divestment and sanctions (BDS) activists.
Dozens of activists have faced criminal charges or investigation and the French police regularly demand the names and addresses of activists that take part in actions organized in support of BDS against Israel. Several activists have already been issued with heavy fines.
Imen Habib, a member of the BDS France coordination group, told The Electronic Intifada that it is vital to organize visible support to those facing criminal charges.
"It's important to show solidarity with BDS activists being sued for their activism and to demonstrate that we are more determined than ever to develop the BDS campaign in France in it's different aspects," Habib said.
"The mood during the demonstrations outside the courts is one of unity and solidarity in the face of repression. We are there to say that these unjust legal attacks must end and to show the French pro-Israeli groups that have brought the charges that they have failed to intimidate us," she added.
A previous court ruling, which found that boycott should be permitted as part of the right to freedom of speech, has not prevented other cases from being coming to trial.
The verdict in the Perpignan case is expected on 14 August and the judge in the Alençon case will deliver a verdict on 19 September. At least two other cases are due to be heard in the autumn.
Criminalization of solidarity a key pillar of Israeli strategy
Increasingly unable to win the public debate or prevent the continued growth of the BDS movement, the sabotage and disruption of solidarity activism have become more prominent in recommendations issued by leading Israeli think tanks in recent years. A conference hosted by the Israeli foreign ministry in May urged pro-Israel organizations to view the French law as "a model that should be strengthened and replicated."
A senior Israeli foreign ministry official, Amir Sagie, charged with leading the fight against BDS, recently told an Israel advocacy conference in South Africa that several Israeli government departments have been "investing heavily" in legal warfare against BDS activism in France and elsewhere in Europe.
Sagie admitted that the Israeli government "has [recently] taken on two court cases in partnership with UK Jewry." One involved a pro-Israel member of the University and College Union bringing a case to an employment tribunal to allege that Britain's largest academic union was "institutionally" anti-Semitic because of its opposition to Israeli apartheid and support for BDS. Dismissing the allegations, the tribunal ruling stated that:
Lessons should be learned from this sorry saga. We greatly regret that the case was ever brought. At heart, it represents an impermissible attempt to achieve a political end by litigious means. It would be very unfortunate if an exercise of this sort were ever repeated.
The determined resistance to repression being organized by the French solidarity movement is hopefully laying the foundations for all of the charges against activists in France to one day be similarly dropped.
Outpouring of international solidarity
Palestinian and Palestine solidarity organizations have been keen to show their support for the French solidarity movement.
More than 150 solidarity and social justice organizations from across 24 countries signed a statement expressing "full support for your efforts to build solidarity with the Palestinian people in the face of state repression."
In the US, the Committee to Stop FBI Repression, which was founded to resist a wave of raids targeting Palestinian and other activists by the FBI, expressed that it stood with the French solidarity movement and that "the US and French governments and courts cannot hold back the international movement for freedom, justice and equality in Palestine!"
The United States Palestinian Community Network (USPCN) drew paralells between the repression of BDS activism in France and the use of anti-terrorism legislation to attack Palestinian and Palestine solidarity organizing in the US and to imprison activists. "Your efforts are powerful, and play a crucial role in the global movement to realize justice in Palestine," said the statement.
The Palestinian BDS National Committee said that it "strongly condemns the legal charges against BDS activists and regards them as a thinly-veiled political attempt to stifle freedoms and rights in France" and that the charges are "are a means of last resort for Israel and its supporters to stem the tide of effective opposition to its multi-tiered oppressive regime."
Solidarity in pictures
Activists from across the world sent in photos of themselves holding messages of support for French BDS activists:
Belgium
Scotland
South Korea
Take a look at more of the photos over at the BDS France website.
Tags