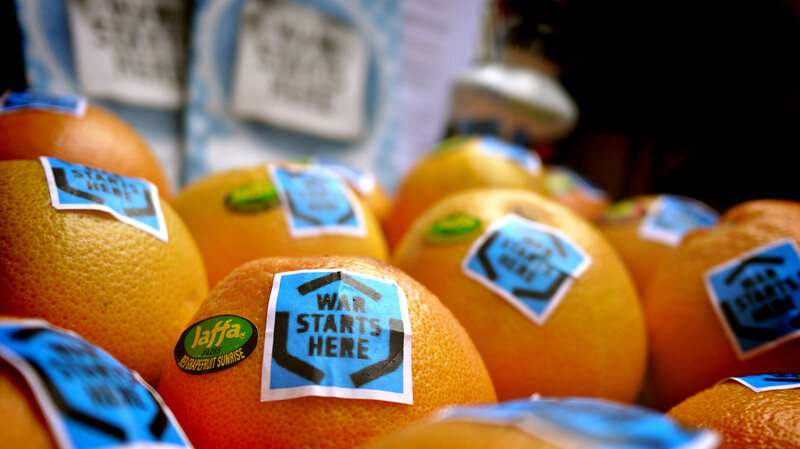 A coalition of 22 European NGOs along with Richard Falk, the UN special rapporteur for human rights in the occupied Palestinian territories have in the last week released significant reports on financial links with illegal Israeli settlements.
Running into 35 pages, the report from European NGOs, titled Trading Away Peace, is the most wide-ranging report yet into the various forms of economic support for illegal Israeli settlements provided by European states and corporations.
Opening with an overview of the reality for Palestinians in the West Bank, the report highlights the inconsistency between the EU's stated opposition to settlements and its failure to take action to halt economic activity that encourages their continued existence and expansion.
The report uses Israeli government estimates of the volume of settlement trade to estimate that the EU imports fifteen times more from the illegal settlements than from the Palestinians living in the occupied territories.
Complicit companies
Profiling Israeli companies exporting consumer goods from settlements such as Ahava, SodaStream and Mehadrin, the report recommends that European governments "ensure correct consumer labeling of all settlement products as a minimum measure" and "as a more comprehensive option, ban imports of settlement products, as called for by Ireland."
The report also calls for action to prevent European corporations like Veolia and G4S from providing infrastructure to illegal Israeli settlements, the inclusion of illegal Israeli settlements in EU agreements and the purchase of property in settlements by European citizens. In all, its 12 recommendations cover many of the main forms of financial support for illegal Israeli settlements.
What's especially significant and heartening about the report is how widely it has been endorsed. The 22 signatories from 11 European countries include the APRODEV network of Christian development organizations, the International Federation for Human rights (FIdH) and national churches in Sweden and the UK.
Call for boycott
In a report presented to the UN General Assembly on 25 October, the UN special rapporteur on human rights in the occupied Palestinian territories, Richard Falk, went even further, calling for a "boycott [of] businesses that profit from Israeli settlements."
Advocates of the position that governments should tackle companies complicit in settlements and not just produce made in illegal settlements, including the Palestinian Boycott, Divestment and Sanctions National Committee (BNC), point out that any business with companies exporting from or operating in settlements supports their continued growth and expansion.
"In short, businesses should not breach international humanitarian law provisions. Nor should they be complicit in any breaches. If they do, they may be subject to criminal or civil liability. And this liability can be extended to individual employees of such businesses," Falk explained when presenting his report (download the report in full here).
The report examines 13 companies, many of which are already targeted by the BDS movement over their complicity with Israeli violations, including G4S, Mehadrin, Veolia and Caterpillar, and details their infringements of the new UN Guiding Principles on Business and Human Rights.
Falk recommends BDS
The implementation of the guidelines by states and businesses is one of Falk's main recommendations. The report also states that the special rapporteur is committed to following up with the corporations listed in the report and "may continue to gather information and report on the involvement of corporations in Israel's settlement activities."
Making specific mention of the Palestinian-initiated boycott, divestment and sanctions (BDS) movement, Falk urges civil society to "vigorously pursue initiatives to boycott, divest and sanction" the businesses highlighted in his report and calls on governments to "investigate the business activities of companies registered in their own respective countries… that profit from Israel's settlements, and take appropriate action to end such practices and ensure appropriate reparation for affected Palestinians."
UN Secretary-General Ban Ki-moon has faced demands from the Anti-Defamation League to distance himself from the report, while the US, Canada and Israel have all called for Falk's resignation.
Popular pressure needed
The Irish foreign minister has declared himself supportive of an EU-wide ban on settlement trade and the Norwegian foreign minister has also spoken of the need to take concrete action.
However, in a recent meeting with campaigners, a senior EU official denied reports that the EU was considering a EU-wide settlement trade ban and said that countries like France and the UK instead supported a proposal that the EU should issue new guidance ensuring the correct labeling of settlement products.
Alistair Burt, the UK government minister responsible for Middle East policy echoed that view when he said the following in response to to a question in parliament about this new Trading Away Peace report and whether the UK government would implement a ban on settlement trade:
I have seen the report and I note that one of its main recommendations is to commend the United Kingdom on its policy of voluntary labelling and to encourage other European Union countries to do the same. There is active consideration in the EU about doing just that, and we are taking part in that. So far, however, I have not seen anything that would lead us to change our policy in relation to boycotts…
Official guidance requiring the correct labeling of products from illegal settlements, as implemented by the UK, Danish and South African governments, should be seen as a welcome step towards more restrictive measures. But as Palestinian human rights organization al-Haq has argued, states are legally obliged not to provide recognition or assistance to Israeli settlements, including by ending settlement trade. Labelling alone is not sufficient - turning economic support for the colonization of Palestine into an issue of consumer choice is not an acceptable long-term proposition.
While an EU-wide ban on settlement trade may not be a realistic short term goal, it does seem possible that an individual state or group of states – Ireland, Norway or South Africa, for example – could be successfully pressured to implement such a ban.
There is also potential for more retailers to be pressured into adopting the position of the UK Co-operative supermarket, which this year announced that it would no longer deal with companies operating in illegal settlements.
Years of determined grassroots campaigning and Israel's continued violations of international law mean that demands to end financial support for settlements are now winning unprecedented levels of support, as these two new reports demonstrate.
The challenge now for all campaigners, including supporters of a full boycott of Israel, is to build campaigns capable of pressuring governments and more retailers to take effective action against companies operating in settlements, or at least products from illegal settlements. Further victories in this area would be hugely damaging not only to Israel's settlement regime but the entirety of its apartheid system.
Tags