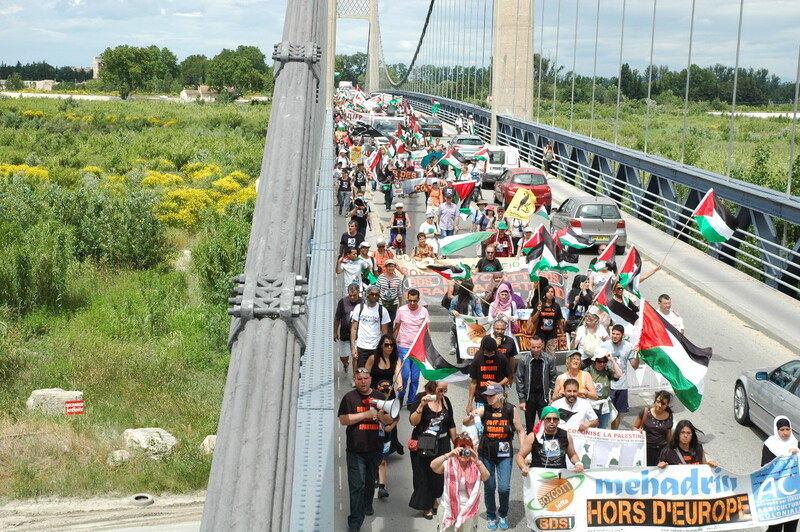 More than 500 people demonstrated in the French city of Avignon on Saturday as part of a extraordinary mobilization against Mehadrin, the major Israeli agricultural export company that operates inside illegal Israeli settlements and is deeply involved in the ongoing colonization of Palestinian land. 
At least 350 people then marched the 14 kilometers from Avignon to Mehadrin's French headquarters in the small town of Chateurenard (video here). As they passed over a major bridge near Avignon, the huge crowd chanted: "Sur le pont d'Avignon, on boycotte, on boycotte! Mehadrin, Mehadrin, on boycotte, on boycotte!" — a play on the famous French nursery ryhme about Avignon. 
The march finished with a rally outside Mehadrin's warehouses where tents bearing the names of Palestinian villages were erected in tribute to Palestinian resistance and an audio recording of a speech by Palestinian Farmers Union executive director Dawood Hamoudeh was played. Dozens of police surrounded Mehadrin's warehouses to prevent activists from getting too close to them. Activists from more than twelve cities across France joined the mobilization. 
Mehadrin is increasingly under fire as the boycott, divestment and sanctions (BDS) movement works to expose how it operates farms in illegal Israeli settlements using stolen Palestinian water, exploits Palestinian workers and helps tighten Israel's grip on occupied land. Mehadrin operates the Jaffa brand of fruit and exports its produce to supermarkets throughout Europe. 
The march was heralded by activists as a successful first step in pressuring major French supermarkets not to stock Mehadrin goods and to create mass public awareness about the importance of boycotting Israeli products. 
The French BDS movement played a leading role in the campaign against Agrexco, a company that used to be Israel's largest agricultural company before it entered liquidation in 2011. 
Building solidarity and ending complicity
Saturday's huge mobilization was organized in response to the call for action against Israeli agricultural companies issued in February by Palestinian farming groups. A briefing published to accompany the call titled "Farming Injustice" highlights the role that international trade in fresh produce grown by Israeli settlement companies plays in the destruction of Palestinian agriculture.
The introduction to the briefing explains the significance of campaigns targeting companies like Mehadrin: 
For Palestinians, agriculture is much more than the production of olives, citrus fruit and other fresh produce or keeping livestock. Farming is tied to the Palestinian people's identity, history and resistance to Israel's illegal occupation …

… Palestinian farmers face the brunt of Israel's land confiscations, demolitions and water theft. Farmers that still have access to land and water face systematically implemented restrictions and violence. Israeli agricultural export companies such as Mehadrin and Hadiklaim are among the primary beneficiaries of the destruction of Palestinian agriculture…

… These companies operate inside and export produce from illegal settlements using stolen Palestinian land and water and profit from the siege on Gaza. International trade with Israeli agricultural export companies finances the expansion of illegal settlements and rewards them for their participation in violations of international law.
The launch of the call to action was marked with demonstrations in Gaza, the West Bank and in forty cities across Europe. 
Grassroots movements across Europe are responding to the call to action and are taking action in solidarity with Palestinian farmers and to oppose trade with Israeli agricultural export companies. Activists hope to pressure other retailers to follow the lead of the UK Co-Operative supermarket chain that announced in May 2012 that it would no longer trade with Mehadrin, Agrexco or other companies that operate in settlements. 
In the UK, a campaign has been launched to pressure major supermarket Sainsbury's to stop trading with Israeli fresh produce exporters that are complicit in Israeli occupation and apartheid. A demonstration will be held outside the company's shareholders meeting on on 10 July. Similar campaigns are underway in Belgium, Switzerland and elsewhere.
More than thirteen European governments have expressed support for European Union guidance on how products from illegal Israeli settlements should be labeled and the guidance is expected to be released later this year. Critics argue that the routine deception employed by Israeli exporters makes labeling unworkable and that states should instead ban economic ties to settlements and settlement companies or, at the very least, discourage financial transactions with settlements. 
Continued grassroots mobilizations and campaigning such as Saturday's march against Mehadrin can play a huge role in pressuring governments and businesses to end their complicity with Israel's colonization of Palestinian land. 
Tags