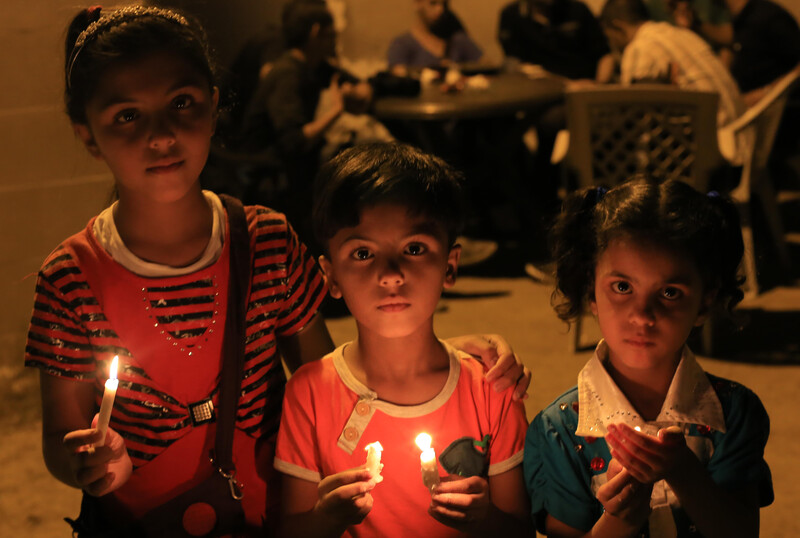 The European Union's key trade and political agreement with the European Union should be suspended in response to the recent attack on Gaza, according to 24 Palestinian campaign groups. 
In a letter to Catherine Ashton, the EU's foreign policy chief, the groups also demand that the Union impose an arms embargo on Israel until such time as it complies with international law. 
The letter is signed by representatives of the Palestinian Center for Human Rights, Defence for Children International - Palestine Section, the Palestinian NGO Network and the Palestinian General Federation of Trade Unions, among others. 
It underscores that the EU-Israel association agreement commits both sides to respecting human rights. Entering into force in 2000, that accord facilitates largely unrestricted trade between the EU and Israel and allows Israel to participate in more EU programs and projects than most other non-European countries.
Because the human rights clause in the agreement has not been invoked, Israel enjoys many of the benefits of EU membership without being required to live up to its legally binding commitments on human rights. 
Recent mainstream coverage of EU-Israel relations has focused on the EU guidelines announced  in June 2013, in response to pressure by the Palestine solidarity movement. These guidelines prevent the EU from recognizing Israeli sovereignty in the occupied West Bank.
The guidelines prevent, too, a limited number of firms and institutions based in Israeli settlements in the West Bank from receiving EU funding and have led to the EU announcing that it will no longer allow the import of products from settlements if they require certification by Israeli government ministries. Dairy, meat and poultry are among the products to be excluded. Yet the majority of EU trade with Israeli settlements will continue, even though those settlements are illegal under international law. 
But this focus on limited action against settlements risks hiding the extent to which the EU-Israel association agreement continues to provide Israel with the political, economic and military support it needs to carry out its massacres.
"Massacres will be tolerated"
European leaders made some of their strongest criticisms of Israel to date during the recent Gaza attack, with French President François Hollande going as far as to describe Israel's bombing of a UN school as a "massacre."
But empty rhetoric aside, the EU continues to apply a gross double standard to Israel. The EU suspended its association agreement with Sri Lanka in 2010 and has applied heavy sanctions to Russia and a host of other states judged to have violated human rights and international law in recent years.
Yet the agreement with Israel remains in place despite Israel's widely acknowledged war crimes. Israel enjoys closer relations with the EU than ever before.
As the Palestinian civil society letter sent to Ashton explains, this double standard "sends a clear message to Israel that its massacres of Palestinians will be tolerated and will not result in any meaningful impact on its intimate relations with the EU."
Direct support for Israel's crimes
The letter also draws Ashton's attention to the ways in which the EU provides "direct support for Israeli violations of international law." 
Israel participates in a raft of EU programs. These include scientific research actitivites, the satellite navigation project Galileo and the Erasmus academic exchange program. Israel's participation in these programs often provides financial and other forms of support to Israeli bodies that are at the heart of Israeli oppression of Palestinians. 
Since 2007, Israeli weapons companies Elbit Systems and Israeli Aerospace Industries (IAI) have been allowed to participate in EU funded research projects worth €244 million ($313.6 million).
Several of projects involving these firms were directly related to the development of drones. Elbit and IAI are the two main providers of drones used by the Israeli military to commit deliberate attacks on Palestinian civilians.
It seems highly probable that this summer's massacre in Gaza was carried out using technology that the EU directly helped to develop.
The Israeli police force, which is headquartered in East Jerusalem and is deeply involved in maintaining Israel's occupation and committing Israeli human rights violations, has taken part in a number of activities coordinated by Europol, the EU's police agency, over the past few years.
The EU has also failed to take adequate action to tackle the participation of European businesses in Israel's settlement enterprise or to curb trade with illegal Israeli settlements.
Again, this is in stark contrast to the EU's stance on other countries: the EU recently banned all products from Crimea unless they are accompanied by a certificate of origin from the Ukrainian authorities.
Deep economic ties
More generally, the EU-Israel agreement has led to a rapid growth in trade and economic cooperation.
The agreement provides Israel with preferential access to European markets. Israeli exports to the EU were worth €12.5 billion ($16 billion) during 2013, accounting for 33 percent of all Israeli exports and making the EU the single biggest market for Israeli goods.
The EU and many of its governments dedicate significant resources to encouraging growth in trade and economic cooperation with Israel, often disregarding the role the Israeli participants in business exchange programs play in Israel's crimes.
A recent EU "mission for growth" to Israel involved Ahava, the cosmetics company based in an Israeli settlement in the West Bank, and a subsidiary of the Israeli arms company Elbit Systems.
Besides trade, Israel's participation in EU programs also provides its economy with a major boost.  Some of the most important areas of cooperation are jointly-funded by the EU and Israel. But Israel has proven adept at receiving more from EU-coordinated programs than it pays into them. 
According to the Israeli government, Israel contributed €535 million ($687.5 million) to the budget for the EU's scientic research program between 2007 and 2013. But Israeli firms and institutions received funding worth €840 million ($1 billion) from that program.
The EU plays a key role in the growth of Israel's militarized economy, helping Israel to cover the cost of its occupation and military actions in the process. Any EU criticism of Israel remains in effect meaningless while such strong links remain in place and are being continually deepened. 
Arming Israel
The letter from 24 Palestinian organizations to Ashton also calls for a European military embargo on Israel:
the vast military trade and cooperation that take place between Israel and EU member states directly provide Israel with the material and political support that it requires to carry out its regular massacres of Palestinians and its systematic violations of international law. In the period 2005-09, EU countries granted arms exports licenses to Israel worth €7.47 billion [$9.6 billion]. Weapons exports from the EU to Israel during 2012 were worth €613 million [$788 million], up 290 percent on the previous year. This booming military trade amounts to the aiding and abetting of Israel's grave violations of international law.
In addition to military trade, European countries also participate in joint research and training exercises with the Israeli military.
As David Cronin reported for The Electronic Intifada recently, the EU also collaborates with the agencies responsible for building and maintaining Israel's nuclear arsenal.
While Spain announced a partial suspension of arms sales to Israel during the recent attack on Gaza, the EU should do more collectively to address how the arms trade with Israel clearly violates the Union's own rules.
A "common position" agreed in 2008 states that EU governments should deny an export license "if there is a clear risk that the military technology or equipment to be exported might be used in the commission of serious violations of inter­national humanitarian law."
Clearly, all military exports to Israel violate this principle.
Ending European complicity
EU officials have consistently argued that its association agreement and close ties with Israel put it in a better position to engage in "dialogue" with Israel regarding its violations of international law and human rights.
Given the scale of Israel's recent massacres in Gaza and Israel's decision to announce new settlement constructution despite public pleas from the EU not to do so, it is clear that this "dialogue" — if it ever really existed in a meaningful sense — has failed.
What's needed now more than ever is popular pressure on the EU and its governments to take meaningful action that raises the price Israel has to pay for its decades-old system of colonialism and apartheid. 
As the letter from Palestinian groups to the EU argues, "Israel's war crimes and its sabotage of every effort to reach a just peace based on UN resolutions must lead to effective and substantial, not just cosmetic, consequences."
Tags