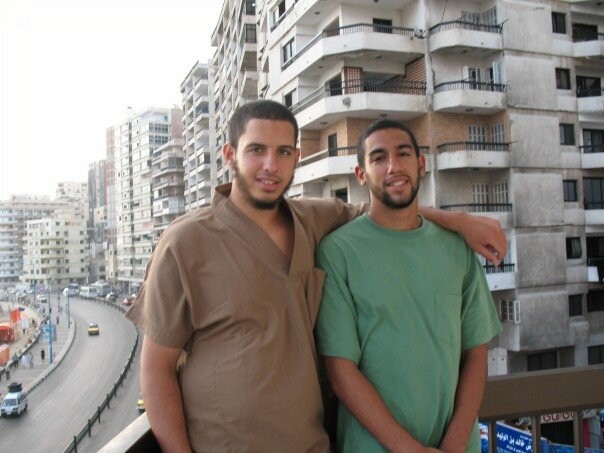 This Friday 23-year-old Ziyad Yaghi and his co-defendant, Omar Aly Hassan, also 23, both convicted terrorism-related charges, will be handed down sentences for conspiring to provide material support to unspecified terrorists and, in the case of Yaghi, conspiring to harm unspecified persons abroad.
The case, which seems to be largely off the radar for major civil liberties groups and national Arab and Muslim organizations, raises questions about the use of preemptive prosecution to get convictions in the vast majority of domestic terrorism cases. The government's case also largely focuses on speech made by the defendants, and rests on the testimony of paid undercover informants.
Conspiracy against unknown persons in an uknown place at an unknown time
The US government alleges that Yaghi and Hassan conspired with alleged ringleader Daniel Patrick Boyd to provide material support to an unspecified group of terrorists in an unspecified place at an unspecified time. They were also indicted — and Yaghi convicted — for conspiracy to kidnap, kill, maim or harm an unspecified group of people in an unspecified place at an unspecified time.
The US government alleged in a 2009 indictment that Yaghi and Hassan traveled to Israel in 2007 to meet up with Boyd and one of Boyd's sons, Zakariya, for the purpose of waging "jihad" — what that specifically entailed was not detailed in the indictment.
After the Israeli government denied entry to all four men, Yaghi and Hassan traveled to Jordan and later Egypt. The Boyds traveled to Jordan, where they were met by Daniel Boyd's other son, Dylan, but did not meet with Yaghi and Hassan there.
Upon their return to the United States approximately one month later, Yaghi and Hassan apparently ceased contact with the Boyd family.
During the men's trial last September, an FBI agent admitted upon cross-examination by Hassan's attorney that the government had no evidence of contact between Hassan and Boyd after the 2007 trip.
Dylan Boyd, who testified for the prosecution as part of a plea agreement, told the FBI in an interview that he "hadn't seen or spoken to Yaghi and Hassan since the 2007 trip."
It was revealed during the trial that the Boyd family had been under surveillance since 2005, and Yaghi and Hassan had been monitored starting around the time of their 2007 trip.
Lesser charges, but greater sentence?
The most serious and specific of all of the charges related to the case were dropped from the counts against alleged ringleader Daniel Patrick Boyd — conspiracy to attack a US Marines Corps base in Quantico, Virginia. Daniel Patrick Boyd and Hysen Sherifi were indicted for conspiring to murder US military personnel; the charge against Boyd was dropped as part of his plea agreement, while Sherifi was convicted of the charge.
The other co-defendants were not indicted for the alleged Quantico plot. Daniel Patrick Boyd faces 15 years in prison and a life sentence for the remaining conspiracy charges.
Meanwhile, the Associated Press reported that Boyd's sons received lesser sentences after cooperating with the prosecution:
Zakariya Boyd, 22, was sentenced to nine years in federal prison and Dylan, 25, was sentenced to eight years. Each had pleaded guilty to conspiracy to provide support to terrorists, which carried a maximum of 15 years in prison and $250,000 fine. Both received lesser sentences after cooperating with prosecutors, including credit for the jail time already served since their arrests in July 2009.
The judge overseeing the case said she may revisit the Boyd sons' sentences, "depending on their contributions to the prosecution" in the separate trial of a seventh defendant, Anes Subasic. Subasic is being tried separately because he is representing himself.
While the prosecution dropped the most specific of all of the conspiracy charges as part of Daniel Patrick Boyd's plea agreement, the jury found Yaghi and Hassan guilty for conspiring to provide material support, though the government did not identify which terrorist groups they intended to support.
As the Los Angeles Times reported, "Prosecutors named no targeted victims. Nor did they specify places, times or dates of attacks," except in the case of Daniel Patrick Boyd and Hysen Sherifi, whom were indicted for the alleged Quantico plot. "The elder Daniel Boyd had visited the base, and he and Sherifi had discussed its vulnerability to an attack on Marines and their families," the paper added.
Amongst the evidence presented by the government to demonstrate the defendants' criminal intent included weapons training said to have been conducted by Daniel Patrick Boyd, who upon his arrest was found to have amassed "a stockpile of nearly two dozen guns and 27,000 rounds of ammunition seized from a bunker under Daniel Boyd's home," the Los Angeles Times reported.
The FBI testified that Sherifi participated in weapons training with Boyd and his sons in the weeks prior to their arrests, the Capitol Broadcasting Company reported.
Yaghi and Hassan were not indicted for any weapons-related charges. As the Los Angeles Times reported, the government had gathered "750 hours of audio and video that included conversations between the defendants and three paid FBI informants; in those conversations, the defendants discussed jihad and their hatred for non-Muslims."
However, defense lawyers argued, the audio and video evidence "did not show the defendants discussing or agreeing to any specific attack."
The Los Angeles Times reported upon the conclusion of testimony, "Defense lawyers reminded the jury that all three Boyds testified that the defendants did not conspire to attack people or provide material support to terrorists."
So not even the Boyds, whose cooperation with prosecution would likely be rewarded with lesser sentences, said that Sherifi, Yaghi and Hassan were involved in the conspiracies that the Boyd family members pleaded guilty to.
The Los Angeles Times added:
The FBI recruited three informants, code-named Jawbreaker, Hammerhead and Crosstown, who secretly taped conversations with the defendants.

The defendants spoke in emails of wanting to kill non-Muslims; they exchanged bloody Al Qaeda videos; and they shared CDs containing diatribes by Anwar Awlaki, an Al Qaeda leader killed by a US drone strike in Yemen last month. One video showed a live beheading by terrorists.
Dan Boyce, representing Omar Aly Hassan, "said the defendants' comments about jihad, no matter how offensive, were protected as free speech. Similarly, shooting at targets — a popular pastime in rural North Carolina — is protected by the 2nd Amendment, he said."
Prosecuting on the basis of First Amendment speech?
The question of whether circulating "pro-jihadist" material makes someone a "terrorist" was raised during the trial of Tarek Mehanna of Massachusetts. Civil liberties organizations raised concerns that prosecuting Mehanna for providing a service to US-designated terrorist groups because he posted material on the Internet was a violation of the rights guaranteed by the First Amendment of the US Constitution.
Civil libertarians argue that no matter how offensive someone's speech is, it shouldn't be the basis for prosecution.
Indeed, after the North Carolina men were indicted in 2009, a federal judge expressed skepticism about the charges. CNN reported that "Magistrate Judge William Webb said the men made a number of statements espousing holy war that could be interpreted in isolation as empty boasting."
CNN added:
Webb said the government's case depended partly on an "unnamed, unidentified and uncharacterized" witness who had interpreted what the government said was coded speech by the suspected terrorists.

The government says, for example, that one defendant's statement about "going to the beach" meant he intended to conduct violent jihad.

"You're asking me to believe 'beach is the functional equivalent of 'jihad,'" Webb said.
Use of paid undercover informants under question
The FBI's use of paid informants also came under question during the trial.
The Capitol Broadcasting Company reported in September that an FBI informant, a Muslim of Moroccan descent who goes by the code name "Jawbreaker," was paid $110,000 by the FBI since 2005. The informant had gained a residency card after overstaying a visa and remaining in the US illegally, defense attorneys noted.
CBC added:
Robert McAfee, Sherifi's attorney, also blamed Jawbreaker for thrusting his client and Boyd together. The informant used FBI money to pay for Sherifi to return to the US from Kosovo, where he was living his wie and child, McAfee said.
According to the CBC, Omar Aly Hassan's attorney, Daniel Boyce, told the jury that FBI had tried to turn his client into an undercover informant in the case, but Hassan turned them down, "saying he didn't know enough about Boyd and his family to help."
Ziyad Yaghi's mother, Laila, alleges that after her son's arrest, the FBI questioned her and said that they had arrested Ziyad to put pressure on him to inform on Boyd. Laila Yaghi told me over the phone that she believes that her son was persecuted for not giving the FBI information on Boyd. She also said that those who testified against Ziyad were paid informants or were intimidated into cooperating with the FBI.
The Los Angeles Times finds that the North Carolina case is not exceptional when it comes to pre-emptively prosecuted "homegrown terrosim" cases:
Based on the results of a recent study of domestic Islamic terrorism cases, the three Muslims from the Raleigh, N.C., area are fairly typical of other Americans charged or convicted of jihadist terrorism in the post-Sept. 11 era.

For instance, 184 of the 188 terrorism cases studied involved no actual attacks.

The study, released in March by the New American Foundation and Syracuse University's Maxwell School of Public Policy, looked at the 188 cases of American citizens or US residents charged in jihadist terrorism plots in the US since Sept. 11. The study's opening sentence asks: "How real is the 'homegrown' Islamic terrorist threat?"

Of the four cases that did progress to attacks, the worst was at Ft. Hood, Texas, where Army Maj. Nidal Malik Hasan is suspected of killing 13 people and wounding 32 in 2009.

(By comparison, the study points out that 73 people were killed in hate crimes in the US between 2001 and 2009 — and more than 15,000 slayings are committed in this country every year.)

A third of the 188 cases involved the use of an informant, the study found.
The conviction of Omar Aly Hassan and Ziyad Yaghi raises important questions about preemptive prosecution:
Should two young men be subjected to criminal trials and lengthy sentences for alleged conspiracy plots so nebulous that the intended victims of the plot were not yet identified?
Does preemptive prosecution protect public safety, or do convictions rely on prosecuting people (particularly Arab and Muslim people) based on First Amendment-protected speech?
Should the testimony of paid informants — who often have criminal backgrounds, whose testimony is rewarded with perks like citizenship papers and expunged criminal records — determine whether someone walks free or spends the rest of his life in prison?
Tags