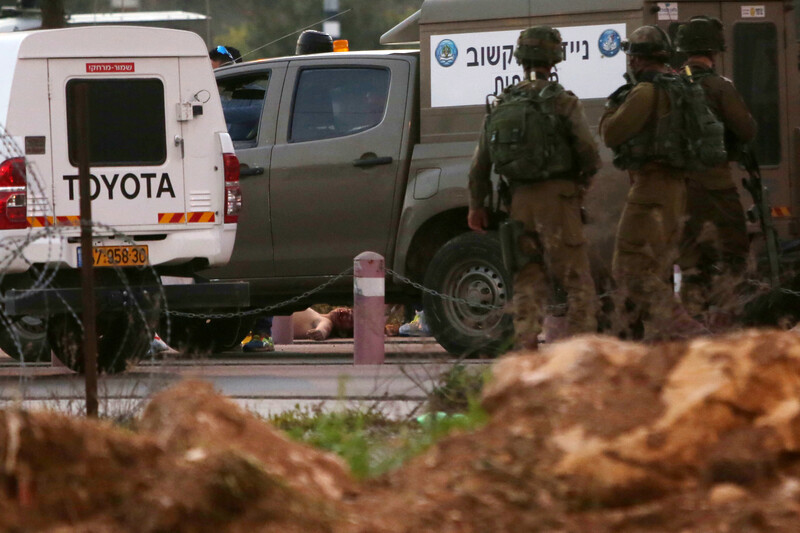 The Obama administration is questioning an Israeli probe into a Palestinian American teen's slaying by soldiers earlier this year, it was reported on Tuesday.
Mahmoud Shaalan, 16, was shot dead near a checkpoint in a Ramallah-area village in the occupied West Bank on 26 February. Israel claimed that the boy had tried to stab soldiers when he was killed.
Amnesty International has stated that his death – as well as that of more than a dozen other Palestinians killed by Israeli forces over the past year – should be investigated as a possible extrajudicial execution.
An eyewitness testified to the Israeli human rights group B'Tselem that Shaalan had attempted to cross a checkpoint and was turned away by soldiers.
"As he was walking away from the soldiers, one soldier shot Mahmoud Muhammad Ali Shaalan from some distance away with around three bullets. He immediately fell to the ground, and the soldier then approached and shot him twice more, according to the witness," Amnesty states.
An autopsy found that no bullets had been fired from close range, throwing into question Israel's claim that the boy was attempting to stab soldiers when he was killed.
Shaalan's uncle told the Tel Aviv newspaper Haaretz that soldiers prevented a Palestinian ambulance from evacuating the boy, and that his naked body lay on the road for more than two hours.
Fifteen rights and faith groups in the US have called on the Obama administration to investigate the killing.
A top US diplomat told concerned groups that the US embassy in Tel Aviv asked Israel to investigate Shaalan's death.
In her letter to the groups, Anne Patterson, the assistant secretary of state for Near East affairs, stated that the Israeli Military Advocate General "did not find that the soldiers' actions gave rise to reasonable grounds for suspicion of criminal conduct," and closed the probe without opening a criminal investigation or ordering further action.
Patterson said that US officials reviewed evidence from the scene, including photographs, and based on that review, she stated, "We continue to have concerns about the death of this American citizen and will remain engaged with the government of Israel on this issue."
Earlier this year, the Obama administration signed a $38 billion aid package to Israel – what the State Department called the "single largest pledge of bilateral military assistance in US history."
The US has historically deferred to Israel regarding the investigation of the killing and injuring of American citizens by its forces.
Earlier this year, B'Tselem said that it would no longer cooperate with the army's investigations into human rights violations in the West Bank and Gaza Strip.
"We will no longer aid a system that whitewashes investigations and serves as a fig leaf for the occupation," the group's director, Hagai El-Ad, stated.
Since late 2000, of the 739 cases raised by B'Tselem in which Palestinians were killed, injured or subjected to other abuses, only 25 led to charges against soldiers.
Checkpoint and protest deaths
Also on Tuesday, Israeli guards at the Qalandiya checkpoint near Ramallah shot and killed a Palestinian after he allegedly tried to stab one of them. No Israelis were injured.
The slain man was identified as Jihad Muhammad Said Khalil, 48, from Beit Wazan village near the West Bank city of Nablus.
Israeli forces shot and killed a Palestinian protester in Gaza on Friday.
Muhammad Abu Saada, 25, from Nuseirat refugee camp, was shot in the chest during a demonstration in the Israeli-imposed "buffer zone" along Gaza's boundary southeast of al-Bureij refugee camp.
A child was killed during a protest in the same area as Abu Saada in September after a flare fired by an Israeli soldier struck him in the head.
When 16-year-old Abd al-Rahman Ahmad al-Dabbagh's friends ran to help him, an investigation by the rights group Al-Haq found, "Israeli soldiers pointed their weapons at them, and stated, 'whoever will dare and try to approach will suffer the same fate as him.'"
Nearly two dozen Palestinians have been killed during weekly demonstrations near the buffer zone inside Gaza during the past year.
Girl sentenced
On Wednesday, an Israeli court sentenced a 17-year-old Palestinian girl to 13.5 years imprisonment on charges of attempted murder over a stabbing attempt in Jerusalem last year.
A lawyer with the Palestinian Prisoners Society reported that Nurhan Awwad was also fined approximately $7,500.
The girl's 14-year-old cousin, Hadil Wajih Awwad, was killed during the incident and Nurhan was shot in the stomach and critically wounded.
A 70-year-old Palestinian man and a young Jewish man were stabbed and lightly wounded.
Security camera footage of the incident shows that one of the girls was shot as she was running away, and the other was shot at point-blank range.
The video shows no effort to arrest the girls, who lunge at passersby with scissors, but make no physical contact with anyone in the moments before they are shot by a police sapper.
B'Tselem stated that in the case of the Awwad cousins, and that of Ashraqat Qatnani, another Palestinian girl shot dead during an alleged stabbing incident: "it is hard to see how the three girls committing the attacks posed mortal danger at the time they were shot. It appears that the security forces involved could have easily apprehended them without using live fire."
Since October last year, more than 150 Palestinians have been killed during the course of alleged, attempted, or actual attacks against Israeli soldiers, police and civilians, Amnesty International stated in late September.
According to Defense for Children International – Palestine, more than 40 boys and girls killed during that period were accused of attempting an attack.
"In several cases, DCIP found that children did not pose a direct, mortal threat at the time they were killed, suggesting that Israeli forces are implementing a 'shoot-to-kill' policy," the group stated.
"Israel routinely defends or denies using lethal force against children and accountability is extremely rare."
Tags