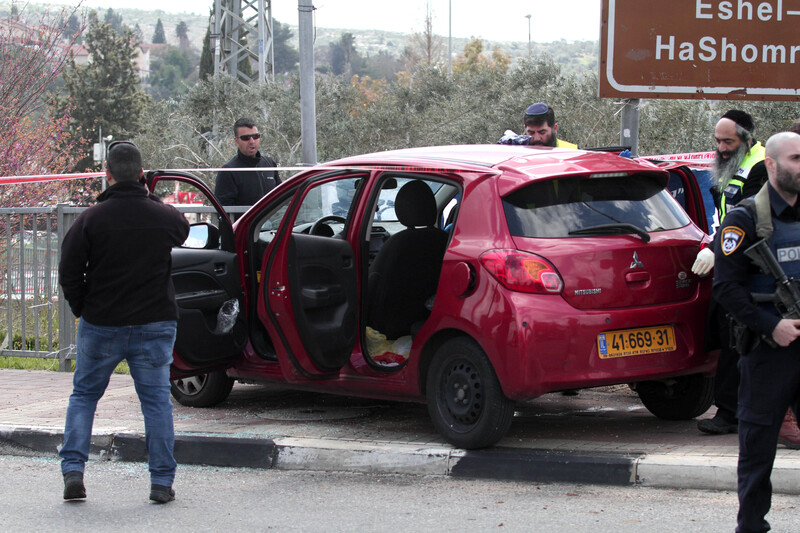 Israeli occupation forces have imposed collective punishment measures in several Palestinian communities after two Israelis were killed in the central occupied West Bank on Sunday.

Israeli officials named the suspected Palestinian assailant, currently being pursued by occupation forces, as Omar Amin Abu Leila, 19, from the village of al-Zawiya near Salfit.

Abu Leila allegedly stabbed a soldier along a roadway outside the Ariel settlement, grabbed the soldier's gun and began firing at passing vehicles, fatally injuring an Israeli civilian, before stealing a car and driving away in it. He opened fire again at another junction, seriously injuring another soldier.

Part of the attack was recorded on security camera footage:

The slain soldier was identified as 19-year-old Gal Keidan. Also killed was Rabbi Ahiad Ettinger, a 47-year-old resident of the Eli settlement.

Israeli Prime Minister Benjamin Netanyahu said that he had ordered the demolition of Abu Leila's family home "and preparations have already begun."

Since late 2015 Israel has accelerated the demolitions of the family residences of Palestinians alleged to have attacked Israelis.

Such collective punishment measures are a violation of the Fourth Geneva Convention and thus a breach of international law.

They also highlight Israel's institutionalized racism, since such punishments are never meted out against the families of Israeli Jews who attack Palestinians.

Palestinian news outlets reported that occupation forces had detained Abu Leila's parents and brother, closed the northern entrance of Salfit and raided several nearby towns and villages.

Three Israelis have been killed by Palestinians so far this year, though Palestinian factions have refuted Israel's claims of a nationalist motive in the slaying of a 19-year-old Israeli woman by a Palestinian man last month. Twenty-five Palestinians have been killed by Israeli soldiers and settlers during the same period.
Gaza protest crackdown condemned
Human rights groups and various Palestinian political factions have condemned violence by Hamas police and security forces against protesters in Gaza in recent days.
On Friday, hundreds of Palestinians gathered for the second day in various locations throughout Gaza, whose population of two million has been plunged into poverty after a decade of Israeli economic blockade exacerbated by a political impasse between the Hamas authorities in Gaza and the Palestinian Authority in the West Bank.
"The protesters in all locations were demanding better living conditions in the Gaza Strip and protested against rising prices and taxation," according to Al-Haq, a Palestinian human rights group.
Large numbers of police were present as protesters, including women, children and elderly persons, "held written signs and chanted slogans calling on officials in the Gaza Strip and in Ramallah to shoulder their responsibilities," Al-Haq said.
Security officers in civilian clothing beat protesters with their batons and assaulted journalists and confiscated their phones and equipment, as well as the devices of other individuals recording video of the demonstrations.
"The Security Services further fired shots in the air, followed the protesters into side streets and raided a number of houses," Al-Haq added.
Members of the Qassam Brigades, the armed wing of Hamas, also forcibly dispersed protesters.
Dozens of protesters were injured and arrested.
Jamil Musa Sarhan, director of the Independent Commission for Human Rights in Gaza, and his colleague Baker Zakaria al-Turkman, were among those beaten and whose phones were confiscated. A third representative of the group, Ra'fat Salha, was also assaulted.
The human rights monitors were wearing vests marking themselves as such when they were attacked by police, according to Al Mezan, another rights group in Gaza.
Al Mezan's own staff were among four human rights defenders detained during a third day of protests and crackdowns on Saturday.
The group's director, Samir Zaqout, told media that "The demonstrations are part of the response to this difficult situation, especially among young people. There is massive emigration, mainly to Turkey, and some are walking up to the border fence. Young people look for death there, saying they have nothing to live for."
Yahya Musa, a Hamas lawmaker, criticized the crackdown, stating on Facebook that "everybody has the right to express their opinion, assemble and protest peacefully, and it is the duty of security to provide protection."
Last year Human Rights Watch accused Hamas authorities in Gaza and Palestinian Authority forces in the West Bank of having "developed parallel police states" to quell criticism and crush dissent.
On Sunday, Nickolay Mladenov, the UN's Middle East peace envoy, condemned the "campaign of arrests and violence used by Hamas security forces against protesters, including women and children."
Raising alarm over the beating of journalists and human rights defenders, he added that Palestinians in Gaza have the "right to protest without fear of reprisal."
Call for transparency
Investigators appointed by the UN Human Rights Council to study Israel's use of lethal force against Gaza protesters called for more transparency by Israel over its internal investigations of protest deaths.
Israeli media reported last week that military police have been instructed to investigate eight additional protest deaths, bringing to 11 the number of fatalities purportedly under review.
The UN commission of inquiry has called on Israel to investigate "every protest-related killing and injury, promptly, impartially and independently."
"On the nature of investigations, for the ones from Israel, they have announced that there are these 11 incidents … but that is after one year," Sara Hossain, one of three members of the commission of inquiry, said in Geneva on Monday.
"And there is no announcement as to the progress of those investigations and we think that there is at least a moral obligation to disclose what the outcome of those is."
The commission of inquiry has previously stated that Israeli violations in its use of force against protesters warrant criminal investigation and prosecution and may amount to war crimes and crimes against humanity.
In a letter to Santiago Canton, the head of the UN commission of inquiry, the director of the Israeli human rights group B'Tselem said that the Israeli military's internal investigations "are in fact nothing more than organized whitewash."
Hagai El-Ad added: "There can be no rational expectation for accountability from Israeli mechanisms, when the illegality of Israel's open fire policy itself is at the heart of the matter – a policy that isn't even being questioned domestically, let alone credibly investigated."
Tags