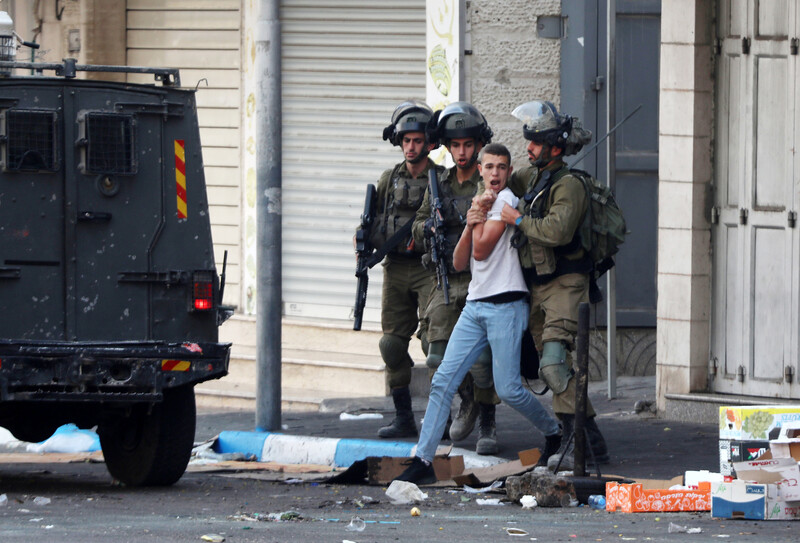 Israeli forces shot and killed a Palestinian boy on Wednesday as the military imposed closure on Nablus, one of the most populated cities in the occupied West Bank.

Palestinians reportedly fired on Israeli Border Police at Qalandiya checkpoint between the West Bank cities of Ramallah and Jerusalem. No injuries were reported.

Meanwhile, Palestinians in Jerusalem held a general strike to protest the ongoing Israeli siege on Shuafat refugee camp on the outskirts of the eastern sector of the city.

Some 130,000 Palestinians in Shuafat and the neighboring communities, already hemmed in on all sides by Israel's concrete barrier, have been affected by what human rights groups describe as collective punishment measures.

Shuafat camp has been subjected to closure and turned into a battlefield as occupation authorities searched for the suspected gunman who they say killed a soldier at a nearby checkpoint on Saturday.

The unusual and highly disruptive closure of Nablus came after a soldier was shot and killed while guarding a settler march in the area on Tuesday.

Responsibility for that shooting was claimed by the Lions Den, a group of Palestinian fighters based in Nablus. Israeli authorities reportedly believe that the shooter who killed a soldier on Tuesday fled to the city of 170,000 people.
Child killed near Hebron
There were points of confrontation between Palestinians and the Israeli military and settlers throughout the West Bank on Wednesday.

Usama Mahmoud Adawi, 17, was seriously injured during confrontations with Israeli soldiers at the entrance to Arroub refugee camp near Hebron on Wednesday and died later as a result of his injuries, the Palestinian state news agency WAFA reported, citing the health ministry.

The Israeli military claimed that Adawi had thrown stones at cars with Israeli license plates on a major highway.

Israeli forces and settlers have killed 28 Palestinian children in the West Bank so far this year – nearly double the number of child fatalities in the West Bank recorded last year.

Some 100 Palestinians have been killed by the Israeli military and settlers in the West Bank, including East Jerusalem, so far this year amid "a massive increase in military raids," as described by the BBC.

More than 50 Palestinians were killed during Israel's assault on Gaza during August, including around a dozen who perished in ambiguous circumstances or as a result of Palestinian fire from the territory.

Two dozen people in Israel and Israelis in the West Bank, several of them soldiers and police officers, were killed in attacks by Palestinians during the same period.

On Wednesday, Palestinians were seriously to moderately injured during confrontations with the Israeli military in al-Bireh, near Ramallah, according to WAFA.

Israeli forces closed areas of Hebron, the largest city in the West Bank, to facilitate entry to Jews visiting an archaeological site.

WAFA reported that Israeli soldiers occupied the rooftops of buildings, forced the closure of shops and fired stun grenades and tear gas to evacuate the area. Journalists were prevented from reporting on the events, the news agency said.

"The city of Hebron is witnessing a major escalation in settler attacks and incursions into archaeological and religious sites, accompanied by punitive measures against [Palestinian] citizens and closures imposed by Israeli occupation forces," WAFA stated.

ِEarlier this month, photos and videos showed a large crowd of Jews performing rituals in the courtyards of the Ibrahimi mosque in Hebron's Old City and holding a concert inside the holy site.

Palestinian and Arabic-language media outlets reported this week that Israeli settlers burned a copy of the Quran and threw it in the trash: After an American-born Jewish settler massacred 29 worshippers in Hebron's Ibrahimi mosque in 1994, Israeli forces partitioned the holy site and shuttered the formerly bustling adjacent Old City.

Palestinians fear that without determined resistance, Israel will seize any opportunity to impose similar measures at al-Aqsa mosque in Jerusalem, where tensions are rising due to provocative visits by Israelis during the Jewish holidays.
Al-Aqsa provocations
While Israeli authorities restricted Palestinians from accessing al-Aqsa, hundreds of Jewish settlers, including far-right Israeli lawmaker Itamar Ben Gvir, were permitted to visit the compound housing the holy site.

The previous day, social media posts appeared to show Ben Shapiro and Jordan Peterson, both right-wing media personalities in North America, visiting the al-Aqsa mosque compound: The pair had recently delivered talks in Tel Aviv and Jerusalem.

Israel occupied the eastern sector of Jerusalem in 1967 and annexed the territory in violation of international law.

Shuafat, under siege since late Saturday, is the only refugee camp in Jerusalem and is one of the most densely populated areas of the city.

Israeli movement restrictions and military operations in the camp had severely affected access to basic services, Al Jazeera reported on Wednesday.

"Entrances to the refugee camp have been mostly shut, while the raids have affected schools and healthcare," France 24 said on Wednesday.

According to the Reuters news agency, "long lines of cars formed at checkpoints leading out of the area while groups of youths hurled stones at police and set fire to rubbish containers, sending plumes of black smoke billowing into the sky."

Video shows Israeli soldiers firing on Palestinian protesters at Shuafat checkpoint on Wednesday:

Al Jazeera added that Israeli forces shot a Palestinian in the stomach while others were injured by tear gas inhalation and rubber-coated bullets.

"Israeli forces also sprayed large amounts of skunk water – a foul-smelling liquid – on residents and homes in the tight alleyways of the camp," the broadcaster reported.
"Collective punishment"
UNRWA, the United Nations agency for Palestine Refugees, said that it closed its schools and the primary health facility in the camp and that tons of uncollected garbage was piling up in the streets.

"If people are able to enter, then exiting it is extremely difficult. We are in contact with Israeli authorities and we are telling them that this is unacceptable," Kazem Abu Khalaf, a spokesperson for UNRWA, told Al Jazeera.

"They are imposing a closure on over 100,000 people. This is being described by many as collective punishment," Abu Khalaf added.

Mahmoud Abu al-Antouz, the head of the camp's popular committee, told Al Jazeera that 3,000 residents with chronic illness have been prevented from receiving treatment such as chemotherapy and kidney dialysis.

"Food supplies are not being allowed in. Medical teams are not being allowed in," Abu al-Antouz said. Meanwhile, some 5,000 children have stayed home instead of going to class the past several days.

Israel meanwhile raided Issawiya, another area of East Jerusalem, firing weapons and spraying skunk water on Palestinian families' homes:

Access to essential services and business as usual was similarly disrupted in Nablus, a city in the northern West Bank, on Wednesday as Israel imposed even more severe movement restrictions in the area. Elsewhere in the West Bank, settlers attacked a home in Sinjil, north of Ramallah as soldiers looked on and did nothing, a witness said. Videos and eyewitness reports indicated that settlers attacked Palestinians and their property in multiple locations in the West Bank on Wednesday and late Tuesday:
Tags