"You cannot imagine how happy we were with that uniform. When we tailored and wore them we didn't want to take them off," recalls Ibrahim, a former Fatah fighter, in the forthcoming feature-length documentary Saken (watch the film trailer above).
The thirteen-year-long friendship between Ibrahim, who was paralyzed by a sniper's bullet in Lebanon in 1982, and Walid, his younger Egyptian caretaker, is at the heart of the film.
Saken was mainly shot in Ibrahim's room in a Palestine Liberation Organization military hospital in Amman. The hospital is one of the last artifacts of the PLO remaining in the capital of Jordan, from which the liberation organization was driven out in 1970, as director Sandra Madi explained to me in an interview from the city.
Ibrahim has lived in that same room with Walid for more than a decade. Through Ibrahim and Walid's individual experiences and friendship, Madi poses bigger questions about the Palestinian liberation movement.
"It's very political, I'm aware of what I'm doing, of course," Madi told me about her film. "But at the same time I try not to ignore … that they are human beings and they have stories, their own things to worry about."
For Madi, "the drama of life" consists in the details: "in the things we want, or we love, or we wish, or we try to defend, or to keep for us."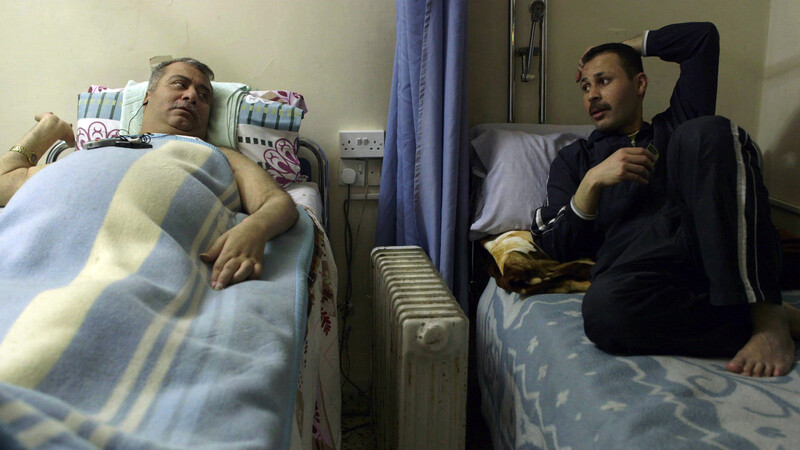 Her sixth documentary, Madi's latest work is part of a wider movement in Palestinian cinema in which young filmmakers with diverse aesthetic expressions examine the experience of their parents' generation, when the Palestine liberation movement was in its idealist infancy.
Her previous work includes Perforated Memory, which looks at the lives of aging former Fatah fighters as they live out their remaining days in poverty and with little reward for their sacrifices for Palestine's liberation.
Listen to the full interview with Sandra Madi via the player below or read the transcript, which follows.
The following interview transcript was edited for clarity:
Maureen Clare Murphy: Sandra, can you give a brief introduction of yourself to The Electronic Intifada's audience?
Sandra Madi: Maureen, thank you for this opportunity.
My name is Sandra Madi, I'm a Palestinian theatre artist and filmmaker and I'm based in Amman and Beirut. I recently focused on directing documentary films.
MCM: Your new feature-length documentary Saken focuses on the relationship between two men named Ibrahim and Walid. Can you tell us a little bit about them?
SM: Yes. Ibrahim is an ex-Palestinian guerrilla. He was part of the Fatah group and he was born and raised in Kuwait, and at the age of 18 he moved to Beirut and he joined the Palestinian revolution there at that time.
Walid is a young Egyptian man; he comes from a village in northern Egypt, near Kafr el-Sheikh, from a small village there. He came to Amman where he met Ibrahim in the late '90s, where he became his friend and nurse after of course Ibrahim was injured in the year 1982 by a bullet from a sniper and he was paralyzed since then.
It's a film about the friendship between two men who come from a very different backgrounds and the film focuses on their life, where they stayed for over thirteen years in the Palestinian liberation army hospital in Amman, which is one of the few places that's left from the PLO in Amman, Jordan.
After the first Gulf War, Ibrahim came to Amman from Kuwait with his family, he stayed a few years at his house with his family and then he decided to stay for some reason in this hospital in particular. This hospital is a hospital for an army; all the staff there have a militant background … the nurses, doctors, everyone who works there.
I filmed in the room where Ibrahim was living for over thirteen years with Walid and I highlight the daily life of these two men and what stays behind this very special relationship.
MCM: What is the significance of the title Saken?
SM: I don't like to say that it reflects or means one thing; I really depend on the audience or the people when they see the film, they reflect from or to the title.
But Saken for me it means "static" or "still." Saken comes from sukun or sukna [in Arabic] — "resident" or "silent" or "static," as I said. Yes it means that nothing is moving, it's like, we say in Arabic, al-mia' al-sakina — the water that is really silent, it does not move.
So maybe in a way I feel like that this life of Ibrahim, or their life, Ibrahim and Walid, with all its dynamics — I saw it as if it's reflecting on the general situation or the very cause itself.
Ibrahim he symbolizes for me, he's like the Palestinian cause — he's alive but he's paralyzed. He can move, he has his own ways to communicate with the world, but it's as if he's trapped in his body or in the place itself, which is this hospital.
It's very symbolic in this way to have this hospital with Palestinian militants but it means nothing to be Palestinian militants in Jordan at this time or even before, since the '70s. … So it's a very symbolic existence.
I found this story and I tried to reflect it from its very human aspect … [yet] it's very political, I'm aware of what I'm doing, of course. I want it to be like that but at the same time I try not to ignore the core … that they are human beings and they have stories, their own things to worry about.
The drama of life consists in the not very symbolic way, it consists in the daily life, in the details — in the things that we want, or we love, or we wish, or we try to defend, or to keep for us. I hope the film contains or will reflect what I'm saying.
MCM: Whereabouts are you in terms of completing the film, and how are you funding its production?
SM: I'm working with Majd Hijjawi, who is our producer, she worked very hard to find ways to reach to the end point. We started filming almost [three years ago]. The production phase was over two years, filming on and off of course.
We got a small grant from the IDFA Bertha Fund, they believed in us at a very early stage, before we even had a first cut or a draft. And we also got a grant from the Screen Institute Beirut Fund, we got a grant from them to finish the post-production phase because we filmed and finished all the production. We handled everything that we need as expenses or such.
Now we're doing editing. The film received an Ismailia Film Festival prize last year to do all the color correction and sound design in Cairo; I just came back from Cairo two days ago … so I'm in the last stages before releasing the film.
MCM: Thank you Sandra for your time, we very much look forward to viewing the completed film. Before we end, is there anything you would like to add?
SM: Thank you so much, I really wish that the people or anyone who would read this interview or hear it would have the ability to try to connect with all the scene of filmmaking in the region in the Arab world. Especially the independent scene, and also of course the Palestinian filmmakers, because they and we as part of them spend a lot of effort and time to let our films come to the world.
It's an effort, we need it to be from both sides. It's not easy to let the films out to the cinemas or to have them distributed. Maybe at least the people whom are interested, I have this hope they will spend a little bit more time and energy to look more carefully and search more in this scene. Because there's really good things and really good films coming out from Palestine and from the region.
Tags