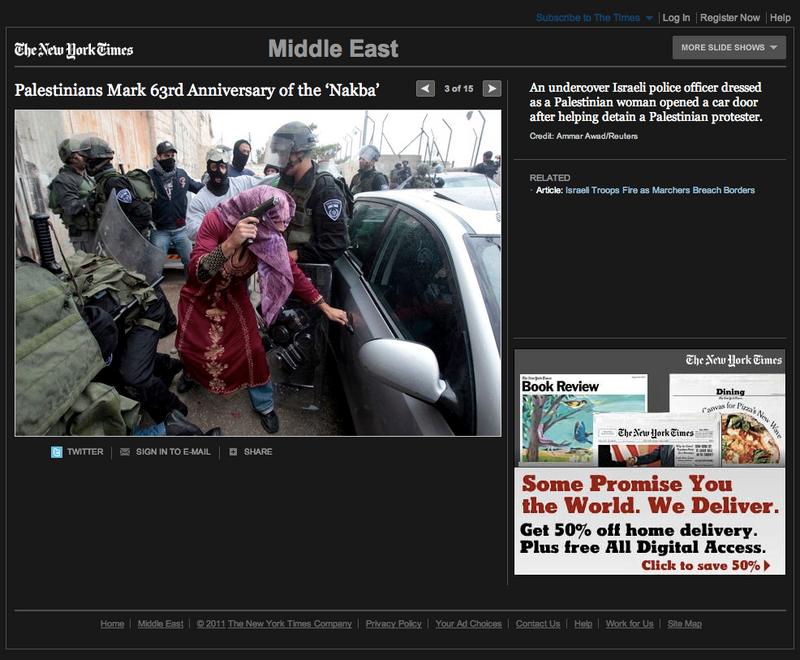 In this exclusive interview with The Electronic Intifada, independent journalist Jon Elmer describes how undercover Israeli forces disguised as Palestinians arrested demonstrators during a Nakba protest at the Qalandiya checkpoint between Ramallah and Jerusalem today.
Mere seconds after we published the interview, Jared Malsin, a journalist and occasional contributor to The Electronic Intifada, tweeted the above Reuters photo published in a photostory by The New York Times.
The photo depicts an undercover Israeli agent, dressed as a Palestinian civilian, being loaded into an Israeli police vehicle after "helping detain a Palestinian protester," as The New York Times caption explains.
In his tweet, Malsin used the hashtag "baltagiya," the term used to describe the organized thugs who used force against opposition protesters in Egypt during the demonstrations that led to the ousting of Mubarak.
The use of undercover Israeli forces dressed as Palestinian civilians — known as "mustarrabeen" in Arabic and "mistaravim" in Hebrew — in arrest and extrajudicial execution operations has long been in practice by the Israeli army in the occupied West Bank and Gaza Strip.
Jared Malsin reported for The Electronic Intifada in 2008 that an undercover unit in such disguise extrajudicially executed four Palestinian fighters in the occupied West Bank city of Bethlehem, just hours after they had visited Malsin's office:
These men were fighters, but they were not in a combat situation at the time. They were sitting in a car, waiting for their dinner. The Israeli special forces drove up, disguised as Palestinian civilians, and opened fire without warning.

They did not even have the chance to move. Their bullet-ridden bodies were still sitting upright when passersby pulled them from the car.

It was the moral equivalent of a team of Palestinians, disguised as Israelis, driving an Israeli car into Tel Aviv and gunning down four off-duty Israeli soldiers.

But even straightforward statements of equivalence such as this have limitations. While a Palestinian attempting such an attack in Israel would surely face death, the Israeli commandos were ferried safely out of Bethlehem by their military forces. Israel, with its powerful conventional army, is still occupying Palestinian land. Palestinians have splintered, ragtag bands of armed men defending their territory.
Last October, The Electronic Intifada reported that such an undercover unit was used to repress a protest in Umm al-Fahm, a Palestinian village in Israel. Palestinian citizens of Israel had organized in protest of a march by right-wing Jewish extremists through the town. Haneen Zoabi, a Palestinian member of the Israeli Knesset (parliament) was among those injured during the protest:
Zoabi reported being hit in the back and neck by rubber bullets as she fled the area when police opened fire. In an interview, she said she believed she had been specifically targeted by police snipers after they identified her.

Police denied her claims, saying they had used only tear gas and stun grenades.

Some 1,500 police were reported to have faced off with hundreds of Palestinian citizens of Israel and Israeli Jewish demonstrators in the town.

Shimon Koren, the northern police commander, admitted special paramilitary forces had been used against the counter-demonstration by Palestinian citizens of Israel, as well as an undercover unit more usually deployed at Palestinian protests in the occupied West Bank.

An officer disguised as an Arab demonstrator, from the so-called mistaravim unit, was among the injured, apparently after police fired a stun grenade at him by mistake (mistaravim is a Hebrew-language word meaning "disguised as an Arab").
In these diaries written for The Electronic Intifada in 2006, Palestinian filmmaker Annemarie Jacir and her sister Emily, the acclaimed artist, describe how a unit of undercover Israeli soldiers opened fire in Ramallah's city center in the middle of the afternoon as part of an assassination operation. Two Palestinians were killed during the operation.
The Israeli human rights group B'Tselem has decried the practice of undercover Israeli agents disguised as Palestinian civilians:
B'Tselem also calls on the JAG to instruct the army to immediately cease using undercover soldiers in any action that the army defines as combat. The laws of warfare prohibit perfidy. Combatants feigning civilian status come within this classification. The undercover soldiers and the officials who dispatch them may also bear individual responsibility for war crimes, given that injuring or killing a person while breaching the prohibition on perfidy is a war crime under international criminal law.
Tags