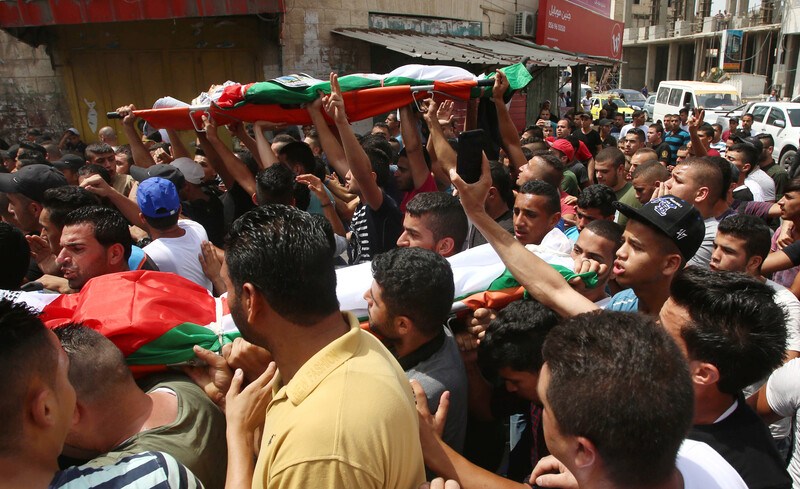 Two Palestinians, one of them a teenager, were killed during an Israeli army raid on Jenin refugee camp in the northern occupied West Bank early Wednesday morning.

Aws Muhammad Yousif Salameh, 17, and Saad Nasser Hassan Abd al-Fattah, 20, were fatally wounded when Israeli soldiers opened fire on Palestinians who were attempting to repel their entry into the camp.

The Israeli military said Palestinians opened gunfire and threw molotov cocktails towards soldiers invading the camp.

Two other youths reportedly sustained moderate injuries. No soldiers were injured.

Salameh and Abd al-Fattah were buried in Jenin refugee camp on Wednesday:

The killing of the two youths in Jenin comes two weeks after Iyad Munir Arafat, 23, was shot dead by Israeli forces disguised as Palestinian civilians during a raid in the West Bank city of Hebron. Israel claimed that Arafat had opened fire on soldiers; no Israelis were injured during the incident.

Another youth in Jenin refugee camp was shot dead during an army raid in January this year. Muhammad Mahmoud Abu Khalifa, 19, was reportedly left on the ground for hours before Palestinian paramedics were able to evacuate his body.
Man shot dead during alleged attack
Thirty-nine Palestinians have been killed by Israeli fire so far this year.

Muhammad Ibrahim Jibril, 24, was shot dead on Monday during what Israel claims was an attempted vehicular attack against soldiers near the town of Tuqu and the Tekoa settlement in the Bethlehem district of the West Bank.

Jibril reportedly sped towards a group of soldiers as they exchanged guard at a watchtower, hitting and injuring one of them, before his car hit a nearby rail. The army claimed Jibril exited his vehicle while wielding a knife and was attempting to stab soldiers when he was shot dead.

Jibril was buried in the town of Tuqu on Tuesday:

Israel had previously warned that Jibril's body would only be transferred if the town "remained quiet."

The mayor of Tuqu called for the removal of the military watchtower outside the town, stating that it "has become a spot for executing young men."

Earlier this year, soldiers in Tuqu were shown on video dragging a gravely injured Palestinian teenager across the ground for several meters, his head repeatedly hitting the ground. Qusay al-Amour, 17, would later be declared dead.
Palestinian baby dies from tear gas injuries
Last week, a Palestinian infant died two months after being severely injured by tear gas fired by Israeli soldiers in the West Bank village of Aboud.
The Palestinian health ministry in Ramallah announced that all efforts to save the life of 18-month-old Abd al-Rahman Barghouti had failed. He is the youngest of the 10 Palestinian children killed by Israeli fire so far this year.
The child was injured when Israeli forces shot tear gas at Palestinian homes during confrontations that broke out during protests in support of Palestinian detainees undertaking a mass hunger strike in Israeli prisons.
Palestinian media reported that soldiers had prevented paramedics from accessing the injured baby's home by blocking the Palestine Red Crescent Society's ambulances with army jeeps.
Medics were forced to carry the infant to their ambulances, which were located a 30-minute walk from the Barghouti family's home.
Jerusalem boy blinded by soldiers
Meanwhile a Palestinian boy was blinded in one eye and suffered facial fractures after he was shot by a sponge-tipped plastic bullet fired by Israeli soldiers in the Jerusalem-area village of Issawiyeh on Sunday.
According to Defense for Children International - Palestine, 14-year-old Nour al-Din Ayman Atta was sitting with his family on the veranda of his third-story home when Israeli forces entered the area. Israeli soldiers reportedly used crowd control weapons after residents threw stones at them.
The injured boy's cousin told the rights group that Nour al-Din had stood up to go inside to seek safety during the confrontations when he was hit.
"An ambulance was unable to access Nour al-Din's home due to the presence of Israeli forces," Defense for Children International - Palestine stated.
"This case shows the disregard held by Israeli forces of guidelines for using sponge rounds," Ayed Abu Eqtaish, a program director at Defense for Children International - Palestine, stated.
"The Israeli authorities repeatedly fail to properly investigate and hold perpetrators accountable for possible misuse of crowd control weapons, giving Israeli forces tacit approval to inflict maximum harm on Palestinian children."
Muhyee al-Tibakhi, a 10-year-old Palestinian boy, was killed last year when Israeli forces fired a sponge-tipped plastic bullet at his chest during confrontations in the Jerusalem-area town of al-Ram.
Another boy, Muhammad Sinokrot, 16, died of his injuries in 2014 after an Israeli paramilitary Border Police combatant fired a sponge-tipped plastic bullet at the right side of his head, causing a skull fracture and brain hemorrhage. An Israeli investigation of the case was closed without charging the Border Police officer responsible, Defense for Children International - Palestine stated.
The rights group has documented several instances of Palestinian children in Jerusalem suffering serious injuries, including the loss of eyesight, when they were hit by sponge-tipped or rubber-coated bullets fired by Israeli forces.
Tags