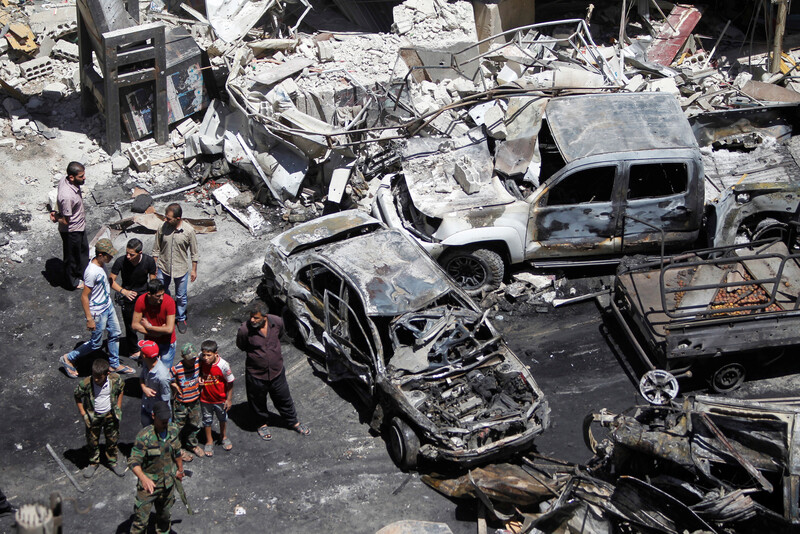 A Palestinian refugee camp in Syria, cut off from supplies, is in dire need of food, medicine, hygiene kits and fuel, a relief group has warned.
The Jafra Foundation fears fierce battles would result in mass displacement from Khan Eshieh camp on the outskirts of Damascus as government forces seek to secure control of the area.
Roads in and out of the camp have long been closed and an informal route used by residents is shelled and subjected to sniper fire on a daily basis, Jafra said in a statement emailed to The Electronic Intifada.
Fighting between Syrian government forces and armed opposition groups has escalated over the past month in the areas surrounding Khan Eshieh camp, located on the outskirts of the capital.
Local sources have told Jafra that Khan Eshieh is "empty of armed elements," calling it a neutral zone.
Refugees killed
An artillery shell that hit a main road in Khan Eshieh killed three Palestinian refugees last week.
The deadly strike occurred near a mosque as worshipers were returning home from evening prayers on 14 June, according to UNRWA, the United Nations agency for Palestine refugees.
The victims were identified as Amir Abu Hamdeh, 37 years old, Mahmoud Asad Asad, 56, and Ibrahim Mahmoud Khalil, 47. Another man was seriously injured in the blast.
"These tragic deaths and grave injuries are the result of intense fighting in and around Khan Eshieh town involving the use of heavy weapons of indiscriminate effect," UNRWA stated, adding that at least nine camp residents have been killed and many more injured since violence escalated on 17 May.
There are approximately 9,000 refugees currently living in Khan Eshieh, according to UNRWA. There were more than 20,000 living in the camp prior to the civil war that followed a lethal government crackdown on popular protests that began in March 2011.
"Since 2012, the farms and fields surrounding the camp have been active battlegrounds in which heavy weapons have been deployed with often indiscriminate impact," the agency stated, adding that humanitarian access to Khan Eshieh "has been constrained" since 2013.
Camp residents "must travel at great personal risk" to receive assistance at nearby UNRWA distribution centers, the agency said.
Warplanes struck the camp on Monday, causing damage but no injuries, the Action Group for Palestinians of Syria reported.
The strike coincided with raids on the outskirts of Khan Eshieh, causing damage to homes.
The Action Group added that tightened restrictions on the camp, where unemployment is widespread, have caused food prices to skyrocket.
More than 153 camp residents have been killed since the beginning of the war in Syria, and 100 are currently in government prisons, according to the group.
"Significant escalation"
The civil war that has claimed more than 250,000 lives has displaced Palestinians and Syrians alike.
More than 100,000 of the 560,000 Palestinian refugees previously living in Syria have since fled and half of the 450,000 estimated to remain have been displaced at least once inside the country.
Five Palestinian refugees, two of them children, were among 14 civilians killed in an explosion at the entrance of Qabr Essit camp in Sayyida Zeinab on 11 June, according to UNRWA.
The victims were identified as Yunis Awadallah al-Najjar, 5, and his 12-year-old brother Imad Awadallah al-Najjar; Taha Ahmad Sharqi, 18; Muhammad Abd al-Ghaffar Abu al-Hajja, 45, and Mahmoud Hassam Tayim, 44.
Fourteen additional Palestinian refugees ranging from 10 months to 60 years in age were among the more than 100 wounded, UNRWA stated.
The Islamic State group said three militants carried out the deadly attack, which was followed by a second explosion in which no casualties were reported.
The incident was the fourth such attack this year in the Damascus suburb, the site of a shrine to which Shia Muslims make pilgrimage.
"On 31 January 2016, three coordinated explosions in Sayyida Zeinab resulted in the death of 35 civilians and injured 150," the agency added. "On 24 February, another attack took the lives of 134 people, including 31 Palestine refugees. A third bombing took place on 25 April and killed at least seven civilians, and wounded dozens."
The latest deadly incident "took place in a broader and deeply concerning context of significant escalation of the armed conflict in several areas in Syria," UNRWA stated.
"During the first week of June, two Palestine refugees were killed and a third was injured in Aleppo city," the agency added.
Tags