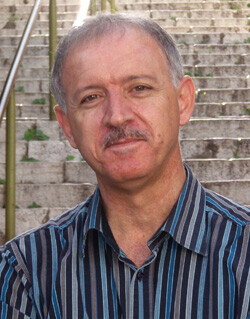 A year ago today, Palestinian civil society leader Ameer Makhoul, an Israeli citizen, was arrested from his Haifa home after it was raided by Israeli forces. Makhoul, the coordinator of Ittijah, the Union of Arab Community Associations and an advocate of boycott, divestment and sanctions, warned The Electronic Intifada in January of 2010 that Israel was increasingly persecuting the Palestinian community in Israel, attempting to cut the community off from the rest of the Palestinian national movement. "Israel uses its legal system and its laws on citizenship and loyalty to the Jewish state to achieve this," Makhoul said.
Two weeks prior to his arrest, Makhoul was prevented by the Israeli forces for leaving the country. On the day he was arrested, The Electronic Intifada published this op-ed by Makhoul, "Israel's repression of its Palestinian citizens unites us in struggle," in which he writes:
Last month, when I traveled from Haifa to the land border between Jordan and Israel, the Israeli border police prevented me from leaving my country. The police handed me an order issued by the Israeli Minister of the Interior Eli Yishai prohibiting me to leave Israel for two months. The travel ban imposed on me is part of an increased campaign to intimidate and to spread fear among Palestinian civil society. The repression is meant to divide us, but it has had the opposite effect. We Palestinians in Israel, the West Bank, Gaza and the diaspora are only more determined and united to claim our rights and to build a nation where we can live in freedom and have equal rights.
Shortly after Makhoul's arrest, a coalition of human rights organizations called on Israel to unconditionally release Makhoul, and protested his incommunicado detention and denial of access to a lawyer. "Makhoul's detention is arbitrary and amounts to harassment that appears intended only to sanction his activities as a human rights defender," the groups stated.
The Palestinian prisoner rights group Addameer also reported that after meeting with Makhoul, "his attorneys reported that he appeared exhausted and had been subjected to intensive, around-the-clock interrogations. He also complained of pains and dizziness, and said that he had been visited by a prison doctor," raising concerns that Makhoul had been subjected to ill-treatment and torture in detention at the Petach Tikva interrogation and detention center where he was being held. As reported by The Electronic Intifada later that month, Makhoul's lawyers later said that he had been tortured during detention and forced to make a false confession.
Later that month, the Israeli government indicted Makhoul with "the most serious security offensives on Israel's statute book, including espionage." While vehemently denying the charges, after spending nearly six months in jail, in late October of last year Makhoul signed a plea agreement with israeli state prosecutors. The Electronic Intifada reported:
The deal involves a reduced list of charges, including contact with a foreign agent and spying for the Lebanese resistance movement Hizballah. The charges carry a maximum prison sentence of seven to ten years. …

According to Dr. Hatim Kanaaneh, Chairperson of the Committee for the Defense of Ameer Makhoul, while the decision to plead guilty to reduced charges was extremely difficult for Makhoul, his family and the defense team, the reality of life for Palestinian citizens of Israel made it the only option.

"Historically, the record of Israel's court system shows that nearly 100 percent — definitely over 95 percent — of cases where a person is accused or arrested on the basis of security violations, are indicted and put in jail. The court finds them guilty. Especially when the accused is a Palestinian, of course," Kanaaneh explained.
Sentencing hearings for Makhoul are ongoing, and his plight continues, but he has sent letters to the Palestinian and solidarity communities from prison, published on EI:
"Remembering Palestinian prisoners, renewing our struggle," 27 April 2011
"The struggle for al-Araqib is the struggle for Palestine," 4 March 2011
"Letter from prison: I have a lot of energy to struggle," 29 November 2010
"Solidarity tastes different inside prison," 30 August 2010
"What solidarity means: a letter from Gilboa Prison," 21 June 2010
The Electronic Intifada will continue to cover Makhoul's case and the wider issue of severe repression against the Palestinian community in Israel.
Tags