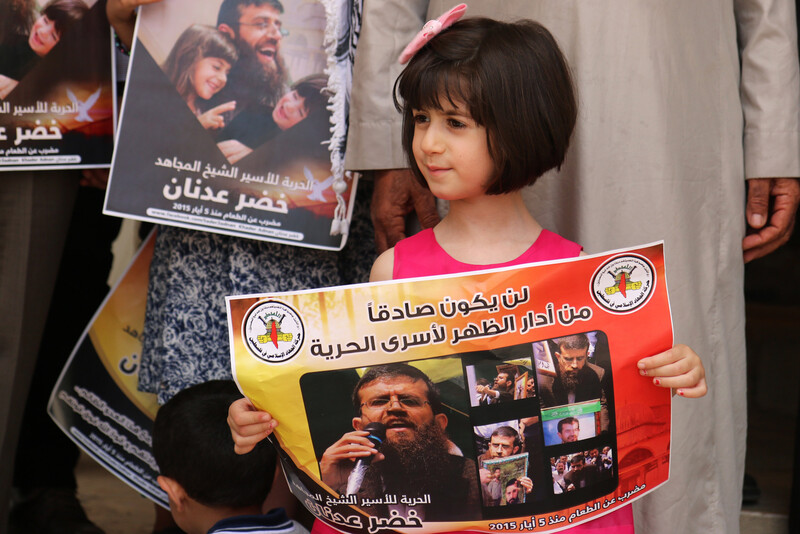 The health of Palestinian political prisoner Khader Adnan is deteriorating as he presses on with his hunger strike, now in its 25th consecutive day.
"Adnan is currently unable to move or stand up and is refusing medical testing," reported the Ma'an News Agency, citing Rafat Hamduna, director of the Palestine Prisoners Center for Studies.
Adnan was moved to Ramle prison clinic last Friday, the Quds Net News Agency stated earlier this week.
In an urgent letter to his lawyer on Wednesday, Adnan stated that the Israeli prison authorities continued to provoke him and hold him in a very small room with no ventilation.
Adnan reiterated his intention to continue his strike and refuse food supplements and medical tests until his rights are secured.
Held without charge or trial since his arrest by Israeli forces in the occupied West Bank in July 2014, Adnan became the icon of a renewed prisoner's movement after he went on a 66-day hunger strike in 2012, gaining his release that April.
Adnan recently stated that his current strike is in protest of the "unjust law called administrative detention which was applied against the thousands of prisoners arbitrarily and unfairly and without any legal justification."
Secret file
Meanwhile, the prisoner advocacy group Addameer stated yesterday that an Israeli military court reversed an order made last week to release imprisoned Palestinian legislator Khalida Jarrar on bail.
Military court judge Ronen Atsmon accepted the military prosecution's appeal to keep Jarrar behind bars until the end of her trial, according to Addameer.
The prosecution's appeal was based on secret information not disclosed to Jarrar or her lawyers. Mahmoud Hassan, Addameer's legal director, stated that the same secret file had been reviewed by another military court judge who determined that it was not substantial enough to justify the continued detention of the lawmaker.
Addameer added that "the judge's decision depends solely on secret information and not based on the charges, effectively making this a case of unstated administrative detention."
"The decision by Judge Atsmon today confirms that the detention of Palestinian Legislate Council member Khalida Jarrar is vengeful, arbitrary and political, with an aim to punish her for her political opinions and activism for Palestinian human rights, especially in supporting Palestinian prisoners and detainees," Addameer stated.
"Furthermore, her detention is intended to punish her for her roles as an elected PLC member, head of the prisoners committee within the legislature, an appointed member for the national committee for the follow-up of the International Criminal Court, and her outspoken views against the continued illegal Israeli occupation," the group said.
Jarrar's next military court hearing is on 22 June.
There are more than a dozen members of the Palestinian Legislative Council in Israeli prison, several of them held without charge or trial, a practice known as administrative detention.
On Monday, PLC speaker Aziz Dweik was sentenced by an Israeli court to a year in prison and fined 6,000 shekels ($1,550).
There were 5,820 Palestinian political prisoners in Israeli lockup as of 1 March, according to Addameer.
Tags