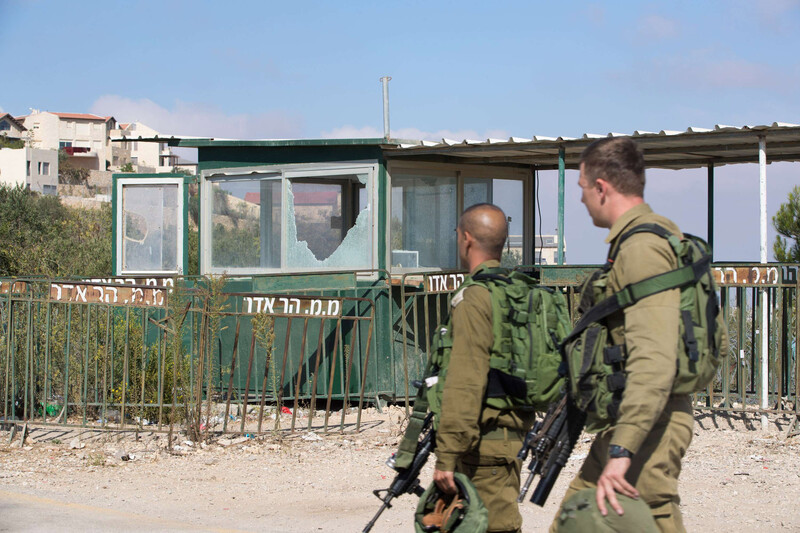 An Israeli Border Police combatant and two security guards were killed during an attack outside the Har Adar settlement near Jerusalem in the occupied West Bank on Tuesday.
The alleged Palestinian assailant, identified as Nimr Mahmoud Ahmad al-Jamal, 37, from the nearby village of Beit Surik, also died at the scene.
Israeli media reported that al-Jamal had arrived to the back entrance to the settlement with a group of Palestinian workers.
"Border Police officers who deemed [al-Jamal] suspicious asked him to stop, at which point he pulled out a gun from under his shirt and opened fire," the Israeli daily Haaretz reported. "Security personnel shot back, killing the attacker."
Israel's domestic intelligence agency, the Shin Bet, told media that al-Jamal had an unstable personal life and a history of domestic violence. His wife had recently fled to Jordan, leaving al-Jamal with their four children, according to the Shin Bet.
Shortly before the attack al-Jamal had sent a message to his wife that he asked her to post on Facebook. In the message he stated that his wife "is a very good woman and mother and I hurt her and treated her in an offensive way and all because I was stupidly envious of what I could not achieve in our society."
"Completely normal"
Al-Jamal held a permit to work in Israeli settlements and was employed as a house cleaner in Har Adar.
A woman who had hired him for more than two years told Israel Radio that al-Jamal was a "completely normal" and "good-natured man."
The head of Beit Surik's village council told media that al-Jamal "was not known as an activist in one faction or another."
According to Haaretz, there has been "only one similar incident in which a Palestinian with a security permit carried out an attack" since a wave of such incidents began in late 2015.
The handgun used by al-Jamal was reportedly stolen from the Israeli military in 2003.
The Border Police combatant shot and killed by al-Jamal was identified as Solomon Gavriya, an immigrant from Ethiopia who had sustained minor wounds in a stabbing attack near Har Adar last year, Israeli media reported.
One of the private security guards who was killed was identified as Yousif Othman, apparently a Palestinian citizen of Israel from the Jerusalem-area village of Abu Ghosh. Othman, a former Border Police combatant, was familiar with al-Jamal, the slain guard's father told media.
Israeli outlets reported that one of Othman's cousins was killed in an attack in a Jerusalem market in 1997.
The other guard, Or Arish, is a former paratrooper.
The security coordinator for Har Adar settlement was also seriously wounded.
Fifteen Israelis and a British national have been killed by Palestinians so far this year. Nearly 60 Palestinians have died by Israeli fire during the same period.
Collective punishment
Israeli Prime Minister Benjamin Netanyahu declared on Tuesday that al-Jamal's home would be demolished and his family's work permits would be rescinded.

Israeli occupation forces blockaded and imposed a curfew on Beit Surik and invaded the adjacent town of Biddu, where residents in the streets and on rooftops threw objects at army jeeps in an attempt to repel them:

Al-Jamal's two brothers and a cousin were arrested by the military.

Soldiers raided al-Jamal's home:

Video shows the state of the home after it was ransacked by the military: Israel's housing minister, Yoav Galant, speaking at the site of the Har Adar attack, said, "If you want to kill Israeli kids, we will deport you, not to Gaza, but to Syria. You are not allowed to stay here."

Avigdor Lieberman, Israel's defense minister, said, "There is no difference between Palestinian terrorism, which is fed and fueled in an institutional manner, and the radical Islamic terrorism, which carried out terrorist attacks in Europe and elsewhere in the world."

Israeli leaders have long sought to conflate Palestinian resistance to its military rule with violence in Europe claimed by the Islamic State group.

Israel's public security minister Gilad Erdan said on Tuesday that "It is impossible to speak about a nationalist territorial struggle. This conflict is religious."
Palestinian Authority blamed
Israeli leaders lashed out at the Palestinian Authority, with Lieberman stating that the body "continues to incite to murder Jews and glorify and praise murderers. This is the main reason for the atmosphere of incitement in the media and social networks that leads to terrorist attacks against the citizens of Israel."
Israel's top leadership have frequently exploited such attacks as the one in Har Adar to disparage the Palestinian Authority and "prove there is no partner" in peace talks, as Netanyahu claimed after a Border Police combatant was killed by a Palestinian in June.
However, Israeli intelligence figures have credited "security coordination" with the PA, by which Palestinian forces arrest suspected would-be assailants on Israel's behalf, for preventing many other deadly incidents.
Israeli police chief Roni Alsheikh took a more candid stance about his government's capacity to prevent individual Palestinians, independent of command from any armed group, from using violence against Israelis.
"There is no profile for a terrorist," he stated at a press conference on Tuesday. "It could just be someone who is fed up with everything and decides to take out his rage in an attack."
That was closer to the motivation identified by al-Jamal's uncle in Beit Surik.
"The only motive for what he did, in my opinion, is pressure over the situation in the territory," Moussa Jamal told Haaretz, adding, "The entire Palestinian people is under pressure, and incidents like this can happen at any moment."
Tags