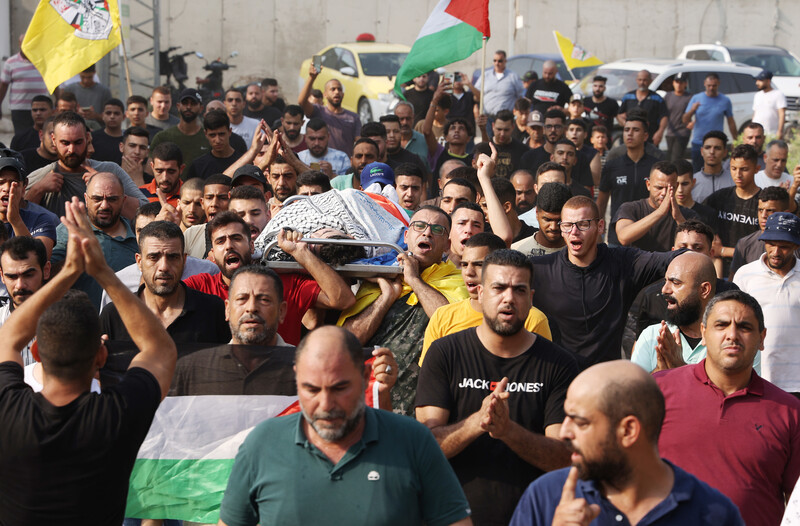 Israeli forces shot and killed two Palestinians, one of them a 16-year-old boy, during a raid in Aqbat Jabr refugee camp near the occupied West Bank city of Jericho on Tuesday.

Defense for Children International-Palestine said that the slain teenager, Qusai Suleiman, was shot in the hand and chest.

The second slain Palestinian was identified as Muhammad Najum, 25.

Israel's defense ministry said that the pair had opened fire at soldiers during the raid. However, eyewitnesses told the Tel Aviv daily Haaretz that the teen was unarmed.

According to the eyewitnesses, the newspaper reported, Qusai "was shot while he was riding a scooter, and there were other young people with him, some of whom were armed."

Occupation forces arrested Muhammad Abu al-Assal, 20, at his home during the raid.

Eleven Palestinians have been killed in Aqbat Jabr camp since the beginning of the year, according to the official Palestinian news agency WAFA.

The camp has been subjected to regular Israeli raids and comprehensive movement restrictions after the emergence of a new armed resistance group called the Aqbat Jabr Brigade.

Around 170 Palestinians have been killed in the West Bank by Israeli forces since the beginning of the year, surpassing the total number for all of 2022, according to the UN monitoring group OCHA.

Last year had already witnessed the highest number of fatalities in the West Bank, including East Jerusalem, since 2005.

At least 215 Palestinians have been killed by Israeli police, settlers and soldiers throughout historic Palestine since the beginning of this year. That figure includes people who died from injuries sustained previously.

Thirty-one Israelis and people of other nationalities in Israel were killed in the context of the occupation during the same period, or died from previous injuries. The vast majority of those fatalities occurred in the West Bank.

Last week, Israeli forces shot and killed Amir Khalifa, 27, during a raid in Zawata, a village near the northern West Bank city of Nablus, on Thursday. Khalifa was said to be a member of the al-Aqsa Martyrs Brigades, an armed resistance group associated with Fatah.

The Israeli military said that troops had returned shots after coming under gunfire.

That same day, Israeli forces shot and killed Mahmoud Jarad, 23, during a raid in Tulkarm refugee camp in the northern West Bank. Another Palestinian was critically injured during the incursion.
Tags