Israeli forces injured around 1,000 protesters, 15 of them critically, on Friday as it used lethal force to crack down on demonstrations in eastern Gaza for the third week in a row.

One Palestinian, 28-year-old Islam Mahmoud Rushdi Herzallah, was reported by the Gaza health ministry to have died after being shot in the back east of Gaza City.

Herzallah was unarmed and was posing no threat to soldiers at the time he was shot, according to the Gaza-based rights group Al Mezan.

A photo of Herzallah circulated on social media following the announcement of his death:

More than 200 of those injured on Friday were wounded by live ammunition, according to the health ministry.

Some 100 children were among those injured on Friday, according to Al Mezan.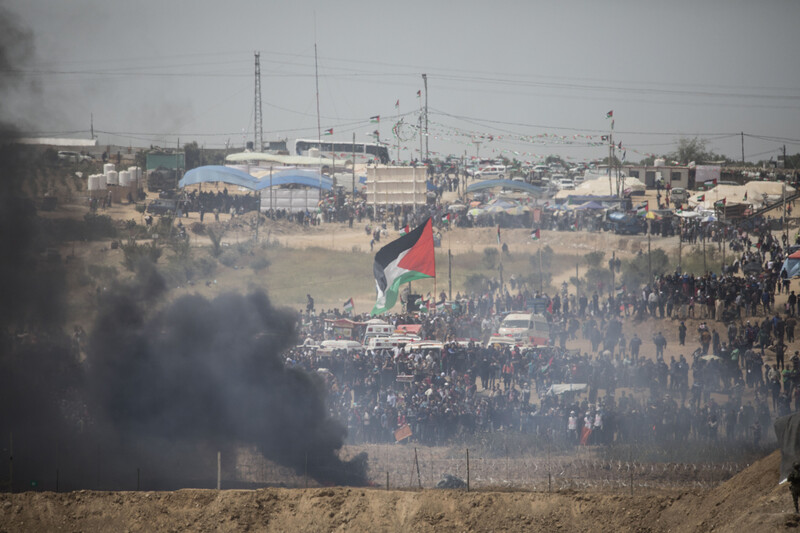 Israeli forces have killed 36 Palestinians in Gaza since 30 March, when the Great March of Return protests began. Twenty-seven of those killed, including three children and a journalist, were fatally wounded during protests.

More than 3,000 were injured during the first two Fridays of the Great March of Return, which is set to culminate on 15 May, when Palestinians commemorate the ethnic cleansing of the lands on which the state of Israel was declared in 1948.

Some 450 children, 21 medics belonging to the Palestine Red Crescent Society and 15 journalists are among those who have been injured since 30 March, Amnesty International stated on midday Friday, as the third week of protests was set to begin.

Nearly 350 of those injured may be temporarily or permanently disabled, according to the World Health Organization. At least four people have had leg amputations.
Magdalena Mughrabi, Amnesty International's deputy director for the Middle East and North Africa, stated that deaths resulting from Israel's use of live ammunition against unarmed protesters "must be investigated as possible unlawful killings."

She said that "For the past two weeks, the world has watched in horror as Israeli forces unleashed excessive, deadly force against protesters, including children, who merely demand an end to Israel's brutal policies towards Gaza and a life of dignity."

Israel continued to crack down on protests on Friday despite a warning from the chief prosecutor of the International Criminal Court that Israeli leaders could face trial for the killings of unarmed Palestinian protesters in Gaza.

Three journalists and 14 medics were among those newly injured, according to the health ministry.

Journalist Ahmad Muhammad Abu Hussein, 30, was reportedly in critical condition after being shot in the stomach in northern Gaza. He was wearing a protective helmet marked "TV" and a flak jacket marked with the word PRESS when he was shot, according to Al Mezan.

Video apparently shows the moment when he is hit by an Israeli sniper:

Another journalist was wounded in Khan Younis: Israeli snipers fatally wounded cameraman Yaser Murtaja during last Friday's Great March of Return protests, spurring worldwide condemnation. Medics at a field clinic east of Khan Younis in southern Gaza were forced to evacuate after their tent was hit by tear gas on Friday: Paramedic Ashraf Wawi was shot in the knee while on duty in Rafah, southern Gaza, the Palestine Red Crescent Society reported: A video shows injured paramedics being transferred to a hospital in central Gaza: The charity Medical Aid for Palestinians warned of burnout and emotional exhaustion among Gaza's medical workforce on Friday.

"Even before Israel's violent response to the protests, health workers in Gaza were under huge strain due to the cumulative effects of a decade of blockade, which has degraded health and other essential services as well as the economy and living conditions, in addition to previous mass casualty events," the group stated.

"Now, they are once again experiencing the most difficult conditions, working long hours in tense situations and assisting casualties with often horrifying and life-changing injuries," the charity added.

Gaza's health ministry stated on Friday that "there is a shortage of specialized medical professionals, particularly surgeons, anesthetists and forensic pathologists," according to the United Nations Office for the Coordination of Humanitarian Affairs.

"Yesterday, 12 April, Gaza's sole power plant was forced to shut down after being unable to replenish its fuel reserves, triggering outages lasting 20 hours per day, up from 18 hours previously," OCHA added.

"The UN, under the coordination of OCHA, continues to provide a number of critical health facilities in the Gaza Strip, including public hospitals, with emergency fuel to run backup generators."
OCHA stated on Wednesday that public hospitals in Gaza are in need of replenishment of 59 essential drugs and 128 types of medical disposables.

On Friday a group of former Israeli army snipers joined the chorus of condemnation of the killing of unarmed demonstrators in Gaza.

"Instructing snipers to shoot to kill unarmed demonstrators who pose no danger to human life is another product of the occupation and military rule over millions of Palestinian people, as well as of our country's callous leadership, and derailed moral path," the five former soldiers stated in a letter published by The Guardian.

The United Nations Secretary-General António Guterres on Friday repeated his call for an "independent and transparent" investigation into casualties in Gaza.

Meanwhile the Palestinian Boycott, Divestment and Sanctions National Committee is calling for a two-way arms embargo as "the most effective response to Israel's ongoing massacre."

The group stated on Thursday that "This means working to end all weapons sales and purchases to and from Israel, and ending military or police partnerships with the Israeli state."
In a legal analysis published on Friday, the Israeli human rights group B'Tselem puts the army's open fire regulations being used on the Gaza boundary into a long history of Israel invoking hypothetical "worst-case scenarios" or "exceptions in international law" in order to justify routine human rights violations on a massive scale.
B'Tselem states: "For years, Israel relied on the extreme 'ticking bomb' scenario to justify torturing tens of thousands of Palestinians, most of whom were suspected of involvement in minor offenses, despite the absolute and unequivocal prohibition on torture in international law."
"Pressing military need" was the pretext for the destruction of "hundreds of hectares of farmland at the beginning of the second intifada, mostly in Gaza," according to the rights group.
That measure is also the justification given by Israel for its routine detention of Palestinians without charge or trial under administrative detention orders.
"Israel is highly experienced in breaking the law and trampling basic moral principles underfoot without being called to task in any way," B'Tselem adds.
"It is certainly not held accountable domestically, as the judiciary fully cooperates with this criminal state of affairs and the public generally supports the scope of the killings, injuries and destruction in Gaza, or at least remains indifferent to it, nor is Israel called to task by the international community."
Despite this decades-old grinding machinery of repression, Palestinians remain defiant and insist on their freedom and full rights.
Tags