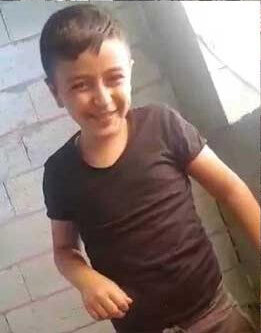 Israeli occupation forces shot a Palestinian boy in the head and then lied about their use of live fire, an investigation by a human rights group has found.
Abd al-Rahman Shtaiwi, 9, was sitting in front of a home in his northern West Bank village of Kafr Qaddum when he was struck by a bullet on 12 July.
Soldiers had raided Kafr Qaddum to repress its weekly protest against Israel's closure of the main road between the village and the nearby city of Nablus.
"During the demonstration, a few dozen youths threw stones at a number of soldiers deployed along the ridge on the outskirts of the village, several dozen meters from the demonstrators," according to B'Tselem.
"The soldiers fired rubber-coated metal bullets at the protestors, but, in a departure from previous practice in [Kafr Qaddum] protests, this time, they also fired a large number of live rounds in the air."
Abd al-Rahman was sitting some 200 meters from the main demonstration, and he was injured as it began to disperse. He is currently sedated and in an intensive care unit of an Israeli hospital.
Israel denies responsibility
The Israeli military told media that soldiers had used "various crowd-control methods" but denied using live fire.
B'Tselem stated that the boy's life-threatening injury "is a direct result of the open-fire policy implemented by the military" in the West Bank and Gaza Strip. That policy permits the shooting of Palestinians "who are not endangering anyone."
"The policy remains in force despite the fact that it has resulted in hundreds of Palestinian deaths and thousands of injuries," the rights group added.
Israel has denied using live ammunition in previous incidents where such bullets were in fact used.
Children killed
Of the more than 70 Palestinians who have died by Israeli fire so far this year, 16 were children.
The latest child fatality occurred when occupation forces opened fire against Abdallah Ghaith, 15, near a Bethlehem checkpoint in May. Abdallah and his cousin were attempting to scale Israel's wall to reach Jerusalem for the last Friday prayers of Ramadan.
"This is not a case of mortal danger, or in fact of any danger at all," B'Tselem said.
The infrastructure of Israel's military occupation, designed to protect the state's illegal settlement-colony enterprise, is the site of routine deadly violence.
"Military fixtures like checkpoints and watchtowers in the West Bank and the heavily surveilled 'buffer zone' along the border of Gaza are sites of frequent clashes, representing significant risks of death, injury and arrest to children who live or pass near them frequently," according to Defense for Children International Palestine.
Tags