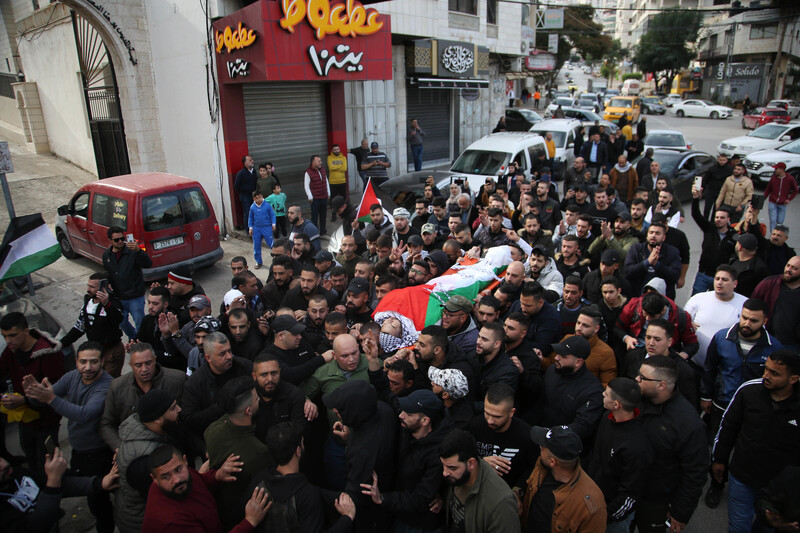 Israel killed two Palestinians in the northern occupied West Bank in recent days.
Jamil Kayyal was killed in Nablus on Sunday night while Jamil Abu Ayyash was shot in the head during a protest in the nearby village of Beita on Friday.
Their deaths come as Defense for Children International-Palestine stated that this year has been the deadliest for Palestinian boys and girls since 2014.
Jamil Kayyal, 31, was shot and killed when Palestinians attempted to repel occupation forces who were carrying out an arrest raid in Nablus on Sunday night.
Kayyal was wounded in the chest, according to media reports and later pronounced dead in hospital to which he was evacuated by Palestinian paramedics.
Israeli authorities claimed that troops fired on Kayyal after he threw an "explosive device" – how they typically refer to Molotov cocktails – at the raiding soldiers.
Several Palestinians have been killed in recent years under the pretext that they handled or threw Molotov cocktails, including the October ambush of 14-year-old Amjad Abu Sultan near the West Bank city of Bethlehem.
Reporting by the Tel Aviv daily Haaretz suggests that the fatal shooting of the teen was premeditated.
Excessive use of force
Excessive use of force is a prominent feature of Israel's military occupation of the West Bank and Gaza Strip.
The killing of Jamil Abu Ayyash, 31, in Beita, a village near Nablus, on 10 December was, according to the Palestinian Center for Human Rights, a "new crime of excessive use of force."
Soldiers fired at Abu Ayyash, shooting him in the head even though he "did not pose any imminent threat," according to the rights group, during one of Beita's regular protests against expropriation of village land.
Another man, Muhammad Ali Khabisa, was shot in the head and killed by Israeli troops during protests in Beita in September.
Beita residents are protesting the building of a settlement on a hill belonging to Palestinian villages.
The new outpost, named Evyatar, was established in May. Israel has previously evacuated Evyatar but has allowed structures to remain there following an agreement made with settlers.
Several Palestinians have been killed in the context of Beita protests since they began in May, including two friends, both children.
Those two join another 76 boys and girls killed by Israeli occupation forces and armed Israeli civilians so far this year, according to Defense for Children International-Palestine, making it the deadliest for children since 2014.
That year, Israel waged a 51-day offensive in the Gaza Strip, killing more than 2,200 Palestinians, including some 550 children.
In total, some 325 Palestinians have been killed by Israeli occupation forces and armed civilians in the West Bank, including East Jerusalem, and Gaza in 2021, according to The Electronic Intifada's tracking of fatalities.
Sixteen Israelis or foreign nationals in Israel were killed by Palestinians in the context of the occupation during the same period.
Sixty Palestinian children were killed in Israeli strikes on Gaza during an 11-day military offensive in May this year, according to Defense for Children International-Palestine.
Additionally, seven children were killed by rockets fired from Palestinian groups in Gaza that landed short of their targets in Israel.
During the May assault, according to Defense for Children International-Palestine, "Israeli forces killed Palestinian children using tank-fired shells, live ammunition, and missiles dropped from weaponized drones and US-sourced warplanes and Apache helicopters."
Israel targets homes
Many children were killed along with multiple generations of their family in the sanctity of their homes.
Since 2008, Israel has indiscriminately targeted Palestinian homes in Gaza as part of its military strategy during repeated offensives on the besieged coastal enclave.
Nearly half of the Palestinians killed in Gaza during the 2014 assault "were targeted inside their homes," according to Al Mezan, a human rights group based in the territory.
Between 2008 and 2019, "Israeli forces targeted 46,599 homes in the Gaza Strip, of which 11,291 were destroyed, and 35,308 partially destroyed," the rights group adds.
Not only does this practice kill entire families inside their homes, the targeting of houses "serves to diminish housing standards" and contributes to the deterioration of "social and economic conditions and the standard of living of families in the Gaza Strip," Al Mezan finds.
The policy and practice is "aimed at destroying and impeding family life in Gaza" and constitutes an inhuman act that fits the crime of apartheid.
Human rights groups including Al Mezan are calling on the International Criminal Court to center apartheid in its investigations of war crimes in the West Bank and Gaza Strip.
Tags