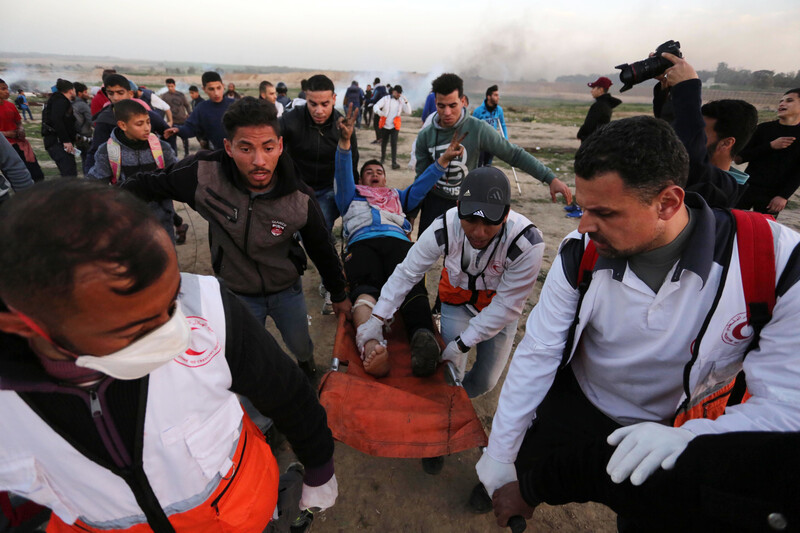 Israeli occupation forces killed a Palestinian child in the West Bank as well as a man during Great March of Return protests in Gaza on Friday.
The deaths bring to four the number of Palestinians who died by Israeli military fire during the week after soldiers shot and killed a man in the West Bank on Monday and fired an artillery shell at a Hamas observation post in Gaza on Tuesday, killing a fighter.
Ayman Ahmad Hamid, 16, died on Friday after being shot by Israeli soldiers along Route 60, a highway used by settlers, near Silwad village in the central West Bank.
The Israeli military claimed that it fired at three persons suspected of throwing stones at vehicles traveling along the highway. A second Palestinian was injured in his hand during the incident and was taken to hospital for treatment.
Children killed and injured
Hamid is the second Palestinian child killed by Israeli forces this year. Abd al-Raouf Ismail Salha, 13, died on 14 January after he was shot in the head with a tear gas canister during protests in Gaza days earlier.

At least three other youths in the West Bank were seriously injured by Israeli forces during the week.

On Friday, a youth was reported to have been shot in the head with a rubber-coated steel bullet during a weekly march against the occupation in Ras Karkar in the central West Bank.

The health ministry in the territory told media that the unnamed youth "sustained a fracture in the skull which caused internal bleeding."

A 6-year-old boy in Yatta, south of Hebron in the southern West Bank, was reported to have been seriously injured after being hit by an Israeli army jeep on Friday.

Palestinian media reported that occupation forces transported the child, Sabri Assaf al-Jabarin, to a hospital in Israel.

On Thursday, Palestinian teen Muhammad Issam al-Qawasmi was shot and critically wounded by undercover Israeli forces in Shuafat refugee camp in East Jerusalem.

An official in the refugee camp told media that al-Qawasmi was hit by a bullet that entered his back and exited through his stomach.

Israeli forces reportedly detained the teen upon his arrival to Hadassah hospital in Jerusalem for emergency treatment.

Photos published on social media show soldiers alongside the youth as he is taken into surgery:

Also in the West Bank, Israeli forces transferred the remains of Hamdan al-Arda, a businessman who was killed by occupation forces in al-Bireh last month: Israel claimed at the time of al-Arda's death that the man had attempted to attack soldiers with his car, but that narrative soon unraveled.

Israel had withheld al-Arda's body from his family for more than 40 days.
Gaza protester killed
In the Gaza Strip, Ihab Atallah Hussein Abed, 24, was killed during the 44th consecutive weekly protest held under the banner of the Great March of Return.

Abed was wounded by a live bullet to the chest during demonstrations east of Rafah in southernmost Gaza.

More than 150 others were injured during the protests, according to Al Mezan, a human rights group based in Gaza.

Five paramedics were among those injured during Friday's protests, as was one journalist.

More than 180 Palestinians have been killed during the Great March of Return protests since their launch on 30 March 2018.

Gaza's health ministry reiterated its dire warning of the "imminent paralysis" of medical services in the territory as hospitals run out of emergency fuel.

Gaza's hospitals rely on backup generators during regular blackouts but fuel stocks for this purpose have been depleted.

On Friday, Qatar's envoy to Gaza announced that $15 million pledged by the country to pay the salaries of civil servants in Gaza will instead be used to boost medical services and electricity in the territory.

Hamas reportedly rejected the latest installment of Qatari funding, claiming that Palestinians in Gaza were being used by pawns ahead of upcoming Israeli elections.

Israel had delayed delivery and conditioned the current installment on the nature of last Friday's Great March of Return protests.

Israeli media reported that Benjamin Netanyahu had calculated that delivery of cash to Gaza would be too politically costly ahead of elections scheduled for 9 April.
Tags