Israeli forces killed four Palestinians, including a child, as mass rallies were held along Gaza's eastern perimeter for the fourth consecutive Friday as part of a six-week Great March of Return protest.

Muhammad Ibrahim Ayyoub, 14, shot in the head east of Jabaliya in northern Gaza on Friday, is the fourth child among the more than 30 Palestinians killed during protests since the rallies began on 30 March.

Video circulated on social media is said to show the moment when Ayyoub is shot and falls to the ground: "Paramedics who evacuated the child killed today indicated that he was shot with live ammunition to the head, at around 50 meters from the fence, east of Jabaliya, with no evidence that he posed any threat to Israeli forces," the United Nations Office for the Coordination of Humanitarian Affairs stated on Friday.

The United Nations Middle East peace envoy Nickolay Mladenov broke with his usual cautious statements expressing "concern" and calling for "maximum restraint."

Mladenov stated on Twitter that it was "OUTRAGEOUS to shoot at children!" and added that the "tragic incident must be investigated":

The other three Palestinians killed on Friday were identified by Gaza's health ministry as Ahmad Nabil Abu Aqel, 20, Ahmad Rashad al-Athamna, 24, and Saad Abd al-Majid Abd al-Al Abu Taha, 29.

Abu Aqel, from Beit Hanoun in northern Gaza, was hit by a bullet in the back of his head during protests east of Jabaliya refugee camp. Photos that circulated on social media show that part of the top of Abu Aqel's skull was blown off.

Photos showing Abu Aqel before his injury circulated on social media following the announcement of his death:

One photo shows him being treated by a medic for a minor injury before he was killed: According to the Gaza-based rights group Al Mezan, Abu Aqel was "sitting on a sandy hill about 150 meters west of the border fence, and his back was towards the Israeli occupation forces when the latter fired at him" on Friday.

Abu Aqel used crutches as a result of being wounded by a live bullet in his left leg during an 8 December protest over the US declaring Jerusalem as the capital of Israel.

Al Mezan said that the killing of Abu Aqel, a disabled man who posed no conceivable threat to Israeli forces a long distance away and protected by earth fortifications and fences, was reminiscent of the December 2017 sniper killing of Ibrahim Abu Thurayya, a wheelchair user who had lost his legs in a previous Israeli attack.

In Beit Hanoun in northern Gaza on Friday, Ahmad Rashad al-Athamna was fatally wounded by a bullet in his back.

A photo of al-Athamna circulated on social media after the announcement of his death:

Gaza's health ministry stated that Saad Abd al-Majid Abd al-Al Abu Taha was shot in the neck during protests east of Khan Younis.

A photo of Abu Taha also circulated on social media:

The health ministry reported that more than 700 people were injured during the protests on Friday, 156 of them by live fire. Four were said to be critically injured.

Al Mezan called "on the international community to move from mere condemnation to effective action to protect civilians and guarantee respect for human rights principles and international humanitarian law."

The group added that the continued tolerance for Israel's behavior provides "encouragement for Israeli forces to carry out systematic violations of international law."

More than 1,600 Palestinians in Gaza have been wounded by live fire during protests since 30 March, according to Al Mezan.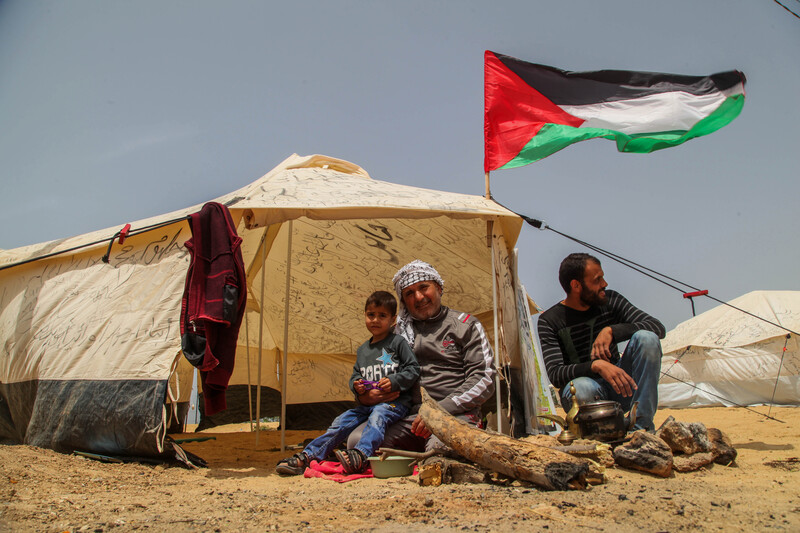 The Palestinian human rights group Al-Haq stated this week that it has documented injuries by Israeli forces "which deliberately targeted specific body parts of Palestinian protesters in Gaza, causing death or serious and permanent injury."
The director of the emergency department at al-Shifa, Gaza's largest hospital, told Al-Haq that most of the casualties were "wounded by live ammunition, mostly shot in the lower limbs, crushing large parts of the bones, cutting into veins, nerves and muscles, and losing skin in the injured area."
The hospital has observed "a new trend of injuries" since the launch of the Great March of Return protests on 30 March "where the entry point of the bullet is small yet exits leaving a big hole," according to Al-Haq. Such cases "require longer operating hours and a larger medical team."
Al-Shifa has also had unprecedented cases of tear gas injuries involving "concussion, severe cramps and unconsciousness due to gas inhalation, requiring instant sedation, additional ventilators and evaporation processes."
The humanitarian group Medecins Sans Frontiers has also observed "unusually severe and devastating gunshot injuries" over the past three weeks.
"The huge majority of patients -– mainly young men, but also some women and children -– have unusually severe wounds to the lower extremities," the group stated, noting that some of the exit wounds were "the size of a fist."
"The number of patients treated in our clinics over the last three weeks is more than the number we treated throughout all of 2014, when Israel's military Operation Protective Edge was launched over the Gaza Strip," the charity stated on Thursday.
"Half of the more than 500 patients we have admitted in our clinics have injuries where the bullet has literally destroyed tissue after having pulverized the bone," Marie-Elisabeth Ingres, head of mission for Medecins Sans Frontiers in Palestine, stated in a press release.
"These patients will need to have very complex surgical operations and most of them will have disabilities for life," she added.
Some patients face amputation of their limbs if they don't get permission from Israel to receive specialized medical care outside Gaza, as has already happened to several injured protesters.
Jamie McGoldrick, the UN deputy special coordinator for the Middle East peace process, stated on Thursday that "The current surge in humanitarian needs is a crisis on top of a catastrophe."
"Gaza's essential service providers simply do not have the capacity, at present, to cope with the current situation," McGoldrick added.
Gaza's healthcare system is "on the verge of collapse as a result of the 10-year blockade, the deepening intra-Palestinian political divide, deteriorating energy crisis, inconsistent payment of public sector medical personnel, and growing shortages in medicines and disposables," the UN Office for the Coordination of Humanitarian Affairs stated on Friday.
"The exposure to violence over the past three weeks has also had significant mental health and psychosocial ramifications, particularly among children," OCHA added.
Israeli propaganda
Israel continues to push the narrative that its deadly crackdown on unarmed protesters is necessary to defend its borders and civilians from "riots" used as a cover for Hamas "terror."

"This is why the IDF [Israeli military] has to protect the security fence," an army propaganda video states.

Not a single Israeli soldier or civilian has been reported injured as a result of the Great March of Return protests.

Two-thirds of Gaza's population of two million are refugees from the lands on which the state of Israel was declared in 1948. Israel has long prevented Palestinian refugees from returning to their lands and homes because they are not Jewish.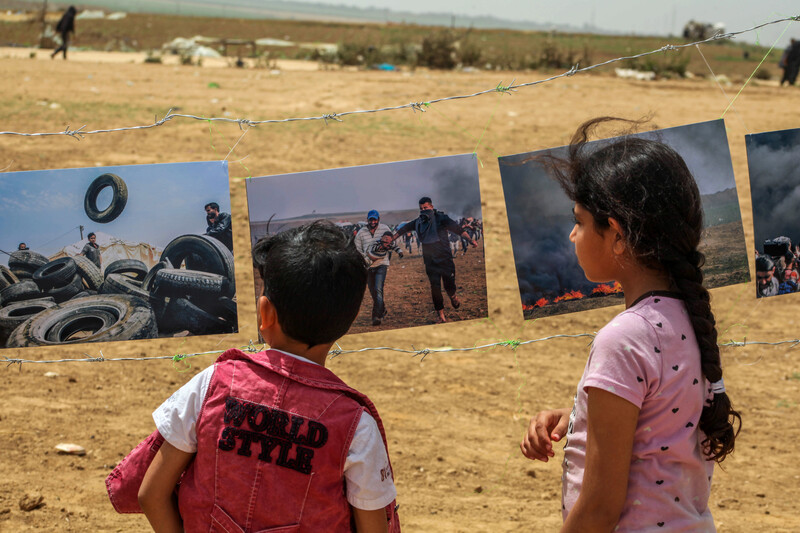 The Israeli military dropped leaflets on Gaza on Friday morning warning residents from approaching and damaging the Gaza-Israel boundary fence.

"The IDF [Israeli military] will take action against any attempt to damage the barrier and its components and any other military equipment," the leaflets state.

"Hamas is using you to advance the interests of its movement. Don't follow Hamas orders that endanger your lives," the military's warning adds.

Earlier this week COGAT, the bureaucratic arm of Israel's military occupation, stated that it would place sanctions on 14 bus companies transporting "Hamas terrorists and violent rioters" to Gaza's eastern boundary. COGAT had previously published what it claimed was a recording between one of its officers and a representative of a Gaza bus company in which the officer says that "we will not agree to let you and your family conduct any commercial or business or personal ties with the Israeli side" as punishment for transporting protesters: Israel's messaging doesn't seem to be effective, as it has received a warning from the International Criminal Court's chief prosecutor that its leaders may face trial for the killing of unarmed demonstrators.

It has also been met with condemnations by an array of UN rights experts who have called for an urgent end to the blockade on Gaza.

Last week Israel published a photo purportedly showing journalists being used as human shields during protests in Gaza.

Agence France Presse reported that when it first distributed the photo on 13 April, the military claimed it showed "a terrorist wielding an item suspected of being an explosive device used for terror purposes while journalists and a handicapped person stand closely behind him."

An investigation by AFP found, instead, that the "terrorist" shown in the photo was "attempting and failing to light what seems to be a standard firework while lying on the ground amid black smoke from burning tires."

The AFP journalist shown in the image said that the man "later gave up and left the area."

At least 13 Palestinian journalists have been shot by Israeli snipers while covering the protests since 30 March, including one who was killed, according to the Committee to Protect Journalists.

Four journalists were injured by live fire, tear gas inhalation, and a tear gas projectile on Friday.

Most of the journalists shot since 30 March were wearing vests marked as "PRESS" at the time of their injury, the Committee to Protect Journalists (CPJ) noted in a letter to Israeli Prime Minister Benjamin Netanyahu.

"The shootings suggest that Israeli authorities could be trying to suppress media coverage of the protests," CPJ stated.

"Even if the IDF [Israeli military] is not deliberately targeting journalists," the group added, "its use of live ammunition as a first resort instead of nonlethal means puts journalists – particularly photographers and camera operatives who must be at the frontlines to get pictures – at terrible risk, making their work almost impossible."

Claims made by Israel's defense minister Avigdor Lieberman that Yaser Murtaja, a cameraman killed by its forces while he was covering the protests on 6 April, was a paid member of Hamas' armed wing have also been rejected by press freedom watchdogs including CPJ.

Meanwhile the Palestinian resistance group Islamic Jihad has put out its own propaganda video, warning Israel that "You're killing our people in cold blood and think that you're protected, but our snipers' sights are on your top commanders."

The video appears to show army officers, including COGAT head Yoav Mordechai, viewed through binoculars and the scope of a rifle:

Islamic Jihad's video appears to be an answer to propaganda put out by the Israeli military's Arabic-language spokesperson showing protesters, including a child, in binocular sights with the warning that "we see you well" or similar threats. In response to the video, Israeli intelligence minister Yisrael Katz issued a threat that any targeting of senior Israeli military personnel by Palestinian resistance groups "will immediately lead to a renewal of targeted killings of the Hamas leadership."

A report by Human Rights Watch states that Israel's lethal violence against Palestinians demonstrating during the launch of the Great March of Return has been premeditated, illegal under international law, and ordered at the highest level of the government.
Tags