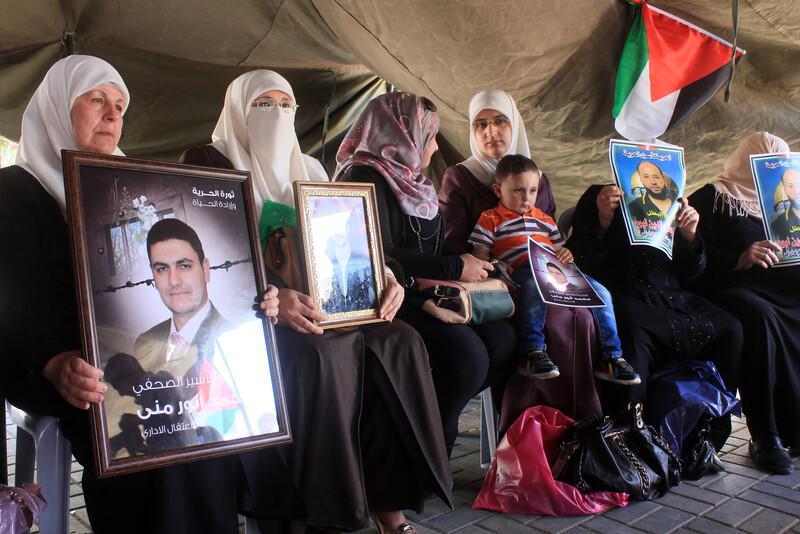 Days after Palestinian prisoners being held by Israel without charge or trial — a practice known as administrative detention — announced a hunger strike, the human rights group Addameer has issued a new fact sheet highlighting Israel's persecution of Palestinian legislators.
Israel has placed in administrative detention nine legislators belonging to the Change and Reform list, which won a majority of seats in the Palestinian Legislative Council in elections held in the occupied West Bank and Gaza Strip in 2006. The detained legislators were all arrested in late 2012 and throughout 2013.
As of 1 April, Israel was holding a total of 186 Palestinians under administrative detention. There were a total of 5,265 Palestinian political prisoners in Israeli detention at the beginning of this month, according to Addameer.
Israel has has detained 450 Palestinians associated with the Change and Reform list in the run-up to and after the 2006 elections, Addameer states in its new fact sheet.
Addameer writes:
Following the capture of Israeli soldier Gilad Shalit on 25 June 2006 by Hamas at the Kerem Shalom Crossing on the Gaza Strip border, Israeli forces seized dozens of leaders and activists associated with Hamas in coordinated raids across the West Bank, including PLC members. The latter were either placed in administrative detention or charged with offenses based on their membership of the Change and Reform List, which the Israeli authorities allege is affiliated with Hamas, an illegal party according to Israeli military legislation. These detentions occurred despite the fact that Israel itself allowed the elections to be held and did not oppose the Change and Reform Lists participation in these elections. In fact, it was only in February 2007 that the Israeli authorities declared the Change and Reform List to be illegal, almost a year after most of the initial arrests.
As recently as 2009, nearly a third of all Palestinian legislators were held in Israeli detention, preventing the PLC from reconvening since mid-2007.
Two additional Palestinian legislators, the Fatah party's Marwan Barghouti and the Popular Front for the Liberation of Palestine's Ahmad Saadat, are also in Israeli prison:
Two of the most well-known Palestinian political prisoners are PLC members Marwan Barghouti and Ahmad Saadat. While initial reports hinted that the two would be released as part of the prisoner exchange deal in October 2011, they were not included.
Barghouti, a prominent Fatah leader, was arrested by Israeli forces on 15 April 2002. Throughout his trial process, Barghouti maintained that the Israeli court was illegitimate and illegal, and therefore refused to present a defense. He was sentenced to five life sentences with an additional 40 years.

Popular Front for the Liberation of Palestine (PFLP) Secretary General Ahmad Saadat was arrested by Israel on 14 March 2006 when he was taken from the Palestinian Authority's Jericho prison in a raid. Two years later, he was sentenced to 30 years. In March 2008, Saadat received an order to be placed in isolation for six months, which was subsequently renewed every six months for over three years. He was removed from isolation upon the conclusion of Palestinian prisoners' mass hunger strike in May 2012.
Hunger strike
Addameer announced last week that more than one hundred Palestinians being held in administrative detention were on open-ended hunger strike in Ofer, Megiddo and Naqab prisons. Addameer lawyer Samer Samaman visited the Naqab prison on 24 April and confirmed that 55 detainees were on hunger strike there and were "immediately isolated by the Israeli Prison Service from the rest of the prison population and are currently being held in tents."
Addameer stated last Thursday:
Todays hunger strike can be traced back to May 2012 when an agreement was reached between the Israeli Prison Service and representatives of the prisoners, which brought an end to a mass hunger strike involving approximately 2,000 political prisoners. As part of this agreement Israel agreed to limit its use of administrative detention to only exceptional circumstances. However, since then Israel has reneged on the agreement and has continued to use administrative detention on a systematic basis leaving the detainees with little choice but to launch a fresh strike.
The group added:
As mentioned administrative detainees are held without charge are trial. They are detained on completely "secret evidence" and neither they nor their lawyers have access to such evidence. Some detainees have spent over eight years in prison, never knowing what was contained in the "secret evidence." While administrative detention is legal under international law, it must be used in very specific circumstance and on a case-by-case basis. This is clearly not the case given Israel has used administrative detention against tens of thousands of Palestinians.
In another development Mr. Samaman reported that prisoners and detainees being held at the Naqab Prison wishing to meet their lawyers are forced to wait for long periods of time in tiny cells which lack any sort of ventilation. As a result many are choosing not to meet with their lawyers due to the humiliating procedures that the Israeli Prison Service has imposed on them.
Tags