An Israeli justice ministry probe is expected to contradict police claims that a Palestinian citizen was attempting a car ramming attack when he was shot dead in January, Israeli media reported this week.
Yaqoub Abu al-Qiyan, 50, was shot by police while driving his vehicle during a pre-dawn raid to destroy homes built without permits in Umm al-Hiran. The Israeli government seeks to evacuate the Palestinian Bedouin village in the south of Israel in order to build a Jewish settlement in its place.
An officer was also killed and several demonstrators – including a Palestinian member of Israel's parliament – were injured by sponge-tipped bullets and other weaponry fired by police during the 18 January raid.
Eyewitnesses and the slain man's family told media that Abu al-Qiyan was attempting to leave the village and that his vehicle accelerated only after he was fired on, suggesting he became incapacitated and lost control of his car before it veered off course and drove into a group of police.
But police and senior Israeli government officials wasted no time in framing Abu al-Qiyan as a terrorist immediately after his death.
Islamic State claims
Israeli police called Abu al-Qiyan "a terrorist from the Islamic Movement," a banned Palestinian political party in Israel, and stated they were investigating possible ties to the Islamic State – claims repeated by police spokesperson Micky Rosenfeld on Twitter.
Gilad Erdan, Israel's public security minister, meanwhile told Channel 10 news that "As far as the police is concerned and based on the findings and the investigations, this is definitely a terror attack."
Israeli Prime Minister Benjamin Netanyahu stated that "This is the second ramming attack in recent days," referring to an earlier incident in which a Palestinian assailant struck and killed four soldiers with his truck.
"We are fighting this murderous phenomenon, which has struck both Israel and the world," Netanyahu added, linking the Umm al-Hiran incident to car ramming attacks in France, Germany and the US.
During the slain officer's funeral, Israeli police chief Roni Alsheikh called Abu al-Qiyan "a despicable terrorist." He added that "Everyone knows that the assailant was a teacher in a school where six other teachers have been arrested for choosing to teach [Islamic State] ideology rather than the Education Ministry curriculum."
Video soon emerged from Umm al-Hiran that cast further doubt on those strident claims.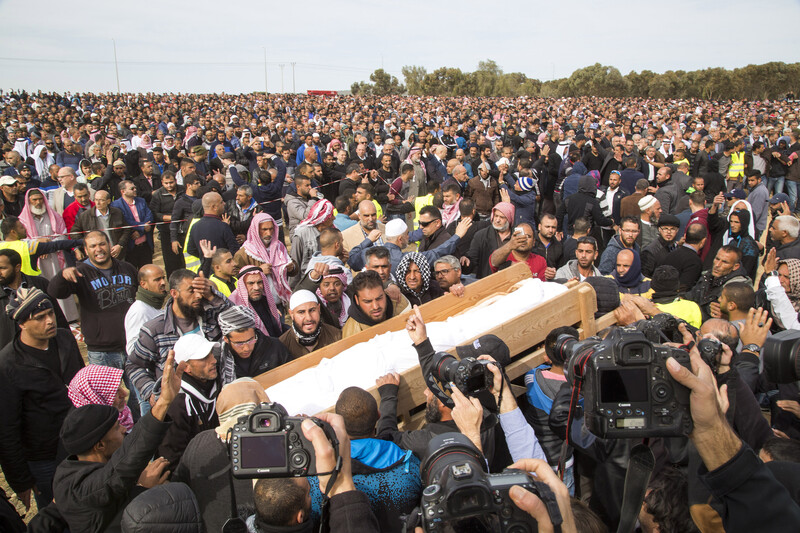 Police aerial surveillance footage leaked to the media was synced with video recorded by a journalist on the ground and published by the UK-based research group Forensic Architecture. The group's analysis supported eyewitness accounts that Abu al-Qiyan's car only accelerated after he was fired on.
Forensic Architecture also identified "the clear sound of a single gunshot at a time [when] several policemen are seen surrounding the stopped vehicle," indicating that officers shot the incapacitated Abu al-Qiyan again to verify their kill.
Al Jazeera news footage contradicted police claims that Abu al-Qiyan's headlights were turned off and that he was speeding towards police before he was shot.
The Israeli government has refused to give Abu al-Qiyan's widow a copy of the initial findings of an autopsy report, and only transferred his body for burial after a rights group petitioned Israel's high court.
Pathology reports leaked to Israeli media suggest that a bullet to Abu al-Qiyan's leg caused his knee to lock and may have been what made him accelerate. They also indicated that a bullet wound in Abu al-Qiyan's chest caused massive bleeding lasting up to half an hour while police prevented him from receiving first-aid.
"It is possible that Abu al-Qiyan would have remained alive had medical teams been permitted to treat him sooner," Israel's Ynet reported.
Meanwhile, eyewitnesses told The Jerusalem Post that they saw officers fire on a police vehicle during the incident, throwing into question whether the officer killed at the scene was struck by Abu al-Qiyan's car or hit by friendly fire.
Calls for resignation
Israeli activists last week disrupted a police ceremony at which Erdan was speaking, demanding answers about Abu al-Qiyan's killing. Protesters accused Erdan of incitement:

A growing number of calls for Erdan and Alsheikh to resign are being made since the justice ministry probe hit headlines this week.

"Erdan and Alsheikh are the chiefs of Israel's law enforcement authorities. It is intolerable that two men who incite and tell untruths like them should continue to head these important authorities," an editorial in the Tel Aviv newspaper Haaretz asserted.

Adalah, a human rights group which is calling on Israel's attorney general to launch a criminal probe into Erdan's "incitement to racism against Palestinian Arab citizens of Israel," stated on Wednesday that those responsible for Abu al-Qiyan's death must be brought to justice.

"From the outset, Adalah maintained that the version of events in Umm al-Hiran promoted by the Israeli police and Israeli Public Security Minister Gilad Erdan was both false and inflammatory," the group stated.

For his part, Erdan – whose remit also includes combatting the boycott, divestment and sanctions movement to hold Israel accountable for its violations of Palestinians' human rights – stated on Facebook on Thursday that "if it turns out that this wasn't an attack, then of course [Abu al-Qiyan's] family must be apologized to."

Erdan, however, doubled down on his accusations of incitement against Palestinian members of Israel's parliament, the Knesset, singling out the lawmaker wounded by police in Umm al-Hiran.

"The Arab Knesset members led by Ayman Odeh who incited residents in the months prior to the incident produced a widespread public and media campaign whose whole aim was to deter the police and myself from the ongoing enforcement against illegal constructions," he stated.
Tags