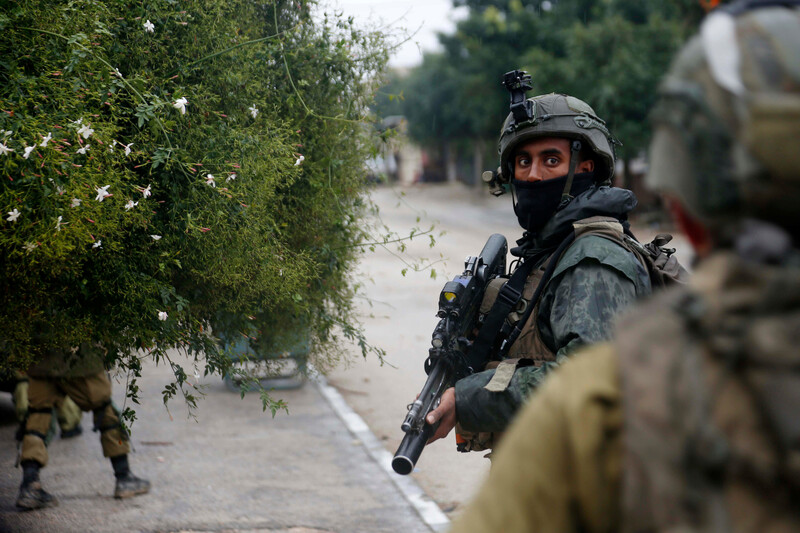 A Palestinian motorist was killed in the northern occupied West Bank on Tuesday night after what the Israeli military said was an attempted car ramming of soldiers at a checkpoint.
Troops opened fire at the driver after the latter attempted to break through the checkpoint, Israeli media reported.
Soldiers stationed at the checkpoint opened fire at the motorist, whose vehicle crashed into a military jeep. Both vehicles caught fire.
The soldiers were "lightly injured" but not hospitalized, according to media reports.
The slain Palestinian was identified as Abd al-Aziz Hikmat Mousa, 22.
As in countless other cases in which an alleged Palestinian assailant was shot dead and no Israelis seriously wounded, the shooting may amount to an extrajudicial execution.
For years, human rights groups have accused Israel of operating under a shoot-to-kill policy that has transformed police, soldiers and armed civilians "into judges and executioners."
The result has been dozens of Palestinians killed at checkpoints, in the streets of Jerusalem and Hebron – where settlers live in close proximity to Palestinians – and other points of friction.
Field executions
An increase of field executions of Palestinians is all but guaranteed after Israel recently revised its open-fire policies.
Troops in the West Bank are now permitted to shoot at Palestinians who throw rocks or Molotov cocktails at civilian cars, even when they don't pose an immediate threat, media reported this week.
A military spokesperson said that the new policy, the text of which remains classified, had been in effect for around the past month.
The new open-fire policy blatantly violates international law, as does Israel's routine practice of using lethal force against Palestinians who do not pose an immediate threat.
"Under international law, intentional lethal force is only justified in circumstances where a direct threat to life or of serious injury is present," as Defense for Children International-Palestine states.
The revised open-fire policy seems to be a codification of longstanding Israeli practice.
This has been the deadliest year for Palestinian children in the West Bank and Gaza since 2014, according to the rights group.
Israeli troops and armed civilians have killed four Palestinian children in the West Bank since the beginning of October.
One of them, Amjad Abu Sultan, 14, was shot and killed by soldiers waiting in ambush as he allegedly lit a Molotov cocktail near Route 60 near Bethlehem on 14 October.
Meanwhile, 15-year-old Muhammad Amjad Dadas was shot in the stomach by an Israeli sniper during a protest near Nablus on 5 November.
Al-Haq, a Palestinian human rights group, is calling on the International Criminal Court to investigate the extrajudicial killing of Muhammad Salima, 25, in Jerusalem earlier this month.
Israeli Border Police shot Salima at close range. Salima had attacked an Israeli civilian who sustained superficial wounds moments earlier, but was lying on the ground injured and no longer posed a threat when he was shot to death.
The deadly incident was recorded on video by eyewitnesses, generating condemnation from the UN Human Rights Office in Palestine.
Israeli authorities closed their investigation into Salima's killing after only five days while the officers who shot him were praised by the state's top officials.
Some 330 Palestinians have been killed by Israeli forces and armed civilians in the West Bank and Gaza so far this year.
Seventeen Israelis and people inside Israel were killed by Palestinians in the context of the occupation during the same period.
Homesh shooting arrests
Yehuda Dimentman, a student at a religious school at Homesh, a West Bank settlement not authorized by the Israeli government, was fatally shot while leaving the outpost last week.
Two Palestinian brothers, Omar and Rayat Jaradat, aged 20 and 17 respectively, were detained by Israel on Saturday on suspicion of carrying out the shooting. Four additional Palestinians were arrested in connection to the attack.
Clashes broke out between settlers and Israeli forces at Homesh on Sunday after the latter attempted to prevent Israelis from reaching the outpost.
"During the clashes, a settler vehicle hit an Israeli soldier and lightly wounded him," the Tel Aviv daily Haaretz reported.
The settler who allegedly hit and lightly wounded a soldier was not extrajudicially executed like countless Palestinians accused of the same.
Tags