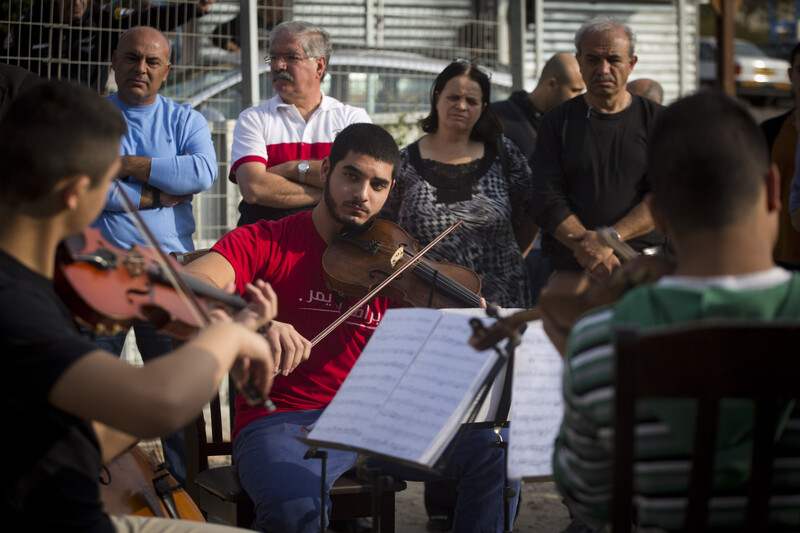 Omar Saad turned 18 two weeks ago. His rite of passage into adulthood was especially weighty, as it meant that Israeli military recruiters would soon be knocking on his door.
Saad is a member of the Druze religious minority, which, unlike other Palestinian citizens in present-day Israel, are not exempted from compulsory military service.
But Saad refuses to enlist in the Israeli army, which commits human rights abuses on a daily basis against other Palestinians in the occupied West Bank and Gaza Strip.
"I refuse to take an assault rifle and point it at another human being. I abhor this violence and everything connected to violence. I detest and hate all violence," Saad told Amnesty International.
Saad, who plays the viola, performed with his siblings outside the military induction base yesterday, where he asserted his draft refusal. More than a hundred supporters joined him in protest.
The Israeli group New Profile reports that Saad was sentenced to twenty days imprisonment yesterday. The group has also published details about how to send Saad letters of support and to protest his imprisonment to the Israeli authorities. They encourage supporters outside Israel to send letters of protest to their local Israeli embassy.
Watch Al Jazeera Arabic's coverage of Saad's protest:
Saad is shown ripping his recruitment orders here:
Al Jazeera English's The Stream has also covered his case.
"I can never serve"
In an open letter to Israeli Prime Minister Benjamin Netanyahu and Defense Minister Ehud Barak last year, Saad stated: "I will not be fuel to the fire of your war."
Saad also told The Electronic Intifada contributor Budour Hassan: "As a believer in nonviolence whose only weapon is his viola and as someone who believes in the right of all people to live in freedom, dignity and equality, I can never serve in an army that intrinsically opposes these values."
He added: "I was raised in a politically-aware household. My father refused to serve in the Israeli army and, together with my mother, they entrenched in us a sense of belonging to the Palestinian people."
Omar Saad is not alone in his community in refusing to serve in the Israeli army. As Patrick O. Strickland reported for The Electronic Intifada last year, the number of Druze youths who refuse is growing.
Omar, along with his brothers Mustafa and Ghandi, performed with Nigel Kennedy at the 2013 BBC Proms at the Royal Albert Hall in London earlier this year.
During the live broadcast on BBC Radio 3, Kennedy was heard telling the audience: "It's a bit facile to say it, but we all know from the experience of this night of music that giving equality and getting rid of apartheid gives a beautiful chance for amazing things to happen."
The BBC edited out his remarks in subsequent broadcasts.
Tags