Palestinian Authority leader Mahmoud Abbas declared a month-long state of emergency in the West Bank on Thursday after seven cases of coronavirus were diagnosed in the Bethlehem area.
As of Friday, 19 cases had been diagnosed in the West Bank.
Israeli defense minister Naftali Bennett ordered the closure of Bethlehem, reportedly in coordination with the Palestinian Authority, "barring movement of Israelis and Palestinians with effect from Thursday evening," the Reuters news agency reported.
Seven Palestinian employees of the Angel Hotel in Beit Jala, near Bethlehem, tested positive for the virus, health minister Mai Alkaila announced. They are believed to have contracted it from tourists who had stayed at the hotel recently, Reuters added.
More than a dozen American tourists and 25 Palestinian guests and staff are being quarantined at the hotel.
Hotel manager Mariana Al-Ajra told media on Friday that guests had not yet been tested for the virus.
"We understand that it is an overwhelming situation for the local authorities but we are not getting any information from them," Chris Bell, a pastor from Alabama among the group of Americans being quarantined, told CNN.
The World Health Organization stated that the Palestinian Authority health ministry implemented infection prevention and control in accordance with its guidelines.
"Very high risk"
With some 3,750 cases of coronavirus reported in the Mediterranean region as of Thursday, more than 100 of them fatal, the World Health Organization says the West Bank and Gaza Strip are at "very high risk."
As of Friday, there have been nearly 100,000 confirmed cases of the virus worldwide, causing 3,400 deaths.
The global health body said the outbreak in Bethlehem has been linked to a group of Greek pilgrims who stayed in the area the previous week, several of whom tested positive for the virus upon their return home.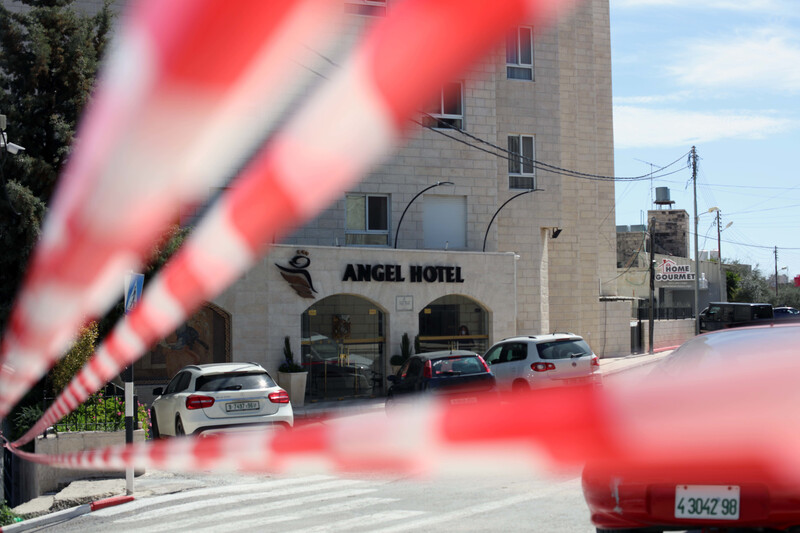 The Greek group toured Israel and the West Bank by bus.
Israel has reported 21 cases of coronavirus, including a Palestinian from East Jerusalem who drove the tour bus for the Greek pilgrims. His condition was reported as "seriously deteriorating" and he requires artificial ventilation.
The Palestinian Authority's unprecedented declaration of a state of emergency in the West Bank entails a 30-day closure of schools, a two-week ban on foreign guests at hotels and restrictions on large public gatherings.
Some 3,000 foreign tourists, however, remain in Bethlehem amid the closure of the area, and are instructed not to leave their hotels, Palestinian media outlets reported on Friday.
Bethlehem's Church of the Nativity has closed, as have other houses of worship in the city and elsewhere in the West Bank.
The two-week shut down is a blow to Bethlehem's tourism sector, which has been greatly reduced by tightened Israeli movement restrictions since the outbreak of the second intifada in September 2000.
No cases reported in Gaza
No cases of coronavirus have been discovered in Gaza. In cooperation with the World Health Organization, authorities in the besieged territory have set up a closed area on the Gaza side of the Rafah crossing with Egypt to quarantine travelers returning from countries where the virus is present.
An outbreak of coronavirus in the coastal strip would be only the latest in a series of blows to Gaza's healthcare system. Health infrastructure in the territory has been undermined by Israel's blockade imposed in 2007, and successive military offensives.
Gaza hospitals have struggled to cope with the staggering number of fatalities and injuries, many of them permanent and requiring complex surgery, resulting from Israel's use of live fire against mass protests along the Gaza-Israel boundary.
As of December, nearly half of essential medicines in Gaza were reported at less than one-month supply, with 43 percent completely depleted.
While it has so far been spared from coronavirus, tragedy struck Gaza on Thursday after a suspected gas leak caused an explosion and fire in a bakery at a busy market in Nuseirat refugee camp.
Ten people, including six children, were killed by the fire. Sixty more were injured, 14 of them critically.
Tags