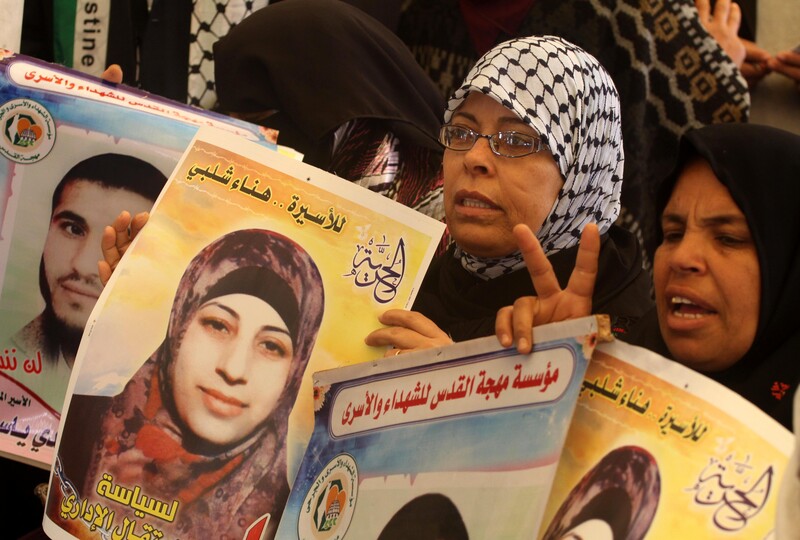 Hana al-Shalabi is on her 41st day of hunger strike. She may suffer cardiac arrest at any moment. Support around the world is growing, but here in Ramallah, and the West Bank in general, a protest in support of Hana can't muster up more than a dozen people.
It's depressing. It doesn't help to remember that it took Khader Adnan over 50 days on hunger strike before people decided to protest. Some photojournalists have expressed their annoyance at covering protests called for by random persons that end up being a total waste of their time because of the handful of protesters that show up. I won't get into that nor try to explain the reasons behind the failure of the Palestinian street in supporting their Israeli-held prisoners.
Last week, I went to the northern West Bank village of Burqin and visited the Shalabi family. I ended up interveiwing Hana's sister Zahra, which was really emotional. The Shalabis are a family of farmers, evidently still grieving for their brother and son Samer who was killed by Israeli warplanes in the family's field in 2005. The first and inexplicable arrest of Hana in 2009 further added to the grief, and when she was released last October it was like "balm soothing our tormented souls," as Zahra put it.
Here are some excerpts: 
Prior to her release in October, Hana had spent 25 months in prison under administrative detention, which can be renewed every six months.

During the last family visit, Hana informed her mother that she would begin a hunger strike if her detention was renewed for the sixth time. When the prisoners' deal came out, it was a welcome and joyous surprise.

"We were all filled with immeasurable happiness," recounts Zahra. "Hana couldn't believe she was out of prison. We stayed up past midnight on the day she was released, just chatting and laughing so much. She told me stories about life in prison, the types of dinners she'd cook with the other female prisoners, the sanitary conditions of the cells, all in a joking way."

The four months between October and February were trouble-free days, bursting with dreams and ambitions. Hana loved to socialize and meet with people. She was busy with getting her papers in order to register for university, with her eyes set on enrolling at the American University in Jenin. She wanted to get her driver's license, and later buy a car. She went on a shopping spree, buying new carpets and curtains for her bedroom, as well as new clothes since she couldn't stand to wear the ones she owned before her imprisonment. Also she dreamed of getting married and of finding the perfect man to spend the rest of her life with.

On February 16, at 2:30am, Zahra woke up to the sound of unusual noises outside the house. At first, she thought it was a few stray dogs, but then came the unmistakable rumble of an Israeli army jeep. Hana woke up in a frenzy, gasping "The Israelis, the Israelis!" She confusedly thought that the occupation soldiers had come for her brother Ammar, who spent two weeks in prison after the Palestinian Authority arrested him in 2009 on the baseless accusation of weapon possession. The thought of getting rearrested did not cross her mind until the Israeli commander called her name.
"She began jumping around like a caged bird," Zahra says. "She was panicking, and kept repeating over and over again that she was not going to go with the soldiers because she didn't do anything."
Here is the link for the rest of the article.
There are no words left after this. I picture Hana lying in a hospital bed, enduring an incredible amount of physical pain in addition to the taunts of the Israeli soldiers around her, who tell her over and over again that she will not survive, that she is not Khader Adnan, that the world does not care about her, that she will die alone and forgotten.
I don't want to immortalize her; I just want her to live. The biggest injustice is happening right before our eyes and we are powerless to do anything about it. Relying on those so-called civilized western governments is like leaning on an nonexistent wall. 
Free Hana. Save Hana.
Tags